Newsroom
Stories and Press Releases
Benjamin Barros named dean of the College of Law 
May 26, 2015
Article by Vogelpohl '15 receives statewide award
May 6, 2015
Prof. Exum to join Federal Sentencing Reporter editorial board
May 6, 2015 
College of Law to hold commencement May 9
April 28, 2015
Prof. Lee Strang files amicus brief in Obergefell v. Hodges
April 15, 2015
More Stories and Press Releases
Faculty in the News
5/15/2015 - Professor Benjamin Davis discusses Poland's reparations for CIA torture program on RT International.
5/14/2015 - Professor Geoffrey Rapp is interviewed by Bleacher Report for its story "Does Tom Brady's All-Star Legal Team Stand a Chance?" He also appeared on Southern California public radio station KPCC's AirTalk and was quoted by Danish NFL website Draftday.dk.
4/16/2015 - A report co-authored by Professor Kenneth Kilbert is the subject of The Toledo Blade article "Lucas Co. considers new water authority." He was also interviewed by WTOL11.
4/12/2015 - Professor Bruce Kennedy talks eminent domain with The Toledo Blade in "Houses may be a barrier to Jeep future."
4/3/2015 - Professor Joseph Slater is quoted in the Bloomberg story "Rand Paul's Favorite Union-Buster."
The Toledo Transcript
Alumni Magazine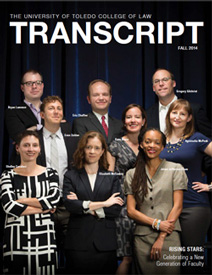 Cover Story
Rising Stars
Regular Features
- College of Law News
- Speakers & Events
- Commencement
- Faculty News
- Alumni News