Newsroom
Stories and Press Releases
Prof. Lee Strang files amicus brief in Obergefell v. Hodges
April 15, 2015
Ohio Sixth District Court of Appeals to hold oral argument at College of Law March 18
March 11, 2015
Law and Leadership Institute at Toledo Law receives $20,000 grant
February 24, 2015
Attorney for George Zimmerman to speak at Toledo Law on Feb. 26
February 18, 2015
Toledo Law offers Indiana residents Ohio in-state tuition
January 27, 2015
More Stories and Press Releases
Faculty in the News
4/16/2015 - A report co-authored by Professor Kenneth Kilbert is the subject of The Toledo Blade article "Lucas Co. considers new water authority." He was also interviewed by WTOL11.
4/12/2015 - Professor Bruce Kennedy talks eminent domain with The Toledo Blade in "Houses may be a barrier to Jeep future."
4/3/2015 - Professor Joseph Slater is quoted in the Bloomberg story "Rand Paul's Favorite Union-Buster."
3/24/2015 - Professor Kara Bruce discusses her latest article,"Vindicating Bankruptcy Rights," with badcredit.org.
3/13/2015 - Professor Eric Chaffee is quoted by Reuters in "Probe of Ackman team over Herbalife campaign may go nowhere."
The Toledo Transcript
Alumni Magazine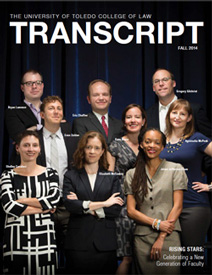 Cover Story
Rising Stars
Regular Features
- College of Law News
- Speakers & Events
- Commencement
- Faculty News
- Alumni News