Clincial Clerkship Program for Medical Students Welcome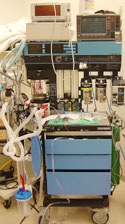 Welcome to the Department of Anesthesiology clinical clerkship. For those of you interested in our field, or just trying it on for size, we hope that you have an enjoyable and rewarding experience that reinforces your decision. For those of you who have already decided to pursue other fields of practice, we have confidence that the knowledge you can assimilate in this rotation will be of value to you throughout your career. You may look upon this rotation as simply a chance to practice intubation skills, but there are much more valuable lessons to be learned. You are being offered an unparalleled chance to witness human physiology in flux on a minute-to-minute basis, and to alter it with pharmacology. The guiding precepts of fluid management remain the same whether you are providing anesthesia for a simple hernia repair in the OR, resuscitating a penetrating abdominal wound in the ER, or treating diabetic keto-acidosis on the floor - but become readily apparent with the day to day care of the rich diversity of patients, pathology, and procedures found in the operating room. Through this four-week rotation in anesthesiology you should also become acquainted with how patients should be evaluated and prepared for anesthesia and surgery, and the rationale behind those decisions.

We, the faculty of the Department of Anesthesiology, are grateful for the opportunity to participate in your medical education. The links in this section are provided to make your rotation as hassle-free as possible, and to provide you with the logistic information you need. Please review this site before the first day of your rotation. If you have any questions left unanswered do not hesitate to contact the Clerkship Coordinator or Clerkship Director.


Patti Finch
Clerkship and Curriculum Coordinator
James Hofmann, M.D.
Associate Professor, Anesthesiology
Clerkship Director