General Information
Absences
All anticipated absences
must be approved in advance
. These should be cleared through the
Clerkship Coordinator or Clerkship Director
. Prolonged absences may require make-up work to prevent an "Incomplete" grade for the clerkship. The student is responsible for any lecture material presented during the absence. Any unanticipated absences such as illness should be reported directly to the clerkship coordinator at 419-383-3507.
Non-Physician Providers
Our department, like many other anesthesia groups, utilizes non-physician anesthesia providers. Both Certified Registered Nurse Anesthetists (CRNAs) and Certified Anesthesiologist Assistants (CAAs) are an integral part of our practice. These individuals are highly trained professionals, and as such deserve your utmost respect and consideration. Also, they are valuable educational resources who are more than willing to share their knowledge with students. These individuals will not be asked to evaluate students on their medical knowledge or judgment; but in keeping with the 360-degree philosophy of evaluation, they may be asked about other aspects of the students' progress towards the exit criteria of the University of Toledo.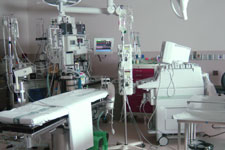 Professionalism
In keeping with the exit criteria of the University of Toledo, it is our mandate as faculty to participate in your education and facilitate your development as professionals. A professional attitude should be maintained in all your dealings with patients, attendings, allied health professionals, and OR staff. Breaches in professionalism may be reflected in your grades. In the 360-degree system of evaluations information relating to your professionalism may be obtained from anyone you deal with in the course of your clerkship.
Scrubs
Your dress of choice on the rotation will be scrubs. Scrubs will be available in the scrub machine in the Locker area.   Scrubs should not be taken or worn home. Soiled scrubs should be returned to the dirty side of the scrub locker. They should not be put in the linen hampers in the locker rooms unless they are grossly contaminated with fluid. Scrubs should be changed if they are visibly soiled. Do not talk to patients or family in dirty scrubs – it is important to keep up a professional image.