Congratulations, 2023 Graduates
We're proud to celebrate the 276 graduating students from the College of Arts and Letters at The University of Toledo's Spring 2023 Commencement. Congratulations on your achievements and go Rockets!
Celebrate Commencement
Lifelong learning. Professional success. Leadership. Global competency. Multi-cultural understanding. Responsible citizenship.
The College of Arts and Letters leads liberal arts education and research at the University of Toledo. Through our diverse people and programs in the Arts, Humanities, and Social Sciences we prepare students to excel as creative, ethical, collaborative, and global citizens.
More about the College of Arts and Letters mission and vision.
Questions along the way? Contact your CAL advising team at: CALadvising@utoledo.edu
CAL Diversity and Inclusion Report a Concern
Arts and Letters Facts and Figures
---
High Demand Majors
Graduate
The Department of Psychology accepts applications for the Doctor of Philosophy degree with a concentration in either Clinical Psychology or Experimental Psychology.

This program designed around the application of geographic information science, spatial statistics, spatial econometrics and spatial analysis to study the spatial dimension of human and social dynamics.

The Graduate Program in History at The University of Toledo is committed, first and foremost, to the values and priorities of liberal arts education.
Meet Tatiana Zeadker
'23, Bachelor of Arts in Psychology, Minor in Women's and Gender Studies
"I want to be a feminist therapist. I want women to be able to come to me and feel comfortable talking about whatever background they come from and for me to be able to identify with that."
Read More
Meet Paula Ashley
'22, Bachelor of Arts in Religious Studies
Paula Ashley said she is forever thankful for the faculty of the religious studies program for helping her find a deeper purpose and mindset. "The entire faculty in the religious studies department are truly remarkable people who have made a distinction for themselves in their field."
Read More
Meet Nick Bonfiglio
'22, Dual Degree Bachelor of Arts in Geography and Bachelor of Arts in History
Now wrapping up his final year, Bonfiglio was chosen as one of eight — and the only American — to intern for the Permanent Observer Mission of The Holy See to the United Nations from January until May 2023. He will serve as a liaison to the Holy See, attending meetings and events at the United Nations, and taking notes to be sent back to the Holy See's main office in the Vatican.
Read More
Meet Elena Nassif
'22, Bachelor of Arts in Middle East Studies and Bachelor of Business in Management
"Once you go to UToledo, a lot of help will be given to you if you ask for it … Go for it and don't think twice. Don't be afraid of the person in front of you. They're not there to scare you, they're there to help you."
Read More
Meet Aastha Bhavsar
'22, Bachelor of Arts in Psychology
"I am motivated by achieving positive outcomes that can help others in a time of need. I also enjoy working in a team to achieve goals that move our mission forward. I am thorough in everything I do, and I challenge myself to keep innovating and try to do something new."
Read More
Meet Tiara Medley
'22, Bachelor of Arts in Media Communications
"There are so many opportunities for us in our major here; I can film videos for ESPN, we have UT:10 and, of course, WXUT, our radio station. My experience has been really good here."
Read More
Meet Zoe Farrugia
'22, Bachelor of Science with honors in Nursing; earned a Global Seal of Biliteracy in Spanish
"I chose to study Spanish alongside my Nursing degree because I want to be able to care for my Spanish-speaking patients with the same congruency as I do my English-speaking patients. Language should never be a barrier to care, and studying Spanish is my way of working to be a part of consistent, congruent healthcare."
After she graduates, Zoe will enter Cleveland Clinic's Nurse Residency Program as a medical ICU nurse.
Meet Karen Gallagher
'21, Master's in Spatially Integrated Social Sciences
"Resilience and passion led to the completion of my doctorate degree, and I know those qualities will serve me well in the professional world."
Read More
Meet Rose Mansel Pleydell
'20, Bachelor of Fine Arts
"I knew I wanted a bachelor's degree and ever since graduating high school, I had become more and more interested in a career in the arts."
Read More
Meet Roma Lucarelli
'20, Bachelor of Arts in English
"As a student-athlete, flexibility and understanding are key, and I never had an issue with that from any of my professors. But more than that, my professors have often shown a personal interest in me as a student and as a future educator. One of the best parts of my college experience has been the one-on-one attention that I have received from my professors."
Read More
Meet Brittany D. Jones
'20, Doctor of Philosophy in spatially integrated social sciences
"The skills I acquired through my degree program have allowed me to confidently apply for opportunities best fit for my research. It has taught me that, as a doctorate student, you are the CEO of your degree and must stand in your truth as a contributor to universal knowledge, especially as a scholar of color."
Read More
Meet Justin Petty
'20, Bachelor of Arts in Theatre
"The University has helped me foster a new outlook on theatre-making. It has helped me become more precise and helped me understand how to make and find stories that not only represent but highlight the struggles of being a minority."
Read More
Meet Shelby Howard
'20, Bachelor of Arts in Psychology
"My time at UToledo has been like an ice cream sundae. The experiences and what I've learned are the base, and being able to share Blue Key with others in my life, that was the perfect cherry on top."
Read More
Psychology faculty published in "World Psychiatry" Journal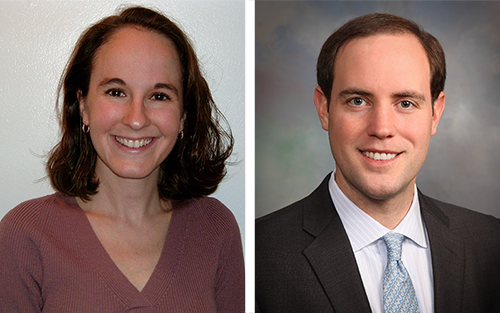 Dr. Kim Gratz and Dr. Matthew Tull (Department of Psychology) published a paper in the October '22 issue of World Psychiatry, the #1 psychiatric journal in the Social Sciences Citation Index. Their paper presents a clinically useful conceptualization of emotion regulation grounded in functional contextualism and evolutionary theory.