Director of Development, Dr. Brittanie Kuhr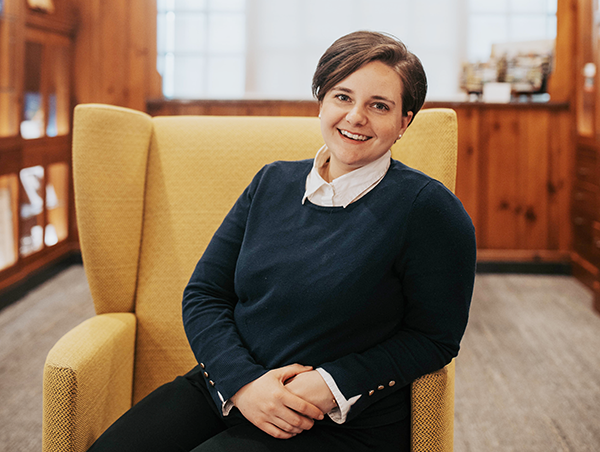 Brittanie Kuhr, Ph.D., joined the University of Toledo Foundation in May 2022 as the assistant director of development for the College of Law. In March, she was promoted to serve as the director of development for the College of Arts and Letters, the College of Natural Sciences and Mathematics, and the University Libraries.
With nearly ten years of higher education experience, Kuhr has served in various fundraising roles at other four-year institutions in the region, including Defiance College (executive director of institutional advancement), Lourdes University (special assistant to the president for institutional advancement), and Adrian College (assistant director of development). In a brief step away from higher education, Kuhr served as the president of the Toledo Zoo & Aquarium Foundation.
Known to be an active member of campus, Kuhr has served on various institutional committees, including the Higher Learning Commission reaffirmation, Title III, and scholarship committees at Defiance the College; the President's Diversity, Equity, and Inclusion committee, a Title IX investigator, and the ACE Women's Network of Ohio Regional Coordinator at Lourdes University. Currently, she serves as the chair of the strategic compliance committee, which supports the University's Office of Community Engagement and Strategic Partnerships. Kuhr also has a passion for student success and has supported retention efforts by teaching study skills courses to undergraduate students and serving as a liaison for first-year students navigating the college experience.
After completing her bachelor's degree at Adrian College, Brittanie earned her M.Ed. (2015) and later her Ph.D. (2022) in Higher Education Administration from The University of Toledo. For her dissertation, Kuhr conducted a Delphi study of four-year college and university presidents, or their proxies, in Ohio. Her research resulted in a definition of public value of four-year colleges and universities as well as 22 economic and non-economic characteristics of institutional public value. Kuhr also holds an Executive Certificate in Nonprofit Management through Harvard University's Kennedy School of Government.
Kuhr has served on various local and regional boards. She is currently serving on the Girls on the Run of Northwest Ohio Board of Directors (board chair), the Croswell Opera House Board of Directors (committee chair), West Side Montessori Board of Trustees (committee chair), and Notre Dame Academy's President's Diversity, Equity, and Inclusion committee.
Brittanie is married to Allison, an independent mental health counselor and the founder of Through Counseling Services. Together, they have three young children. The family enjoys spending time in northern Michigan, exploring Toledo's metroparks and libraries, and participating in and supporting musical theatre productions, especially those at the Croswell Opera House in Adrian, Michigan.