Art Events and Exhibitions
We have in-person exhibits available in our main gallery and the Clement Gallery in the UToledo Center for the Visual Arts, immediately adjacent to the Toledo Museum of Art. For your convenience and safety, we have also made some UToledo Art Department exhibitions available to view virtually. They are below. Enjoy!
SPRING 2023
Juried Student EXHIBITION(JSE)
Mar. 3 - 27, 2023
JSE Opening Reception
Friday, Mar. 3 from 6 to 8 p.m.
Center for the Visual Arts Main Gallery
All are welcome to attend the opening reception of the 2023 UToledo Juried Student Exhibition (JSE).
The JSE is an exhibition of artwork created by UToledo students in juried competition. The competition is open to all University of Toledo students regardless of major.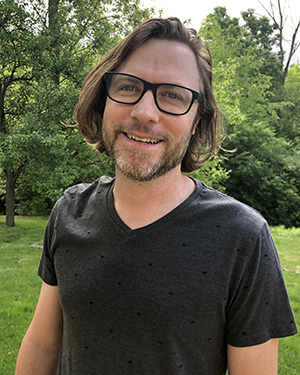 2023 JSE Juror
This year's juror is Brian Spolans, an artist and professor of art at Eastern Michigan University. Spolans' work has been exhibited at 500X Gallery in Dallas, Paradigm Gallery in Philadelphia, Muskegon Museum of Art, International Print Center of New York, and Published in New American Paintings, Fresh Paint and Create Magazine.  He co-curated the exhibition "Post Apocalypse" at Gallery Project in Ann Arbor, and "Non-Text," at Eastern Michigan University.
---
VSA - MERGE NATIONAL EXHIBITION
Jan. 17 - Feb. 17, 2023
Center for the Visual Arts Main Gallery
A traveling exhibition of artwork from the Kennedy Center featuring 15 artists with disabilities that considers the intersection of the creative process and disability identity. The exhibit is open to the public whenever the Center for the Visual Arts is open. Co-sponsored by the Department of Art and Disability Studies program.
---
...
ANNUAL DIGITAL BILLBOARD EXHIBITION
January 2023
Greater Toledo Area
Each year, Lamar, a local outdoor advertising company, displays the work of several UToledo art students on its digital billboards throughout the greater Toledo area. Thanks to our community partner, Lamar, and the hard work of faculty member and organizer, Barry Whittaker (Department of Art), the work of our students receives well-deserved publicity and recognition. Watch for our students' work all this month.
Locations
Airport Hwy E of McCord Road

Anthony Wayne Trail at City Park

Anthony Wayne Trail at Western

Erie at Monroe

Erie at Anthony Wayne Trail

Glendale at Byrne

I-75 at Berdan

I-75 at Monroe

I-75 North of I-280

Monroe NW Corner of Laskey (facing east)

Monroe NW Corner of Laskey (facing west)

Navarre Avenue West of Wheeling

Reynolds NE Corner of Airport Hywy

Reynolds NW Corner of Glendale

Secor at Executive Pkwy

Anthony Wayne Trail North of the Zoo

Washington at Indiana

Washington SE Corner of Huron
---
FALL 2022
CAST Exhibit and 3D Ceramic Art Sale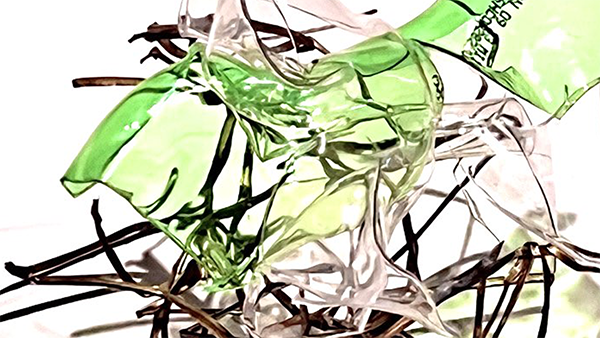 Friday, Dec. 9, 2022 from 6-8 p.m.
Secor Building, Downtown Toledo
The Concepts in Art Studio and Theory (CAST) exhibition will be on the 6th floor and the 3D Ceramic sale will take place in the first floor foyer.  The ceramic sale proceeds will go directly to student travel to the National Council on Education for the Ceramics Art (NCECA) in March 2023. Admission free.
---

axon fellow and c.v.a. exhibit Joel Lipman
"Look, Then Read: Big Sheets"
Exhibition (CVA Main Gallery)
Nov. 18, 2022 - Jan. 6, 2023
Lecture (CVA Main Gallery)
Nov. 18 at 3 p.m.
Reception (CVA Main Gallery)
Nov. 18. 6, 6-8 p.m.
The exhibit consists of enlargements of bookworks and visual poems by 2022 University of Toledo Department of Art Axon Fellow, Joel Lipman.
ARTIST STATEMENT
Words are object, material, physical shapes, marks. Within the words, specific letters, patterns of visual and aural movement, compression, gaps, extenders. Printed on a paper sheet, stitched and bound into a book, words and their component parts gather additional contexts. This assemblage of properties — page design, illustration, paper stock, color, narrative figures, numbers, decorative details — fuse into what we recognize, almost thoughtlessly, as a text.
I challenge that reflexive response, inviting a fresh, stimulating reexamination of the printed page. Media are mixed, but primarily rubber stamps, wood and metal type, printer's cuts and a variety of found objects capable of holding and transferring water-based ink from stamp pad to paper. Papers are often found and worn. Every letter and word chosen and each fresh mark impressed upon the page is an aspect of my vision and personality as a poet dedicated to visual literature.
ABOUT JOEL LIPMAN
Appointed Lucas County's first Poet Laureate in 2008 and Emeritus Professor of English, Joel Lipman taught Art and English for 37 years at The University of Toledo. Founding co-director of the Toledo Poets Center, Joel's poetry honors include the Ohio Governor's Award as an Individual Artist, Ohioana State Library Pegasus Award for Lifetime Achievement in Poetry, 2ive Individual Artist fellowships from the Ohio Arts Council, and fellowships from the Fulbright Foundation, University of Texas Harry Ransom Humanities Center and Indiana University's Lilly Library.
Joel's books and editions are limited and obscure. His small press, fine print broadsides and chapbooks include "Mercury Vapor Lamp" (Ocooch Mountain Press), "Provocateur" (Bloody Twin Press), "Machete Chemistry/Panades Physics," co-authored with Yasser Musa (Cubola New Art Foundation), "The Real Ideal" (Luna Bisante Prods), "Ransom Notes" (Obscure Publications) and the 2022 publication "from The Origins of Poetry" (Redfoxpress). Active for decades as a mail artist and visual poet, his work appears on-line at the Light & Dust Anthology of Poetry and Poetry Foundation websites. "A legendary visual poet," as noted by the Poetry Foundation, Joel's unique, visual poems are distinguished by publication in 2008, 2011 and 2018 by Poetry Magazine.
---
JEREMY LONG ARTIST VISIT
Exhibition (CVA Main Gallery) - Through Oct. 14, 2022
Lecture (CVA Haigh Auditorium) - Oct. 6 at 3 p.m.
Reception (CVA Main Gallery) - Oct. 6, 6-8 p.m.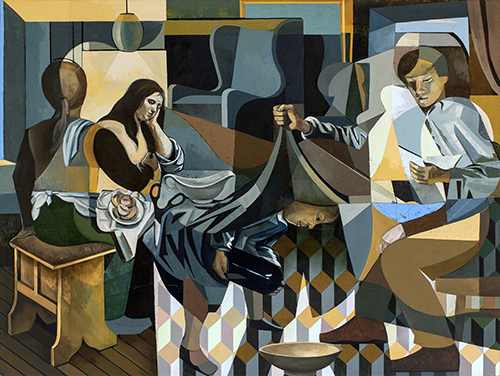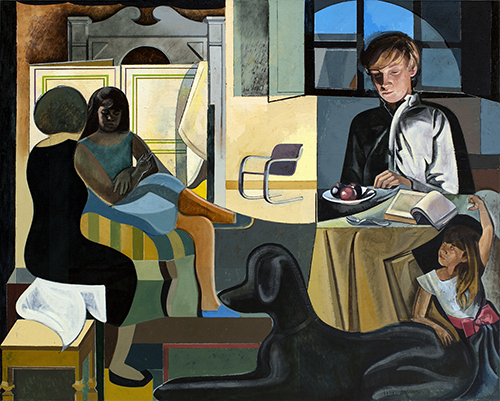 ABOUT JEREMY LONG
Jeremy Long is an associate professor in painting and drawing at Wright State University. He received his B.F.A. from The Kansas City Art Institute and his M.F.A. from The American University in Washington D.C. Long has had many exhibits across the United States. Most recently, his exhibits have been at The Hoffman LaChance Contemporary in St. Louis, The Bowery Gallery in New York City, The Linda Warren Gallery in Chicago and the Swope Museum of American Art in Terre Haute. Since 2007, he has been an active member in the painting collective Midwest Paint Group.
"Tackling the problems of creating paintings as spatial worlds rather than mere images is of interest to me. This can also be thought of as advocating thoughtfulness over excitement, or poetic meaning over novelty. The quality of light, the visceral geometry of space in depth and as a pattern on the surface in the paintings reinforces these concerns. Painting that is based on conviction and perpetual doubt is also of interest to me. The goal as I see it is to on one hand create an ordered, harmonious vision and on the other hand to understand that everything seen is relative."  - Jeremy Long