Geographic Information Science (GIS) and Applied Geographics Certificate
The Department of Geography and Planning at The University of Toledo offers a certificate program in Geographic Information Science and Applied Geographics. This specialized program offers a balance of theory and technical training in the application of Geographic Information Systems (GIS), Remote Sensing, Automated Cartography, and Global Positioning System technologies to problems extending over a wide range of disciplines. Students from a variety of academic backgrounds are eligible for the program including such diverse fields as Biology, Business Administration, Engineering, Geography, Geology, Planning, and Public Administration.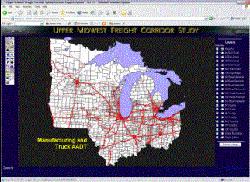 This program enables students to apply these technologies to spatial problems specific to their discipline. This program is thus designed to furnish additional education and training in geographic information processing technologies to professionals in a wide range of fields while they still retain their disciplinary and/or professional identity.
This certificate will therefore serve as an extension to students' educational experience beyond their Bachelors and Masters degree programs. Students may not earn the certificate without the minimum requirement of completion of a Bachelor's Degree. Students completing the requirements of the Certificate must complete a minimum of 12 credits in GIS/AG courses followed by a three-credit project workshop. Students enrolling in the program must also declare an "application emphasis" within their discipline or profession for the purpose of completing a final project at the end of their program.
The rapid growth of career opportunities for professionals trained in the application of geographic information processing technologies has extended into nearly every sector of the economy as seen in the table below.
Private Sector Applications
Insurance: hazards research, policy underwriting
Market research: location analysis, advertising, business geographics
Transportation and logistics
Intelligent vehicle systems
Real estate development
Health care: epidemiology, health care service delivery
Agriculture: precision farming
Forestry
Federal, State, and Local Government Applications
Infrastructure management
Emergency facility location
Community development
Crime prevention
Emergency preparedness and emergency management
Transportation planning
Enhanced 911 systems
Environmental planning
Coastal zone management
Urban and regional planning
Public health and welfare
Forestry
Wildlife ecology
Military applications
Students completing the certificate program will be competitive in today's rapidly changing market and will be equipped to assume positions in the fields listed above. The coupling of the academic degree programs (both Bachelors and Masters) with the balanced theoretical and technical emphasis of the certificate program will enable students to rapidly adapt to today's rapidly changing work environment.
It should be emphasized that this program is not based on a series of short-term workshops which provide a limited exposure to these technologies. Rather, students will enroll for graduate credit in courses that are taught in the established university curriculum; the duration of these courses extend the length of an entire semester. This approach enables students to gain greater depth of understanding of theory and gain the necessary technical competence in the use of these specialized technologies and to complement their degree programs.
Students served by this program generally fall into three categories. These include:
Current students who have recently completed their bachelor's or graduate degree and desire additional work in this specialized technical field before leaving school
Practicing professionals in the community who wish to gain additional expertise in this specialized technical field while they remain employed
Students currently enrolled in existing traditional graduate programs who wish to concurrently complete their degree and this certificate.
More About the GIS Certification Degree Program
Questions? Let's connect!
The chair of the program will respond to you.