Doermann Theatre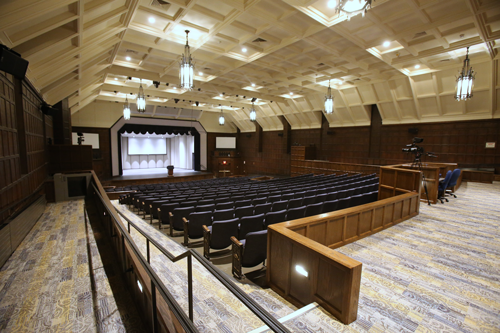 Beautiful and historic Doermann Theatre was built in 1931. This facility is used by the Department of Music, the Department of Theatre and Film, and various University and non-university groups. Located in University Hall on the main campus of The University of Toledo, Doermann Theatre is a fully mediated space which includes projection equipment and two large screens on either side of the stage area, as well as professional sound and lighting equipment. This space is also handicapped accessible and includes two lifts into the theatre seating area as well as a lift to the stage. The theatre was remodeled in 2013 and seats 522 total (501 physical seats + 21 spaces for special needs seating).
Getting Here
Google Map to University Hall and Doermann Theatre
Map of main campus with parking areas
Parking for Doermann Theatre
Parking is free only in Area 13 and the West Ramp parking garage adjacent to that lot and only during our events that indicate that free parking is available during the event. Check the event's details to be sure. HOWEVER, there are also metered spaces in Area 13 that are pay spots 24/7. They are marked with signage. You can park in metered spaces, but you must pay at the kiosk. Handicapped parking is also available in this lot only for those vehicles displaying the proper permit.
Doermann Theatre is currently unavailable for use.
For inquiries, contact:
Dr. Jason Stumbo
419.530.7355
Email: jason.stumbo@utoledo.edu