Department of Psychology News
December 2017
diversity committee hosting a get-together for undergraduate students from minority and underrepresented groups
The UT Department of Psychology Diversity Committee cordially invites undergraduate students from minority and underrepresented groups from all majors to "Get Psyched About Psychology." Come have coffee, pastries, fruit, and a chat with faculty members and graduate students! This is a great opportunity to meet other students and faculty members, learn more about psychology, and learn about opportunities in the Department of Psychology.
Date: Thursday, December 7, 2017
Time: 10:00 AM – 12:00 PM
Location: SU 2584
If you plan to attend, please sign up to let us know you are coming. You can sign up here.
If you have any questions about the event, please contact Dr. Mojisola F. Tiamiyu (Chair, Department Diversity Committee) at mojisola.tiamiyu@utoledo.edu.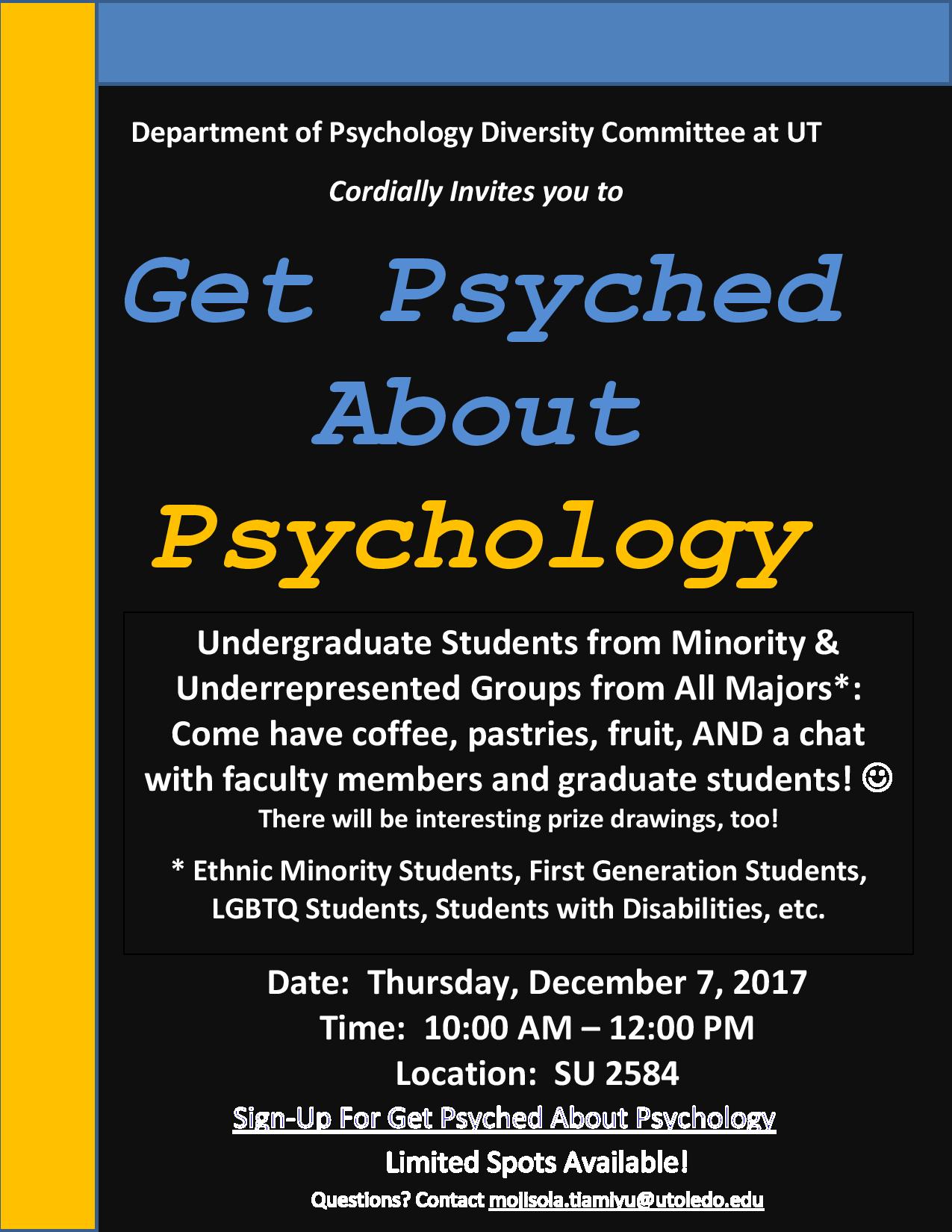 November 2017
graduate students win research presentation awards
Psychology doctoral student Yopina Pertiwi received the first place award ($125) in the Student Poster Presentation Award Competition at the Health Psychology Research Symposium, held in the University of Michigan - Dearborn, on October 27th, 2017. Yopina's poster presentation was entitled "Is It the Way I Look? Investigating the Role of Physicians' Social Identities on Patients' Perceptions and Behaviors toward the Physicians."
Also, psychology doctoral student Ashley Murray received the third place award ($50) at the symposium for her poster presentation entitled "Exploring the Impact of Explicit and Implicit Affect Related to Health Behaviors in Cancer Survivors."
October 2017
faculty member receives small grant award
Dr. Andrew Geers received a small grant award from the University of Toledo Office of Research and Sponsored Programs. The award will fund his research project, "A novel behavioral intervention for preventing the conditioning of chemotherapy-induced nausea in cancer patients."
September 2017
FACULTY MEMBER'S RESEARCH HIGHLIGHTED IN National geographic
Dr. Joni Mihura's seminal meta-analyses on the Rorschach published in Psychological Bulletin (Mihura, Meyer, Dumitrascu, & Bombel, 2013) was cited in a National Geographic story this month.
August 2017
Clinical psychology doctoral program granted full accreditation 
The University of Toledo's Doctoral Program in Clinical Psychology, in its regular periodic review, was recently granted full accreditation by the Commission on Accreditation of the American Psychological Association. The program's next periodic review is scheduled for 2024. The PhD program in Clinical Psychology has been continuously accredited by APA since 1979 and information on its accreditation status can be found here: http://www.apa.org/ed/accreditation/
faculty member's research highlighted in UT news
A recent study by Dr. Kamala London Newton and her lab was featured in the UT News. 
London, K., Hall, A. K., & Lytle, N. E. (2017). Does it help, hurt, or something else? The effect of a something else response alternative on children's performance on forced-choice questions. Psychology, Public Policy, and Law, 23, 281-289.
FACULTY MEMBER Invited to be keynote speaker at international conference
Dr. Kamala London Newton was invited to be the keynote speaker at the annual conference of the European Association of Psychology and Law. The conference will be held from June 26-29, 2018, in Turku, Finland.
MAY 2017
faculty member is awarded research grant
Dr. Andrew Geers was awarded a Small Research Grant from the Society for Personality and Social Psychology. The grant will assist Dr. Geers in conducting a study examining stereotype processes in the context of health care interactions. Data will be collected at the UT Student Health Center, as well as at one or two other student health centers at other universities.
Former graduate student obtains faculty position
Former Clinical Psychology graduate student and member of the Psychological Assessment Lab, Dr. Sandra Horn (primary mentor: Dr. Gregory Meyer), recently accepted an offer for a full-time faculty position (non-tenure track Assistant Professor) in the Department of Psychiatry at Albany Medical College. Congratulations Dr. Horn!
Undergraduate receives recognition from the department of psychology 
Undergraduate student Chantal Crane was named the Department of Psychology 2016-2017 Outstanding Student in the College of Arts and Letters at the University of Toledo. This achievement was recognized at the College of Arts and Letters Honors and Award Ceremony on May 5, 2017.
April 2017
post-doctoral fellow obtains faculty position
Department of Psychology post-doctoral fellow, Dr. Chris Berghoff (mentors: Drs. Kim Gratz and Matthew Tull) will be joining the Department of Psychology at the University of South Dakota as an Assistant Professor in Fall 2017. 
March 2017
Graduate student wins award for education-related research
Experimental Psychology doctoral student, Jaclynn Sullivan (mentor: Dr. Andrew Geers), received an award at the Graduate Student Association's Midwest Graduate Research Symposium. The award for for the best education-related research from the Judith Herb College of Education and the University of Toledo's chapter of Kappa Delta Pi. The title of her oral presentation was "Are We Really Teaching Online."
Undergraduate honors student receives research award from the  University of toledo
Undergraduate honors student, Kelsey O'Brien (mentor: Dr. Andrew Geers), was awarded a $1,000 Alan and Susan Lapp Honors Scholarship from the University of Toledo to conduct her honors thesis research. For this project, Kelsey will be traveling to Ghana to collect data to test a hypothesized cultural difference in the psychological determinants of physical activity. Kelsey will be traveling to Ghana at the end of the spring semester.
GRADUATE STUDENT OBTAINS Award to advance training
Experimental Psychology doctoral student, Fawn Caplandies, was just awarded funds to complete the on-line Data Scientist Tool Box course offered by the Johns Hopkins School of Public Health. In this course, she will learn more about data analysis programs such as version control, markdown, git, GitHub, R, and RStudio.
February 2017
Graduate student obtains competitive T32 National institute on drug abuse Postdoctoral Fellowship
Experimental Psychology doctoral candidate Erin Vogel recently accepted a postdoctoral traineeship in the Department of Psychiatry at the University of California San Francisco. Erin will be supported by a T32 institutional training grant from the National Institute on Drug Abuse of the National Institutes of Health. Under the mentorship of Dr. Danielle Ramo, Erin will conduct research primarily focused on social media-based interventions for substance use. You can read more about Erin's new lab here. Erin is currently a fifth-year student in the Social area working with Dr. Jason Rose.
graduate student invited to write about her program of research
Experimental Psychology doctoral candidate Erin Vogel was recently invited to write a blog post for Open Forest, a site dedicated to sharing psychological research with the general public. Erin's post highlights her research on the effects of social comparison on social media sites such as Facebook. She is currently a fifth-year student in the Social area working with Dr. Jason Rose.
graduate student obtains postdoctoral position
Congratulations to Clinical Psychology graduate student John Van Dusen who is currently completing his internship. He recently obtained a postdoctoral position at the John D. Dingell VA Medical Center in Detroit, Michigan.
successful match for clinical psychology graduate students applying to internship
With a match rate of 100%, the four internship applicants from the UT Clinical Psychology Doctoral Program have each successfully matched with an internship site for the 2017-2018 academic year. Brianna Byllesby will be at the Cincinnati VA Medical Center; Meredith Erwin at the Durham VA Medical Center; Joanna Piedmont at the VA Pittsburgh Healthcare System; and Joe Reed at the Baylor College of Medicine - Menninger Department of Psychiatry and Behavioral Sciences. Congratulations on this impressive accomplishment!
Psychology Faculty Member Selected to Provide A Workshop At national convention 
Dr. Kim L. Gratz was just selected to provide a workshop on her emotion regulation group therapy for self-injury in borderline personality disorder at the 2017 National Convention of the National Alliance on Mental Illness (NAMI) in Washington DC. Past workshop presenters include Drs. Marsha Linehan and Alan Fruzzetti.
PSYCHOLOGY Faculty Members establish a collaboration with the university of szeged in szeged, hungary
Through an initiative directed by Dr. Peter Mezo in the UT Department of Psychology, Dr. Marta Csabai, Chair of the Department of Personality, Clinical, and Health Psychology at the University of Szeged, Hungary, visited the Department of Psychology this past January 31 to February 3. A principal reason for her coming was to continue to develop plans with faculty in our department on the establishment of a joint degree in health psychology to be offered at the University of Szeged and to be taught by faculty from both institutions. Her visit included meetings with faculty and tours of departmental labs that conduct research on diverse areas of health psychology. As a result of this productive visit, the structure and content of the proposed program was further clarified and is in a good position for approval. We were delighted to host Dr. Csabai!
January 2017
Psychology Doctoral Student Obtains a postdoctoral fellowship
Experimental Psychology doctoral graduate student Monica Lawson (mentored under Dr. Kamala London) began a postdoctoral fellowship at the William J. Shaw Center for Children & Families at the University of Notre Dame. Monica is working under the mentorship of Kristin Valentino to examine relationships between mother-child communication and children's memory in maltreated and typically developing children. 
PSYCHOLOGY DOCTORAL STUDENT OBTAINS A research award from the university of toledo graduate student affairs committee
Psychology doctoral student, Fawn Caplandies (Faculty Mentor: Dr. Andrew Geers) obtained a research award from the University of Toledo Graduate Student Affairs Committee of the Graduate Council. The award will provide funding for a study entitled, "Examining the Role of the Biopsychosocial Model of Threat and Challenge on Coping Strategies."  
december 2016
PSYCHOLOGY doctoral student obtains a diversity support grant
Psychology doctoral student, Manali Roy (Faculty Mentor: Dr. Joni Mihura) was awarded a diversity support grant from the Society for Personality Assessment.  The Society for Personality Assessment offers diversity support grants as a way of promoting and supporting ethnically-diverse representation at their annual convention. The support grant will be used by Manali Roy to attend and participate in the 2017 Society for Personality Assessment Annual Convention in San Francisco, California (March 15, 2017 to March 19, 2017).  
OCTOBER 2016
PSYCHOLOGY FACULTY MEMBERS publish book on posttraumatic stress disorder
Dr. Matthew T. Tull and Dr. Kim L. Gratz, in collaboration with Dr. Alex Chapman from Simon Fraser University, published a new self-help book for individuals struggling with posttraumatic stress disorder. Published by New Harbinger Publications, the Cognitive Behavioral Coping Skills Workbook for PTSD offers a number of skills from empirically-supported cognitive-behavioral treatments, including prolonged exposure, cognitive processing therapy, acceptance and commitment therapy, and dialectical behavior therapy. 
September 2016
Psychology Faculty Member is Awarded a Research Grant from the Society for Personality and Social Psychology
Dr. Jason Rose, Associate Professor of Psychology, received funding from the Society for Personality and Social Psychology (SPSP) to conduct research on voter beliefs about the U.S. Presidential Election. The project is entitled: "To Hope was to Expect": Moderators and Consequences of Wishful Thinking in the 2016 U.S. Presidential Election.
Psychology Faculty Members Travel to Sweden as Part of International Research collaboration
Dr. Kim L. Gratz and Dr. Matthew T. Tull traveled to Sweden this fall to continue training clinicians throughout the country in Dr. Gratz's Emotion Regulation Group Therapy (ERGT) for deliberate self-harm in borderline personality disorder, as part of an ongoing collaboration with the Swedish National Self-Harm Project and Stockholm County Council. They are providing both introductory and advanced workshops in Stockholm and Gothenburg as part of an ongoing initiative to provide ERGT throughout Sweden.
ut psychology professors begin data collection on a canadian institutes of health research grant
Dr. Gratz and Dr. Tull recently began data collection on a 5-year prospective grant focused on elucidating the motives for deliberate self-harm funded by the Canadian Institutes of Health Research. This grant is being conducted in collaboration with Dr. Alex Chapman from Simon Fraser University in Vancouver, British Columbia, Canada.
UT Psychology Ph.D. Graduate Joins Faculty at the University of North Texas
Recent UT Psychology PhD graduate, Ateka A. Contractor, has started as Assistant Professor of Psychology at the University of North Texas' Department of Psychology in August 2016. She will teach PhD-level and undergraduate courses there, and continue her line of research on posttraumatic stress disorder (PTSD) that she started at UT. Contractor graduated with her PhD in Psychology (specializing in Clinical Psychology) at UT in 2015, having worked with Dr. Jon Elhai as her research advisor. She completed her postdoctoral fellowship in August 2016 at the Veterans Administration Boston Healthcare System and Boston University School of Medicine.
UT Psychology Professor Publishes Research on Impact of Computer Technology on Behavior
Professor Jon Elhai recently developed a line of scientific research, examining the impact that computer technology has on people's emotions and behavior (also known as "cyberpsychology"). In one study published this year, Elhai recruited participants from the community, surveying them about worry and anxiety regarding recent internet hacking incidents. He found evidence of unique anxiety about Internet hacking, despite low prevalence of using advanced digital privacy protection to secure one's data. Link: http://bit.ly/1ODHWCH. In another study published this year, Elhai, along with Psychology Department Assistant Professor Jason Levine, recruited community participants and surveyed them about addiction to, and problematic use of, one's smartphone. Elhai and Levine discovered that the reluctance to miss out on exciting news and events from one's social network, or "fear of missing out" (FoMO), was the most potent variable associated with smartphone addiction.
Link: http://bit.ly/2aSWIM0
Psychology Doctoral Student Wins National Diversity Travel Award 
Psychology doctoral student, Yopina Pertiwi, won a prestigious diversity travel award from the Society for Personality and Social Psychology. The award will assist attendance at the 2017 national conference of this society. Over 140 graduate students nation-wide applied for the award. At this conference, Yopina will be present her Master's Thesis research which examined stereotype accuracy in minority and majority group members across cultures. Yopina is a fourth year doctoral student working with Dr. Andrew Geers.
Psychology Faculty Member Co-Chairs National Conference of Health and Social Behavior
Dr. Andrew Geers in the Department of Psychology is co-chairing a national meeting of social and personality psychologists on the topic of health and medicine. The conference will include top scholars in psychology whose research examines how social relationships and personality influence health-related actions and involvement to medical care. The meeting will be held in January 2017, in San Antonio Texas. You can obtain more information about the meeting here: 7th Annual Society for Personality and Social Psychology (SPSP) Health Preconference.