Decision Research Lab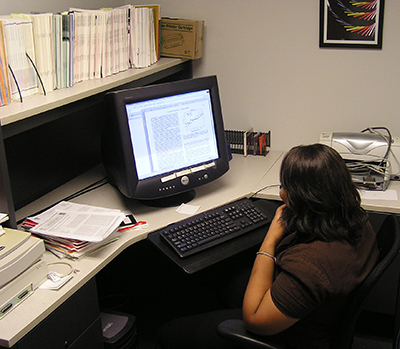 The study of decision-making is guided by normative models of how decisions should be made and by descriptive models of how decisions actually are made. A substantial portion of my research has been guided by the later. Specifically, my work in this area has focused on the cognitive processes decision makers use to solve particular problems and on the different methodologies used to study them. To assist with these activities, our lab has developed a paradigm to study decision making across stages (called phased narrowing), a windows-based computer program to monitor information and acquisition search behavior (referred to as MouseTrace), and a second computer program for managing and analyzing these data. Past projects have included evaluating the difference in search between choosing and rejecting decision options, assessing the effects of missing information on set size and decision processes, investigating the difference in search between physicians, pharmacists, and patients in choosing over-the-counter (OTC) medications, and exploring the mechanisms underlying decisions involving distributive justice, i.e., situations where decision makers have to allocate scarce resources.
Our theoretical view is that decision makers are adaptive, i.e., they construct preferences "on the fly." Two fundamental components of this view are that 1) decision makers have a repertoire of strategies and 2) these strategies are highly contingent upon a wide variety of task and context factors. The idea is that these factors make different aspects of a problem salient and, therefore, evoke different processes for seeking, evaluating, and combining information, which in turn partially determines one's preferences.
One important question in this area involves identifying those conditions in which different representations of the same problem yield different preferences. Some in the decision-making area have labeled this decision bias. Our lab has studied many of the traditional factors including anchoring, framing, availability, representativeness, sunk cost, and status quo. One of our projects, for example, dealt with the effects of information framing on teratogenic risk perception in pregnant women.  Other papers from our lab have explored such things as inclusion/exclusion choice strategies and information order effects, the effects of object ownership (or endowment) on the perception of value, and the psychological effects of ambiguity and uncertainty.
Another important issue here is the extent to which individual differences are related across these seemingly small changes in problem representation. Specifically, our lab has explored individual differences in cognitive processes and decision outcomes. Past work in our lab, for example, has linked various levels of (i) need-for-cognition with changes in compensatory and non-compensatory processing (i.e., decision adaptiveness), (ii) nationalism with the changing impact of country-of-origin information in selecting multi-national products like automobiles, and (iii) political orientation (liberals vs. conservatives) with differences in search behavior underlying resource allocation decisions. My most recent work, however, has focused on strength of handedness. This individual difference factor is related to differences in brain organization and may neurologically explain why some people show decision bias and others do not. In fact, Dr. Christman and I have been funded for the last 5 years by the National Science Foundation to explore handedness differences in decision-making. Therefore, most of our lab's recent empirical data collection has been related, in one form or another, to that grant.
If you have questions about our work and/or would like to collaborate, please feel free to drop me a line at jjasper@utnet.utoledo.edu.  If you're a student (either undergraduate or prospective graduate) and are interested in joining our lab, don't hesitate to contact me.  I'm always looking for bright, creative, and hardworking students - especially those who are passionate about science.