Student Parent Toy Drive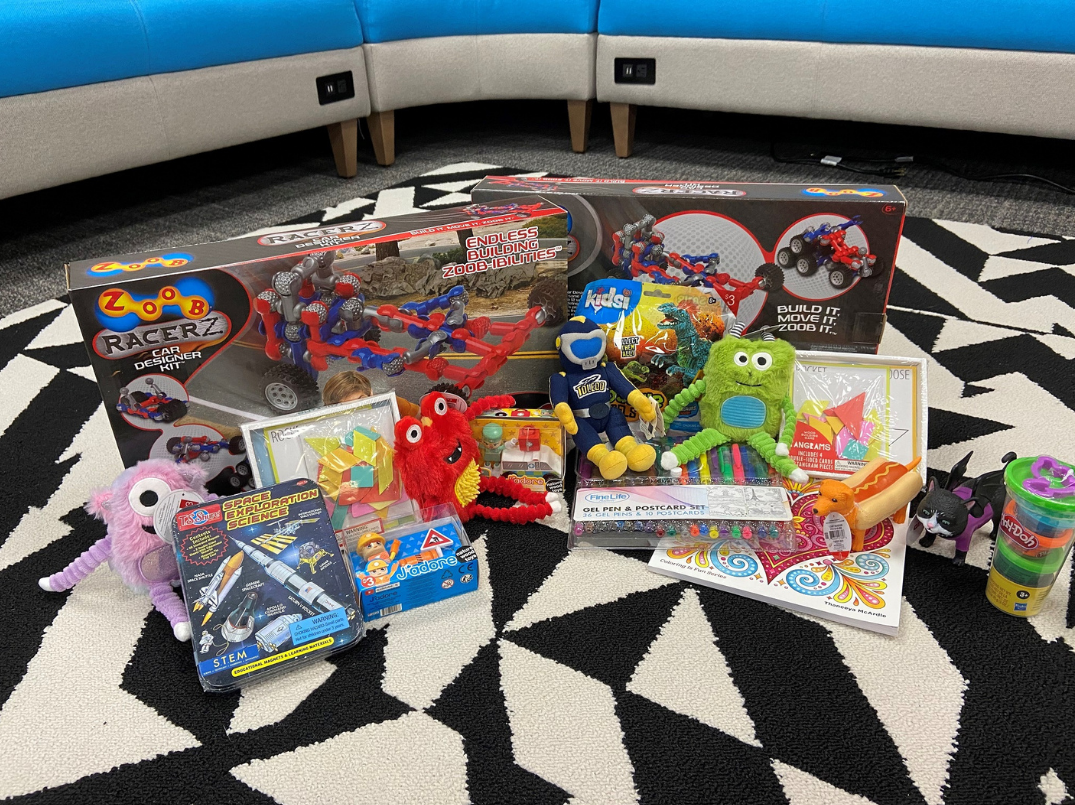 Thank you for your interest in learning more about our annual Toy Drive! Throughout November, the Eberly Center will be collecting new, unopened toys to help our student parents celebrate the holidays with their children. Students, staff, faculty, and community members are encouraged to drop off a new, unopened toy at one of our donation sites on Main or Health Science Campus starting on November 1, 2022 through November 30, 2022.
All of the toys donated will benefit UToledo student parents and their children through the Holiday Toy Exchange in December.
Thank you for helping your fellow Rockets and their families celebrate the holidays!
UToledo Student Parents can register for the Holiday Toy Exchange until November 30, 2022.
Donation Box Locations*

Donation box locations have been selected based on traffic patterns and last year's collection numbers. If your office or area wishes to add a box in your space for the convenience of your staff, faculty, and students, we would encourage and appreciate your support! We ask that you please drop off any donations to the Eberly Center by 5pm on November 30th.
*All donation boxes will be placed on Monday, October 31st by 5pm and will be collected by November 30th at 5pm.
Main Campus

Eberly Center | Tucker Hall 0168
Carlson Library |  1st floor vestibule
Health & Human Services | 1st floor vestibule
Law Building | 1st floor vestibule
Student Union | Room 2525
Health Science Campus
Collier Building |  1st floor vestibule
Health Education Building | Main entrance vestibule
Mulford Library Building | 1st floor vestibule
UTMC Cafeteria
Donation Suggestions
Infant and Toddler Toys
Infant toys
Board books
Sensory books
Musical toys
Light up toys
Wooden puzzles
Stuffed animals
Shape sorters
Stacking Toys
Preschool
Baby dolls (all ethnicities)
Board games
Disney character items
Hot Wheel/Matchbox cars
Play-doh
Wooden puzzles
Play food
Pretend play kits
School-Age Children
Non-violent action figures
Dolls/Barbies (all ethnicities)
Card games
Craft sets
Lego kits
Teens
Journals and notebooks
Puzzle books
Nail polish, makeup, bath lotions
Jewelry
Complex lego and craft kits
Model cars, paint, glue
Sports balls
Board games
Sports team items
We cannot accept any of the following:
Used toys, used stuffed animals, or used coloring items
Edible items
Candles, sharp instruments or harmful objects
Mature-related games/movies
Any items with derogatory or profane language
Any items with religious sayings, symbols, etc.