Welcome to the Academic Testing Center
The Academic Testing Center offers comprehensive support for student testing in UToledo's College of Medicine and Life Sciences and is approved to administer the computer-based National Board Examinations (USMLE Steps I, II and III). The Test Center also provides testing in a secured environment for students from around the world. 
The Academic Test Center is located in the modern Center for Creative Education building. The center has been designed with two objectives at the forefront - security and elimination of stress. We offer a friendly, comfortable environment with amenities such as stress-relievers, television/VCR, kitchen and lounge areas, and convenient parking.

To schedule an examination, students can call either the Academic Test Center or Prometric 1-800-med-exam.
---
---
Parking Information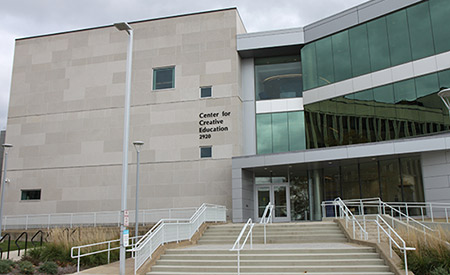 Parking is available immediately adjacent to the Academic Testing Center in Parking Area 43, located in front of the Center for Creative Education building. Please refer to Parking Area 43 on the Health Science Campus Map for exact location.
Daily parking can be purchased through https://www.parkutoledo.com/.
The Academic Testing Center is located on the first floor of the Center for Creative Education building (which is next to the Block Health Science building.)