Toledo and lucas county poverty study
A new study by the Jack Ford Urban Affairs Center focuses on poverty in Toledo and Lucas County using different lenses and sheds new light on who is struggling in our area and why. Toledo City Council commissioned UToledo experts to prepare the report and offer recommendations based on successful practices demonstrated in other cities to fight poverty and help families.

Download full presentation Download full report
---
Dr. Neil Reid discusses growth of America's craft beer industry
There are over 4,200 craft breweries in the United States, more than at any other time in the history of the United States. These small-scale independent breweries contribute over $55 billion to the U.S. economy and support over 400,000 jobs. In this short video UAC Director, Dr. Neil Reid discusses the phenomenal growth of the America's craft beer industry as well as the industry's future prospects.(November 2015)
---
Merger discussed
UAC Director Dr. Neil Reid was interviewed by the Akron Beacon-Journal on the proposed $106 billion takeover of SABMiller by AB InBev. If the takeover occurs the new merged company will be the largest brewing company in the world and will be responsible for producing 30% of the world's beer. (October 2015)
---
Dr. Neil Reid, UAC Director, Dr. Sujata Shetty, Dept. of Economics, and Mr. Curtis Deeter, Dept. of Geography and Planning have completed a document titled "Planning Downtown Toledo: An Overview of Planning Effort for the Central City". In this document they (1) provide an overview of the context for urban planning in the city, pointing particularly to Toledo's population loss over several decades, (2) review plans developed for downtown Toledo using principles highlighted in the widely-cited "Turning Around Downtown: Twelve Steps to Revitalization, " published by the Brooking Institution, as a framework for their review, and (3) present two tables which (a) outlines particular projects or planning strategies identified in the various plans for downtown Toledo and gives a sense of a strategy's continuity (or not) over time and (b) list outcomes for each of these projects or strategies.
---
Leading Economic Development

Lee Fisher (photo: Dan Miller)

Dr. Dan Johnson (photo: Dan Miller)
On Friday, March 27, 2015 the Urban Affairs Center and the University of Toledo Press co-sponsored a symposium entitled "Leading Economic Development: A Seminar for Local Public Officials and Civic Leaders". The event included two keynote speakers: 

-- Lee Fisher, President and CEO of CEO for Cities (view his presentation here) 

-- Dr. Daniel M. Johnson, President Emeritus of the University of Toledo and author of a new book entitled Leading Economic Development: A Toolkit for Public Officials and Civic Leaders (University of Toledo Press, 2015; purchase a copy here) 

Following two interesting and thought-provoking talks, UAC Director Dr. Neil Reid, moderated a panel discussion on the theme of local economic development in the Toledo region. Panelists were Dr. Frank Calzonetti (Vice President of Government Relations at The University of Toledo), Paula Hicks-Hudson (Mayor of the City of Toledo), Joseph D. Napoli (General Manager of the Toledo Mud Hens and Toledo Walleye), and Jeffrey Potter (President of Potter Technologies and CEO of SkyLife Technology). 

Approximately 60 people working in the area of economic development from across the northwest Ohio region attended the symposium.
A video of the entire event can be viewed here.
(The above link begins the first half; the second portion follows immediately.)
---
The Beer Professor
In addition to his work in geography & planning at UT, UAC Director Neil Reid has an alternate identity: the "beer professor". His enthusiasm for craft beer has grown into international research. His blog thebeerprofessor.com documents his musings on the craft beer industry. The Toledo Blade Weekender section recently quoted him: "Demographics are working in favor of craft beer. Because who drinks craft beer? It tends to be younger people. The new 18 and 19-year-olds when they hit 21, what are they going to drink? That's the key. If they overwhelming or increasingly choose craft over [macro beers like Budweiser, that's bad news for macro]." Click here to read the full article.
---
The Economic Value of the Toledo Public School System
Dr. Neil Reid, UAC Director, and Dr. Oleg Smirnov, Dept. of Economics, have completed an analysis of the Return on Investment and economic value of the Toledo Public School System. TPS, the largest school district in Lucas County and the fifth-largest district on Ohio, has an annual budget in excess of $400 million. It is one of the most valuable public enterprises in Lucas County with a economic footprint that spreads beyond the city limits in the wider local economy. From the Executive Summary: "Altogether, for every dollar of locally-funded public education, the economy receives between $4 and $5.60."
---
UT Press Succeeds by Thinking Small
What started small in 2002 at the UAC has continued in the same vein: the UT Press publishes small volumes concentrating on local histories of Toledo and northwest Ohio.
The Toledo Blade recently published a feature on the UT Press that highights this mission. According to Barbara Floyd, press director, "Nobody has a focus the history of our community. These books are important for that reason. Who else but us would publish a book on the history of people with disabilities in northwest Ohio? We can publish books about a region that we know."
The complete Blade article can be read here. 
---
University of Toledo forms task force to assist on policy issues related to water quality
UAC Director Dr. Neil Reid has been named to serve on "a task force to assist local, state, and federal officials on policy issues affecting water quality, especially that of troubled western Lake Erie", as noted by the Toledo Blade on August 29, 2014:
The University of Toledo Water Task Force was formed in response to this summer's toxic algae bloom that made tap water unsafe for 500,000 customers of the city's water-distribution system, but its scope apparently will not be limited to that. "As a public research university, Ohio taxpayers and U.S. taxpayers have invested in our researchers focused on the Great Lakes and water quality, in general. We have a tremendous return on that investment to offer, and this task force is an effort to create a single portal that governments and organizations can look to for answers and expertise," Frank Calzonetti, a geography professor who is UT vice president for government relations and chief of staff to the president, said.
Click here to read the full article.
---
Fighting Urban Blight in Toledo
UAC Faculty Research Associate, Professor Dan Hammel of Geography & Planning, appeared on the WGTE 30 show Deadline Now: Fighting Blight in Toledo to share his insights on this issue. From the WGTE web site:
"Last month, The Blade published an eye-opening series about blight in Toledo. While not close to the scale of Detroit's devastation, Toledo has more than its share of abandoned homes and businesses. If you live or work in Detroit, there is a strong temptation to roll your eyes when people talk about blight in Toledo. For us, it would be easy to assume that there isn't any blight to speak of here. That would be a wrong assumption."
---
UAC Hosts Economic Development Meeting
The Urban Affairs Center hosted a luncheon for Neil Gibson, Director of the Northern Ireland Center for Economic Policy (NICEP) at the University of Ulster (www.business.ulster.ac.uk/nicep). Mr. Gibson is an Eisenhower Fellow (www.efworld.org) and is on an eight week tour of the United States visiting various cities across the country to learn more about economic development programs and initiatives. Attending the luncheon at The Toledo Club were a number of local leaders who are engaged in various economic initiatives in northwest Ohio. Dr. Neil Reid, UAC Director, will have follow up conversations with Mr. Gibson to explore collaborative opportunities between the UAC and the NICEP. 



Left to right: Neil Gibson (Northern Ireland Center for Economic Policy), Dan Johnson (President Emeritus of University of Toledo), Ford Weber (President/CEO Lucas County Improvement Corporation)
---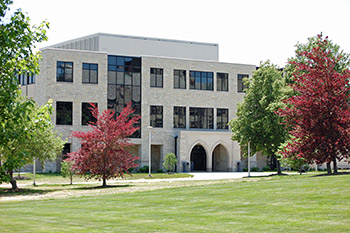 The Urban Affairs Center is an applied research unit of The University of Toledo. UAC is located in the Snyder Memorial building within the Department of Geography & Planning. Our web site is hosted by the UT Center for Creative Instruction. Our mission is to enhance the economic vitality and quality of life of Toledo and its metropolitan region. We strive to make this site useful and accessible to the our community, and we welcome your comments.

Picture: Snyder Memorial, location of the UAC


---
Recent UAC Studies
Finding Food in Northwest Ohio
Toledo-Lucas County Public Library: Economic Value and Return on Investment
Urban gardens boost quality of life, expert says
"A State of Inequity in Ohio": Additional Press Coverage