Sara Shaw, D.A.R.E & School Resource Officer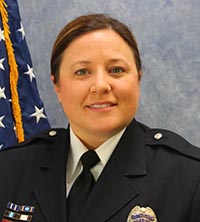 Officer Sara Shaw, a school resource officer for Oregon City Schools, is on the Advisory Panel for the Center of Education in Targeted Violence and Suicide at the University of Toledo. She is a law enforcement officer and is very highly trained in active response situations.
Officer Shaw is C.I.T. (Crisis Intervention Team) certified and a member of the Oregon City School District Student Review and Consultation Committee (i.e., Threat Assessment/Behavior Intervention Team). She is an ALICE (Alert, Lockdown, Inform Counter and Evacuate) trained Law Enforcement Officer as well as a RAIDER (Rapid deployment, Awareness, Intervention, Decisiveness, Recovery) trained Law Enforcement Officer. Officer Shaw is an Advisory Board Member and Presenter for the Lucas County Suicide Prevention Coalition.