Colleen Fitzpatrick, Ph.D.
Assistant Professor
Department of Teacher Education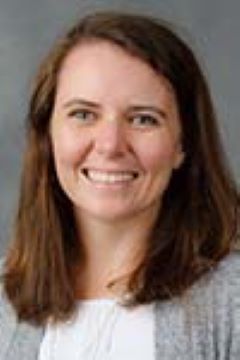 Academic Program: Social Studies Education
Office: Gillham Hall 2000HH
Office Phone: 419-530-4347
Email:  colleen.fitzpatrick@utoledo.edu
Mailing Address:
2801 West Bancroft Street
Mail Stop 924
Toledo, OH 43606-3390
List of Degrees:
University of Virginia, Curriculum and Instruction (Social Studies Education), 2018
University of Portland, MAT, PACE Program, 2010
University of Notre Dame, BA (History and Music) 2008
Biography:
Colleen Fitzpatrick is an assistant professor in social studies education at the University of Toledo.  My research focuses on the complex and interactional role the context of a classroom, school, district or state plays in how teachers and students experience teaching and learning social studies.  The goal of this research is to help teachers understand how their classroom practices impact student learning and to make sense of what students learn and experience in classrooms.
Prior to coming to the University of Toledo, Dr. Fitzpatrick was a Teacher Scholar Postdoctoral Fellow at Wake Forest University where she engaged in teaching and research of social studies education. Before working on her PhD at the University of Virginia, she taught middle and high school social studies.
RESEARCH FOCUS AREAS:
Social studies education, classroom teaching and learning, religion and education
Selected Publications:
Hemmler, V., Kibler, A., van Hover, S., Carlock, R. & Fitzpatrick, C. (2021). Using scaffolding to support CLD students' critical multiple perspective-taking on history. Teaching and Teacher Education, 105.
Fitzpatrick, C., Hicks, D., Ogle, T., & Friedman, A. (2021). Using and interrogating extended reality within a C3 disciplined-inquiry. Social Education, 85(2).
Fitzpatrick, C. & Friedman, A. (2020). Teaching and learning about Islam in middle school social studies. Religion and Education, (47) 4, 44-62.
Fitzpatrick, C. & van Hover, S. (2020).  "Alternative forms of assessment in a middle school social studies classroom."  In S. L. Stacki, M. M. Caskey, & S. B. Mertens (Eds.), Curriculum, instruction and assessment: Intersecting new needs and new approaches.
Fitzpatrick, C. (2019). "It's More Than Just Religion:" Teaching History in a Catholic School. Journal of Catholic Education, 22(1).
Fitzpatrick, C., van Hover, S., Cornett, A., & Hicks, D. (2019). A DBQ in a multiple choice world: A tale of two assessments in a unit on Byzantium. Journal of Social Studies Research, 43(3), 199-214.
COURSES TAUGHT:
CI 4110 Developing Instruction for Middle Grades 4-5 Literacy and Social Studies
CI 6120 Social Studies Methods of Teaching
CI 6220 Social Studies Practicum