Current Employees
How to Apply for an Open Position
Updating Employee Universal Profile
Applying to Open Jobs
How to Apply if You Have Recall Rights
Viewing Historical Applications/Tasks
How to apply for an open position
All active employees have an account within the new Cornerstone system. To access Cornerstone, log in to the MyUT portal. In the Employee tab, under My Toolkit on the left-hand side, scroll down to the Employment Resources section to link to the Cornerstone Online Hiring System. To log in to Cornerstone, use your UTAD username and password.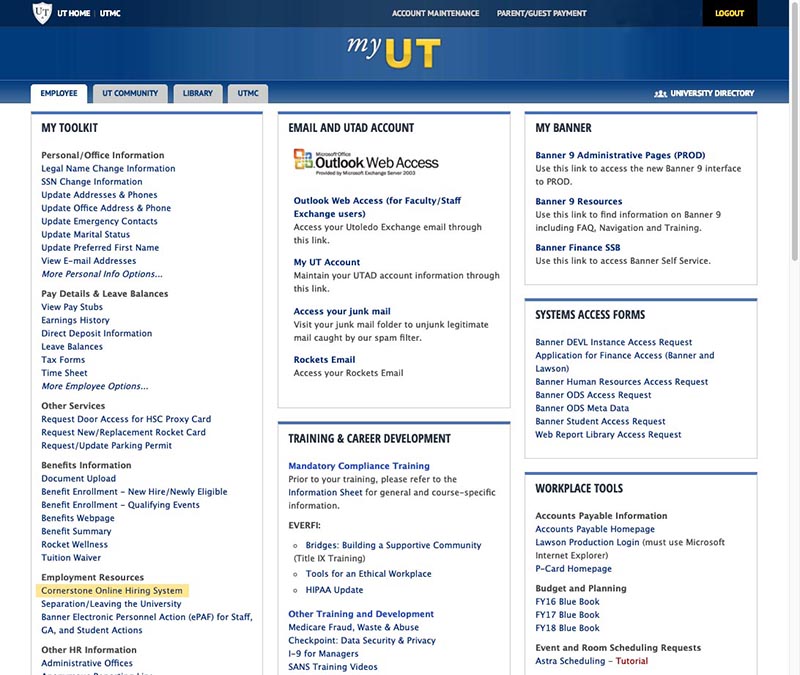 Once you are logged in, your screen will look similar to this: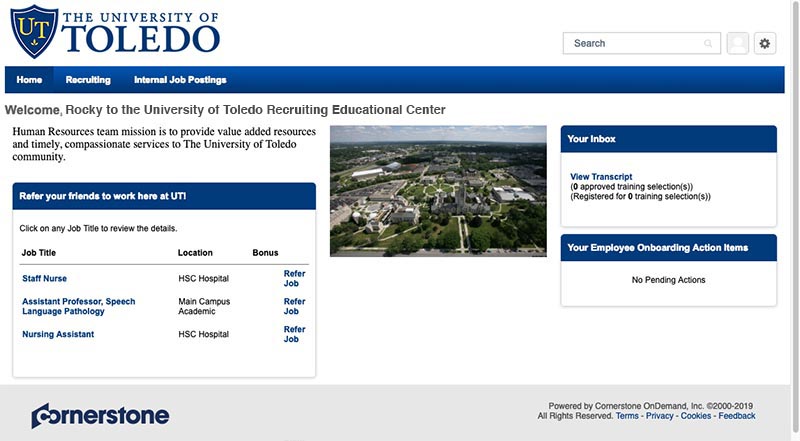 Updating Employee Universal Profile
Under the Home tab at the top right of the screen, there is a drop-down option for Universal Profile. Use the Resume tab to update or add information about your employment and education history, license or certifications. Please make your profile information is accurate because that helps Human Resources ensure your skills and education are a good fit for future opportunities at UT.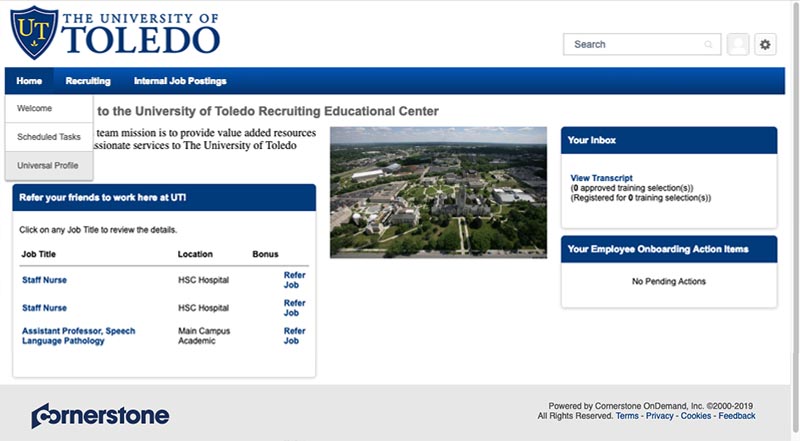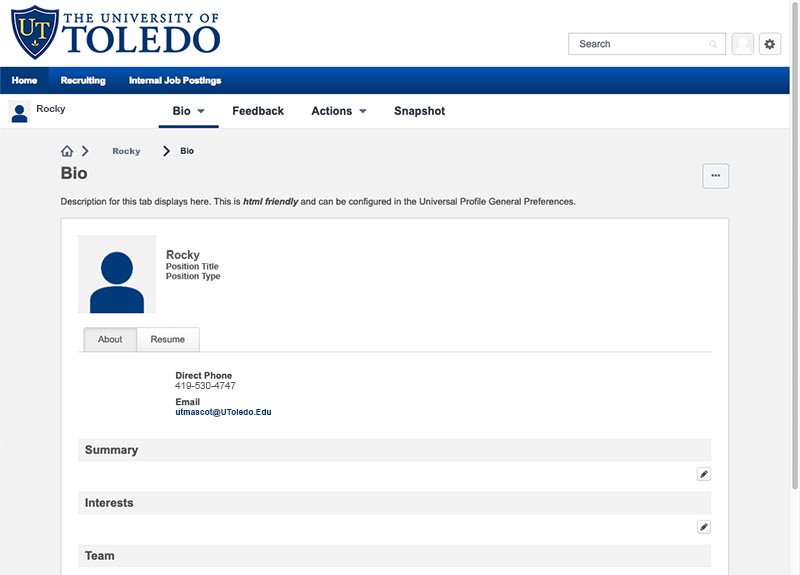 Applying to Open Jobs
To browse the job board, hover over the Internal Job Postings tab at the top of the screen and select Career Opportunities in the drop-down menu.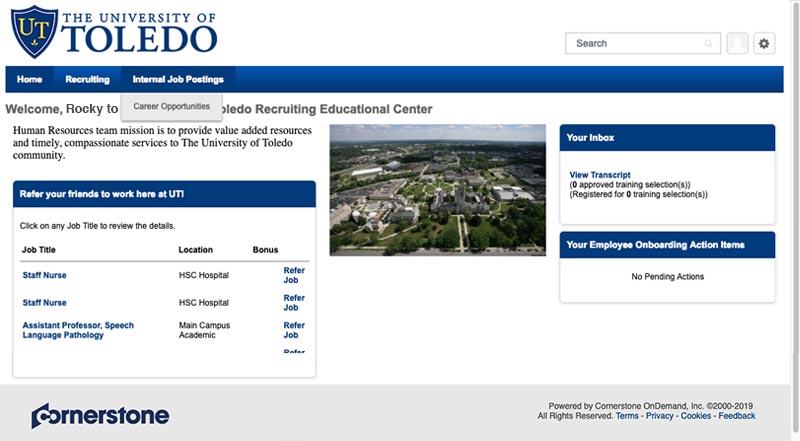 To view all open positions available to you, use the 

icon to access all advertised positions.
Jobs can be filtered by FTE, work hours start and end, shift and bargaining unit. You also may type in keywords in the Keyword search box if you would like to search for a specific position.
To view a job advertisement, use the 

icon under the Job Ad column to access details about this position. To apply, use the 

icon.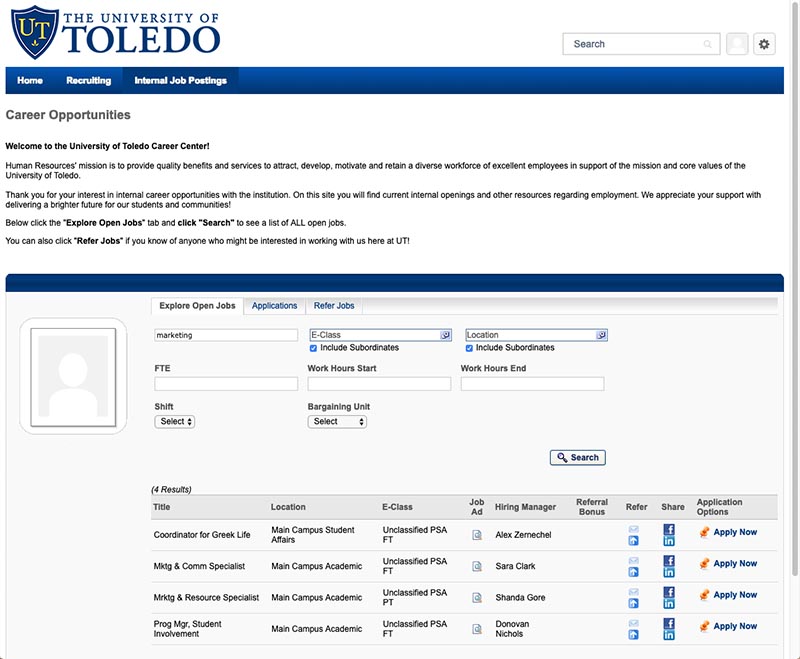 How to apply if you have recall rights
All employees who have recall rights based upon their collective bargaining agreement can view and apply to the internal jobs board.
Viewing Historical Applications/Tasks
The Applications tab enables you to access jobs you have applied for previously, the completion status of an application, the date the application was last modified, and any available options related to the application. (Note: Previous applications from PeopleAdmin, HR's former employment platform, are not housed in Cornerstone.)
Under this tab you also may access My Tasks. This section lists the tasks related to the jobs for which you have applied. For example, if you received an offer letter for a position, it would be in this section.