Rocky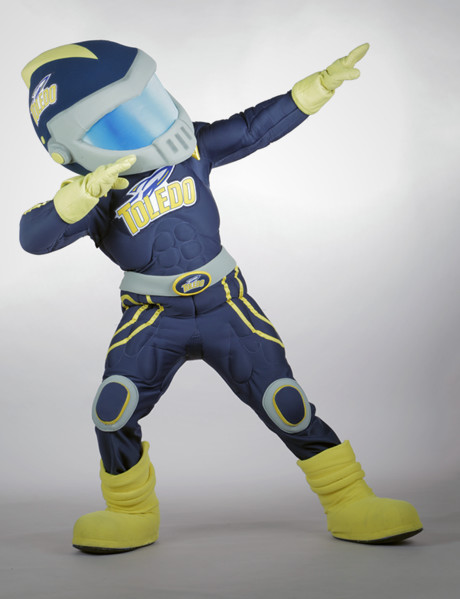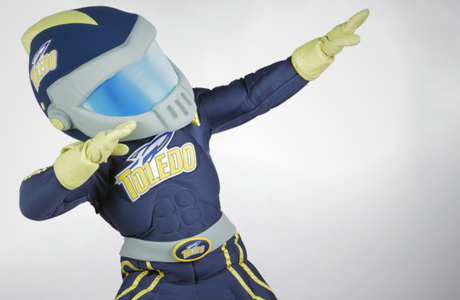 ROCKY
| | |
| --- | --- |
| Name: | Rocky The Rocket |
| Gender: | Male |
| Birthday: | Oct. 20, 1966 |
| Height: | 5' 9" |
| Colors: | Tower Blue |
| Residence: | John F. Savage Arena (but also seen frequently at local schools and other northwest Ohio events) |
| Favorite Sport: | Football |
| Favorite Song: | "U of Toledo" |
| Favorite Quote: | See YOU at the game! |
| Mascot Friends: | Rocksy, Brutus, Sparty Spartan |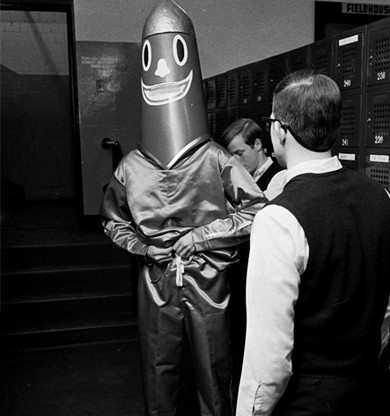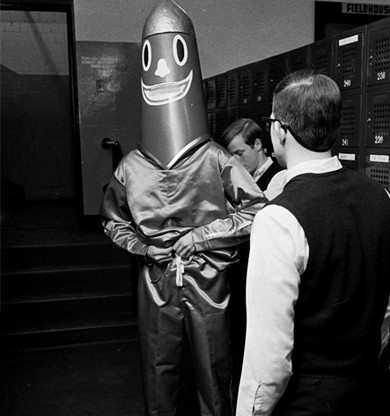 1968-1970
Rocky the Rocket was created during the 1966-67 academic year by the Spirits and Traditions Committee, a facet of Student Government. Various enthusiastic students were selected to "suit up" for a few athletic events to spark Rocket spirit.
In the fall of 1968, Rocky was taken under the wing of Dan Seemann, then Director of Student Activities, and the first official Rocky the Rocket, Bill Navarre, was hatched. In full "Rocky" regalia, Bill displayed his super spirit at football and basketball games. His suit was made by the theatre department's seamstress and passed down to him a wastepaper basket with a pointed, "rocket" top made of papier-mâché.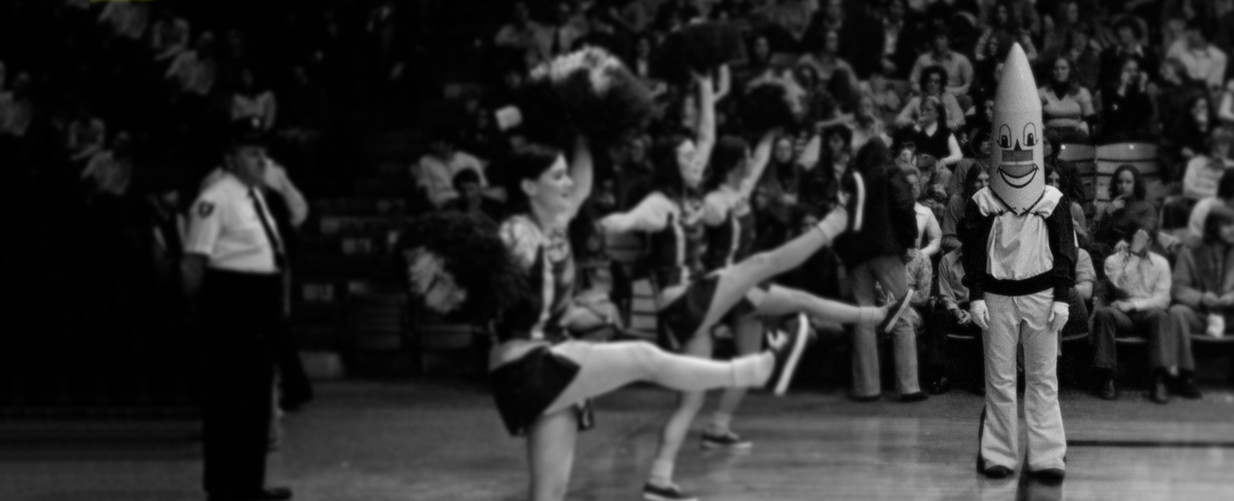 In the past, Rocky's schedule was coordinated through the Office of Student Activities and University Athletics, but now University Marketing is Rocky's wingman. Tryouts to wear Rocky's suit (a newer, much improved version from the original) take place each fall for the following year. All students are encouraged to audition. A potential Rocky must be fun, committed, skilled with children, spirited, and able to communicate expertly through non-verbal methods.
Our mighty mascot can be viewed at various UToledo events, including pep rallies, home and away football games, men's and women's basketball games, and the annual Homecoming parade. Rocky is always battling rival mascots and "rocket"-ing around venues, cheering UToledo men and women onto VICTORY! Over the years, Rocky's costume has changed many times: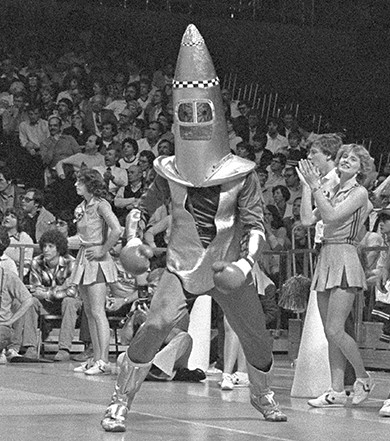 1970-1980
In the early '70s, Rocky wore a tall, metal "rocket" helmet with many different jumpsuit-style outfits, including (yes, we admit it) bell-bottom pants.
In 1977, an authentic spacesuit, helmet and boots were donated to UToledo by the NASA Space Center in Houston with the help of former Ohio astronaut and senator John Glenn.
Rocky proudly donned the spacesuit at football games, but because of its mass, he changed into a lightweight replica during basketball season.
Both suits were used until 1980, when Rocky took on a more futuristic look in a costume designed to present a more cosmic image.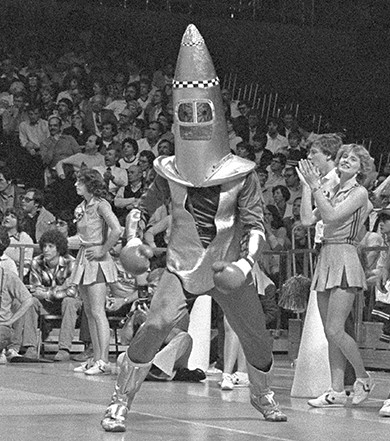 1983-2001
Another Rocky costume – plush with huge feet – was introduced in 1983, but was used only until 1986, when a version with smaller feet was unveiled. Throughout the late '80s and '90s, only minor changes were made to Rocky's costume.
In 1998, a newly-styled Rocky was introduced at the UToledo-Bowling Green State University football game. Keeping with the drama of the occasion, the "old" Rocky entered a limousine, then a "new" Rocky stepped out in a new, blue and gold "rocket man" costume, complete with a jetpack, to the roar of the mixed crowd.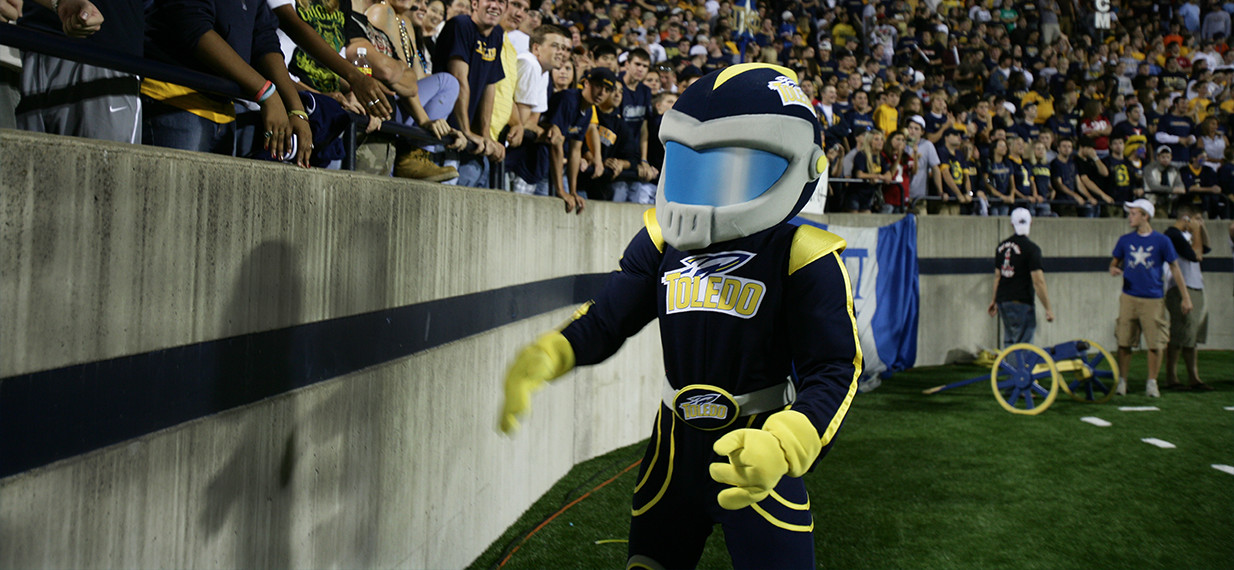 2002-Present
In 2002, an inflatable Rocky the Rocket was unveiled as an addition to the "rocket man" Rocky.

Finally, in 2008, the modern Rocky the Rocket you see today was revealed during the UToledo-Florida International home football game.