Thomas Bridgeman, Ph.D.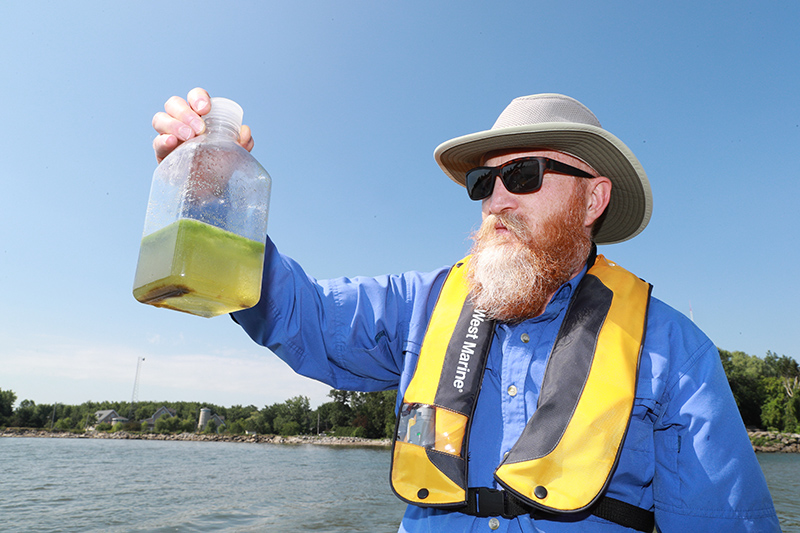 Thomas Bridgeman, Ph.D.
Professor of Ecology
Director of the UToledo Lake Erie Center
Thomas Bridgeman has conducted research on the ecology of the Great Lakes for nearly three decades, focusing on Harmful Algal Blooms (HABs) caused by cyanobacteria in Lake Erie since 2002. Bridgeman co-chairs the Ohio Harmful Algal Bloom Research Initiative, which consists of more than 30 science teams at universities across the state seeking solutions to address HABs in Lake Erie, which is the source of drinking water for half a million northwest Ohio residents. Bridgeman created a new method to measure the size of the bloom each year and contributed to the development of the annual HAB forecast and metrics for determining the official Impairment of the lake. His laboratory tracks bloom development and provides early warning and advice on bloom movements for water treatment plant operators throughout the HAB season. Bridgeman also connects with legislative policymakers and environmental advocates to raise awareness about current research efforts exploring ways to protect the lake and ensure communities continue to have access to safe drinking water.
Expertise: Harmful Algal Blooms, Water Quality, Great Lakes
In the News: Columbus Dispatch, The Blade, 13 ABC, NBC 24, MLive, Cleveland.com, CBC, Grist, Milwaukee Journal Sentinel, New York Times