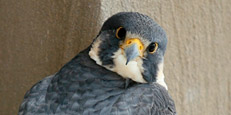 Fal-Cam
Click on the video to enter The University of Toledo Fal-Cam, your window into the lives of the peregrine falcons (Belle and Allen, 2007-2014; Liadan and Allen 2015; Liadan and Rocky 2016-2017; Astra and Rocky 2019-), the peregrine falcons who have made their home atop University Hall Tower since 2007. Learn more...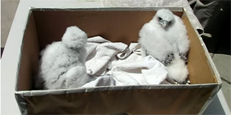 Archived Video
If nothing is going on in the nest when you arrive, don't despair! Click for archived videos of earlier significant peregrine moments.
Learn more...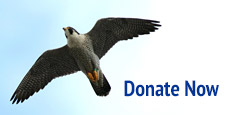 Help Support the Fal-Cam
UToledo Fal-Cam needs your support to maintain a camera and install additional cameras, expanding the window into the peregrines' world! Click to make a donation to the UToledo Foundation. Checks and credit cards accepted; specify "Peregrine Falcon Camera Fund" in "other contribution designation" box.
Donate Now
The UToledo Fal-Cam is made possible by a grant from The University of Toledo Foundation and The Office of Institutional Advancement, a generous gift from The Toledo Naturalists Association, and the support of The University of Toledo.