Curtis D. Black, Ph.D.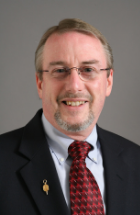 Distinguished University Professor Emeritus
Area of Research
Development of innovative dosage forms and drug delivery systems to meet the health care need of patients
Expansion of medication management programs in the community pharmacy setting
Ethical conduct of research in human subjects
Educational Background
| | |
| --- | --- |
| Ph.D., Clinical Pharmacy/Pharmaceutics | Purdue University School of Pharmacy, 1978 |
| M.S., Clinical Pharmacy | Purdue University School of Pharmacy, 1976 |
| B.S., Pharmacy | The University of Toledo, 1974 |
Training
ASHP Accredited Residency, Bronson Methodist Hospital, 1975-76
PROFESSIONAL EXPERIENCE
In my forty-plus years of practice, I have been involved in the establishment of clinical pharmacy services in the institutional, clinic and community settings, in the delivery of oncology pharmacy services in the hospital and clinical environment, in the conduct of outcomes and pharmacoeconomic research in various practice settings, in the development of topical dosage forms for dermatological conditions, and in the evaluation of the compatibility and stability of parenteral admixtures and disperse systems. 
Most recently, I have served as chair of the Institutional Review Board for the Toledo Clinic and vice-chair for the IRB for the Mercy North Research Program in Northwest Ohio.  I also recently completed a three year term as President of the Ohio Pharmacists Foundation, and a nine year term as Executive Secretary for NABP/AACP District IV.
Awards, Honors and Grants
Outstanding Service Award, Ohio Pharmacists Foundation, 2018
Issued Patents
Principal CG Burkhart, MD A novel cooling gel for sustained deep penetration of tissue in the treatment of pruritis.  (April 2007) Role: Technical Advisor. Product Concept:  A cold topical product containing medication for the treatment of pruritis due to any of a number of underlying medical conditions.  The product unique vehicle allows it to be applied as a liquid at refrigerated temperatures but it gels once warmed to body temperature.  The cold application reduces pruritis initially while the polymer allows drug to penetrate deeper into irritated tissue to treat the underlying inflammation. US Patent No. 6,103,248:  Burkhart CG et al.: Topical preparation and therapy for head lice. Licensed to Topaz Pharmaceuticals, New Jersey.
Publications