University of Toledo History and Traditions
May all those who helped initiate the following UT traditions enjoy the respect that comes from seeing these traditions endure the test of time. To all who walk the hallways and sidewalks of The University of Toledo may we show that appreciation through our efforts to continue and enrich these UT traditions.
UToledo Fight Song: "U of Toledo"
Lyrics
U of Toledo, we'll fight for you
(Fight! Fight! Fight!)
U of Toledo, we love our Gold and Blue
(Let's go Blue!)
Men of the Varsity, the enemy must yield,
We'll fight just like our ancestors
and march right down the field!
T-O-L-E-D-O, Toledo!
Dave Connelly, UT athletic director and baseball coach through the 1930s and 1940s, wrote "U of Toledo" in 1932. Connelly loved to sing, but had never studied music. Apparently, previous fight songs were no longer in use, so he wrote the words for "U of Toledo" and sang the melody to a family friend, Bernie Jones, who played it on the piano and put it to music. The song remained largely unchanged until 1975, when the below verse was removed and UT Associate Professor of Music David Jex arranged the current, full score version of Connelly's melody. The fight song originally included an additional verse.
Alma Mater: "Fair Toledo"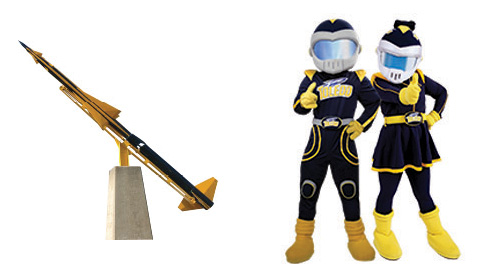 Lyrics
In tower shadows 
Voices now raising
To Alma Mater, Golden and Blue
Fair Toledo 
Praise to thee 
Portal of learning ever be,
Hallowed halls we shall revere 
Vow to keep thy memory dear. 
Fair Toledo was selected from eight entries submitted in the UT Alma Mater Song Contest, which was sponsored by the Student Senate and the Alumni Association in 1959. The competition was held to replace "Golden and Blue" as the alma mater because it was set to "Amici," a tune used by various universities. While driving to work, amateur songwriter Gilbert Mohr heard the contest announced on the radio. Mohr began humming different tunes, and later with his wife, Jean Strout, wrote the lyrics we know today as "Fair Toledo." Our alma mater, to be performed slowly and with dignity, debuted at halftime of the Marshall-Toledo basketball game on March 2, 1959.
First Week
First Weeks UT consists of programs for students during the first six weeks of the semester. The First Week UT program contains events such as New Student Convocation, Welcome New Student Carnival, concerts in the flatlands, educational speakers, movies in the Glass Bowl, and variety of other programs. First Week UT is an opportunity for new and current students to get connected with various departments on campus through educational programs, workshops, and social events.
Parents Weekend
The University of Toledo wants to keep parents involved and aware of what is happening on campus and in their child's life. Therefore, in an attempt to strengthen the family bond at the University, the Alumni Association established Parents Day in the 1984-85 academic year. After a month of being away from their children, parents and family are encouraged to come back to UT for a full day of exhilarating family oriented events. The Parents and Family Day committee organizes a full day which consists of a brunch, question and answer session with deans and faculty of each college present, prizes, pep rally/tailgate cookout, and a UT Rockets football game!
Lil' Sibs Weekend
Lil' Sibs Weekend encourages sibling bonding in a full weekend of fun activities at The University of Toledo. Siblings are encouraged to participate in different events throughout the weekend. There are many different activities to participate in such as an ice cream social, casino night, karaoke night, Carnival in the Quad, REC night, and a Rockets football game. Lil' Sibs Weekend is a great chance for UT students' younger siblings to become Rockets for a weekend and enjoy the life of a university student.
The University Seal
Four dates on the University Seal are significant in UT's history. Founded by Jesup Wakeman Scott in 1872, the University became a municipal institution in 1884 and a state institution in 1967. In 2006, UT merged with the Medical University of Ohio. The UT motto, "Coadyuvando El Presente, Formando El Porvenir," also is written on the Seal. It translates to "Guide to the Present, Moulder of the Future." Stemming from part of the Omicron Delta Kappa ritual, it was a UT myth that if you step on the Seal in Centennial Mall, you will fail your next exam. In 2004, the Seal was elevated as a symbol of the University's dedication to academic excellence, not allowing any Rocket — past, present or future — the opportunity to step on this revered monument. You should always walk to the right of the Seal, symbolizing your desire to take the right path in your journey of life and knowledge.
The "Rocket" Nickname Origin
When The University of Toledo played then-powerful Carnegie Tech in football in 1923, Pittsburgh sportswriters were surprised to learn that UT did not have a nickname and pressed James Neal, a UT student working in the press box, to come up with one. Despite UT's 32-12 loss, the student labeled the team "Skyrockets," impressed by his alma mater's flashy performance against a superior team. The sportswriters shortened the name to "Rockets," which has been used since.
Rocket Fanatics
Gregg Dodd started the Rocket Fanatics in 1995; unfortunately, his organization never became official. Rocket Fanatics was formed to support UT athletics by increasing student spirit, pride, attendance and participation. Today, Rocket Fanatics are individuals who cherish and support the traditions of The University of Toledo, including students, faculty, staff, alumni, and the community.
Black Out
Annually during the month of October, each Residence Hall's energy consumption is monitored and compared to the past October's energy consumption. The residence hall that shows the most improvement between the two months wins!
Convocation
The new school year kicks off with a celebration of new students. Each new member of the Rocket community is given a PRIDE pack and invited to a cookout afterwards. It is a great way for students to become introduced to what it is really like being in the Rocket Family. During Convocation you will be able to meet professors from The University of Toledo, get tips about navigating campus life, receive advice on how to thrive during this exciting new chapter in your life as a rocket, Interact with other students and start friendships, and really discover what it means to be a ROCKET!
Blue Key
Membership in Blue Key National Honor Society is the highest leadership honor that can be bestowed upon a Rocket. Originally founded as ARX in 1935, its 13 members are selected based on high levels of leadership, scholarship and involvement, and can be seen wearing their Waldemar Keys for 13 days after being tapped at Songfest. Blue Key plans the annual Homecoming Parade and co-sponsors Songfest.
The Big Event
The Big Event is the largest, one-day  student-run service project at UT where students come together to say "thank you" to the residents of Toledo. Students show their appreciation by completing service projects throughout the community and nearby neighborhoods. Student Government started The Big Event at UT in 2001 as an idea borrowed from Texas A&M University. 
BASHCON
BASHCON is a 1,000-person, student-run gaming convention that takes place at UT each winter. Founded in 1984 by members of UT-BASH, short for the Benevolent Adventure's Strategic Headquarters. BASHCON is a very popular event on campus, it is a primary fundraiser for UT-BASH and charities of the group's choice. 
Spirit Rock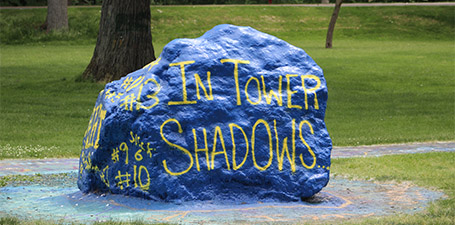 In 1968, Nicholson Concrete and Supply Co. donated an eight-ton rock to The University of Toledo as a symbol of spirit. The Spirit Rock was originally located on the grass between the William S. Carlson Library and the Student Union. It marked the final resting place of UT's old "Bancroft High" image. In 1997, a new Spirit Rock was donated and placed in the Flatlands. The original Spirit Rock, which was moved to make room for the Student Union expansion, now resides by the pond on Scott Park Campus. Over the years, the rock on the Bancroft campus has been a site for many Rocket pep rallies. The Spirit Rock has been tarred and feathered, burnt, and painted hundreds of times, but it is tradition to paint only during twilight hours.
Song Fest
Songfest, The University of Toledo's second longest tradition, began in 1937 as an outdoor singing festival to promote unity among UT fraternities. A group of six fraternities sang old college songs on the lawn behind University Hall at the first Songfest. This musical tradition has brought both campus and community together through a night of entertainment. In 1940, a women's competition sponsored by Peppers women's honorary was created. The men and women's Songfests existed as separate competitions until 1965, when eight fraternities and five sororities participated together. The transition from the previous choral competition to the current musical production format occurred in 1972. In 1975, Blue Key National Honor Society replaced the Interfraternity Council as the event's co-sponsor. Coed student organizations such as residence hall, religious and professional groups began participating in 1976.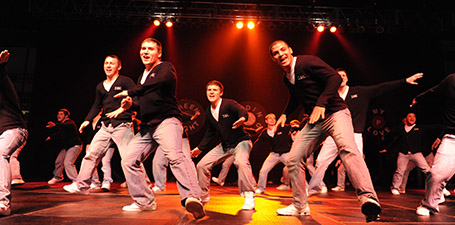 School Colors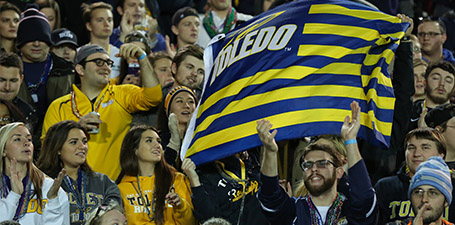 Midnight Blue and Gold, otherwise known as Tower Blue and Rocket Gold, were selected as the school's official colors by the Varsity "T" Club at its organizational meeting Dec. 1, 1919. The "T" Club continues to function as a group of former varsity letter winners whose purpose is to support Rocket athletic programs through service projects and special events.  
Blue Crew
Blue Crew is a secret student organization of 10 spirited individuals dedicated to instituting, reviving and maintaining UT traditions. You can find them at numerous events on campus and in the community, including home and away football and basketball games. They love to pump up the crowd in their, blue or yellow wigs, painter overalls and Converse All-Star shoes.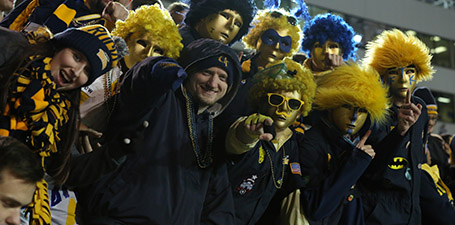 The Rocket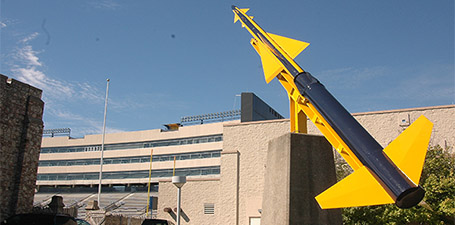 In 1961, The University of Toledo procured a genuine rocket from the U.S. Army. The one-ton rocket resides at the northeast corner of the Glass Bowl and is pointed 25 miles south toward Bowling Green State University. 
RockeTHON
RockeTHON, formerly called Dance Marathon, is a tradition that began at Penn State and has been implemented at universities throughout the nation. In 2001, Marlon Gibson, along with a team of enthusiastic students, began Dance Marathon at The University of Toledo. Dance Marathon 2001 raised more than $18,000 for the Children's Miracle Network — Toledo Mercy Children's Hospital, the philanthropy of the organization. Now, the annual RockeTHON raises more than $100,000 annually. For The Kids (FTK)!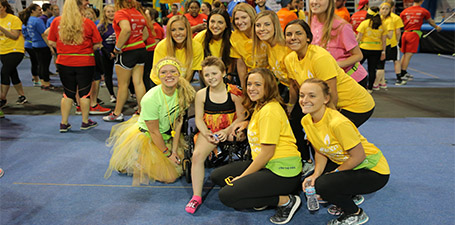 BELL TOWER AND UNIVERSITY HALL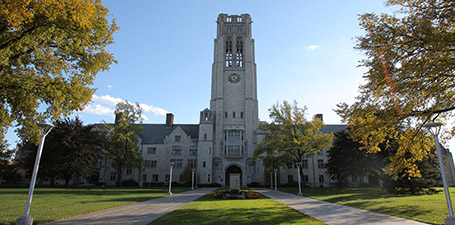 The Collegiate Gothic structural design for University Hall, which reflects the best design elements of the universities of Europe, set the standard for all other buildings to be constructed on The University of Toledo's Main Campus. President Henry J. Doermann felt such architecture would inspire students. University Hall, the first building constructed on Main Campus, and the Field House, the second building, were complete in 1931 after 11 months of work from 400 men. Residing on the top four corners of the 156-step, 206-foot Bell Tower are four gargoyles that overlook The University of Toledo. In 1978, geography students designed the layout of Centennial Mall sidewalks by perching atop the Bell Tower and photographing the snow paths made by students walking to class. Also, the trees planted around the center circle are known as the Circle of Champions. Each tree represents a UT MAC Championship.
HOMECOMING
The first UT Homecoming game was played Oct. 27, 1923, against Bowling Green Normal College. In a historical milestone, Toledo won, 27-0. Homecoming is UT's longest-standing tradition, and was originally sponsored by UT alumni as a means of stirring support and raising funds for their alma mater. Homecoming Week brings the University community, the Toledo community and University alumni together in an effort to support UT. Homecoming is an annual, fall event that encompasses a week of fun-filled events, including a pep rally, parade, bonfire, concert, king and queen contest and football game.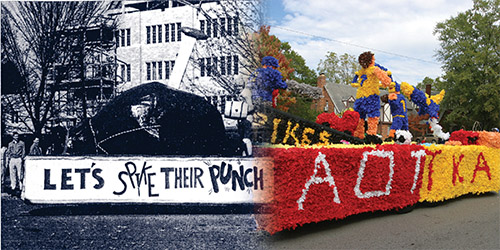 ROCKY AND ROCKSY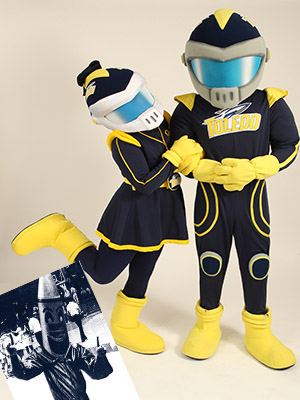 UT's powerful mascot was created during the 1966-67 academic year by the Spirits and Traditions Committee of Student Government. Various students were selected to dress up for several games. During the fall of 1968, the first official Rocky the Rocket, Bill Navarre, emerged. Clad in the Rocky costume, Bill displayed his super spirit at both home and away football and basketball games. The costume — a wastepaper basket with a pointed rocket top made of papier-mâché — was made by the theatre department.
The Rocky costume has evolved from a tall, metal, rocket helmet with a bellbottom jumpsuit in the early 1970s, to an authentic NASA spacesuit in 1977, to a futuristic space rocket image in 1980, to a big, blue, plush Rocky from the late 1980s until 1998, when a blue and gold rocket man costume, complete with jetpack, was unveiled. In 2002, an inflatable Rocky the Rocket joined forces with the rocket man Rocky to be viewed at various university-sponsored events, rallies and sporting events. Any student can try out during spring semester to be Rocky for the following year.
Rocksy was introduced in the fall of 2011, and serves alongside Rocky to excite the Rocket fans. She loves going to athletic events and special programs both on-campus and throughout the community. Rocksy is smart and kind, and loves everything midnight blue and gold! People always ask if Rocky and Rocksy are dating. To set the record straight, they are absolutely not dating, they are not married, and they are not brother and sister. They are just best friends.
UT VS. BOWLING GREEN RIVALRY - THE PEACE PIPE
Competition between The University of Toledo Rockets and the Bowling Green State University Falcons dates back to 1919. In 1935, an intense rivalry launched between these two schools when UT rocketed past the Falcons in a 63-0 blowout. The fans went crazy, causing an outbreak of riots, and as a result, Bowling Green removed Toledo from its athletic schedule until 1947. When the Rocket's resumed play against Bowling Green, the Peace Pipe was instated as a basketball award. Allegedly, there used to be a observance involving journalistic organizations from the University of Toledo and Bowling Green at halftime of one of the UT-BG basketball games annually.  Representatives from each school's newspaper smoked a six-foot peace pipe, carved from wood with the winning school keeping the pipe until the renewal of the tradition the following basketball season.  Unfortunately in 1969, the custom came to an unexpected end when an unidentified person stole the pipe from its resting-place in the Collegian office.  The thief was never caught, nor was the pipe ever recovered.  The tradition was reinstated in 1980 for football with a miniature peace pipe replica resting atop a trophy created by Frank Kralik, former UT football player, as an award for the winner of the annual gridiron battle between Toledo and Bowling Green.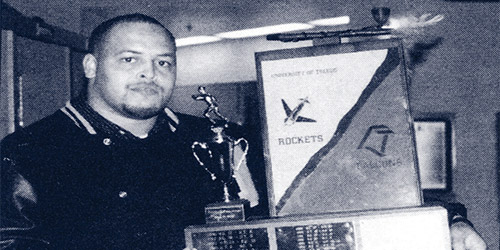 THE FOOTBALL CANNON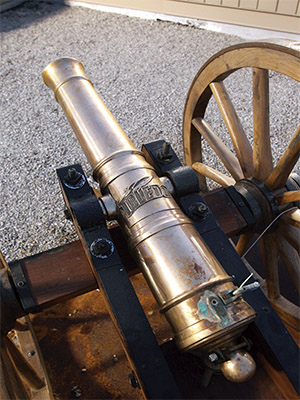 During every home football game, fans are excited by the boom of the cannon at the end of each quarter and after every Rocket score. The cannon, a Civil War-era model, originated from a member of Pi Kappa Phi who bartered his cannon for his fraternity dues. The first shot was fired from the top of the east blockhouse during a 1966 Rockets football game.
FRESHMAN CAMP
Freshman Camp, sponsored by University YMCA, began in 1950 as a three-day social and informational orientation to college life. UT upperclassmen are specially-trained to plan and implement the camp, held prior to the beginning of the freshmen's fall semester. This fun-filled event is a wonderful opportunity for incoming students to meet new people and build friendships that will impact the rest of their collegiate careers.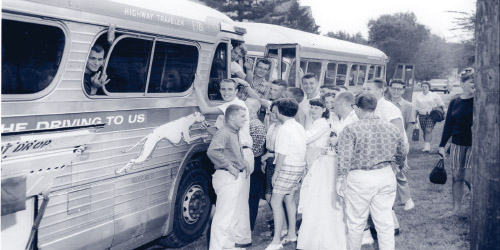 DANCING ROCKETTES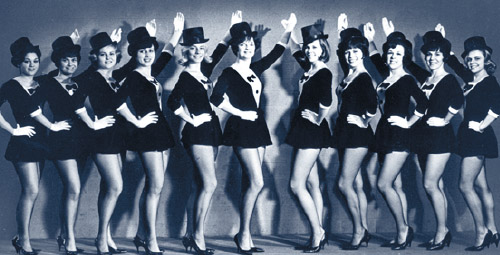 Max Gerber, sports information director for UToledo, asked local dancer Daryl Jervis to start a dance troupe that could entertain during halftime at basketball games. The University of Toledo Dancing Rockettes were the first recognized collegiate dance team in the nation. The team debuted on March 16, 1961 at halftime of the Kent State-Toledo basketball game. In 1965, the Rockettes performed for eight weeks at Army Non-Commissioned Officer Clubs in Germany. The Dancing Rockettes officially merged with The University of Toledo Rocket Marching Band on March 12, 1978.
MORTAR BOARD
Membership in Mortar Board requires junior status with a minimum GPA of 3.0 and active involvement in campus and community projects. Originally founded as Peppers, it recognizes Rockets who have contributed through service. Members annually co-sponsor Songfest with Blue Key and plan the annual Wrap Up Toledo service event.