Rocket Drumline
Welcome to the University of Toledo Rocket Drumline Website!

                                                                 
______________________________________________________________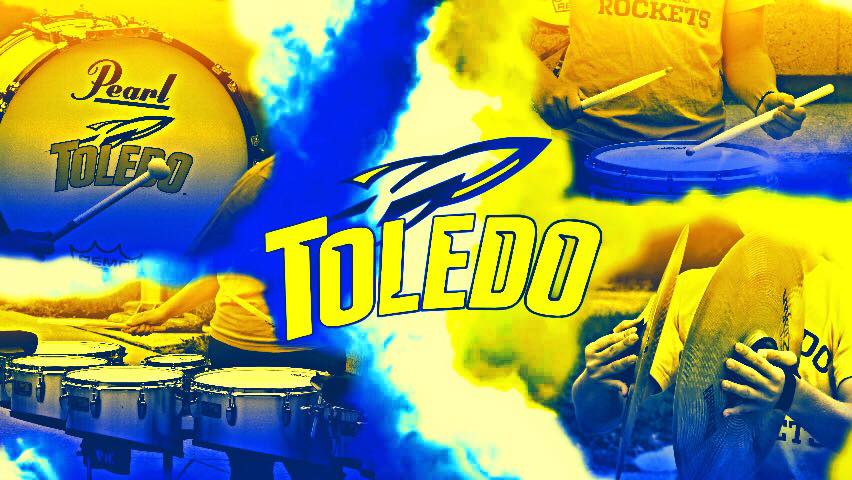 This is the official website for the University of Toledo Rocket Drumline. On this page you will find information concerning auditions, clinics, and performances. Please check back often for new and updated information.
The UT Drumline has a rich history of tradition within the Rocket Marching Band and continues to push the boundaries of marching percussion and performance. The group performs at all home football games as well as events on campus and around the Toledo area. Our 2015-16 Drumline DVD is now available to view on our youtube page here and contains clips of our warmups as well as show music. You can also follow us on social media at Facebook, Instagram, and Twitter. 
We would also like to thank our sponsors Vic Firth Drumsticks, Pearl Drums, Remo Drumheads, and Zildjian Cymbals for their continued support and standard of excellence when it comes to providing us with the best equipment in the world.
Thanks for stopping by and happy drumming!!!
_____________________________________________________________
2017 Audition Information
Auditions for the 2017/2018 University of Toledo Drumline will be held on Saturday, April 29th 2017 (9am-4pm).
If there is a conflict with the audition day, please communicate this immediately so that we can work out a solution. During the auditions everyone will be drumming together as a full line and in sub sections working on UT Drumline exercises and techniques. The music for auditions can be found here and will also include some other material handed out just before or at the audition.
If you are planning on auditioning for the group, please register by emailing Andrew Rhodes, Director of the Rocket Marching Band, at andrew.rhodes@utoledo.edu as soon as you can. When you send your email please include the following:
-Name/First choice of instrument/Second choice of instrument/Detailed experience qualifications
*Auditions will be held at the Center for Performing Arts on the University of Toledo Campus.   
Free Drumline Clinics
The 2017 Free Drumline Clinics will be held every Wednesday starting February 1st through April 12th. The clinics take place in the University of Toledo Center for the Performing Arts (Address Below) on the UT Campus and meet in room 1023. 
The purpose of these free events is to provide high school and college percussionists the opportunity to learn techniques and to develop their skills in a traditional drumline setting.  These clinics are an excellent development opportunity for students planning to audition for college drumlines this summer/fall.  Participants will drum alongside members of the UT Rocket Marching Band Drumline, and receive instruction from the UT Drumline Director.

Who should attend?
These events are for High School and College Students.
Music/Exercises                                                                                         The music that will be used during the clinics can be found here. Please download the pdf's and bring the music to rehearsal in a binder.
Cost                                                                                                         These events are free.  However, we do ask that you contact Mr. Rhodes at andrew.rhodes@utoledo.edu with your intent to participate and for further information.
Location
The UT Accent on Drumline is held in the Center for Performing Arts (CPA) on the campus of:
The University of Toledo
Center for Performing Arts
1910 West Rocket Dr.
Toledo, OH 43606