Jakob Caplinger - Dana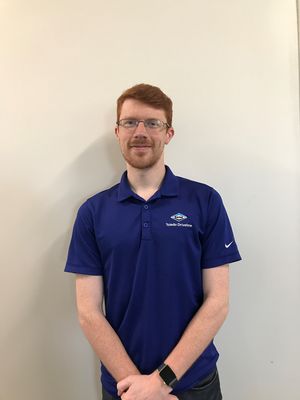 UPDATE 
My title is Information Technology (IT) Operations Analyst at Dana Incorporated. My responsibilities include drafting solutions to promote efficiency in production and ease of use to the users I support, as well as assisting users with their current technology setup. Being a part of the Toledo Launch Team, a few extra responsibilities presented themselves such as network planning and project management.
What attracted me to this position is that it is a part of a much bigger project. This position placed me on the initial launch team of the Dana Toledo Driveline Facility. This gave me the opportunity to prove myself and to bring some fresh ideas to the buildout of the technology side of the new plant. Although it is challenging, it is also very rewarding and lets me have a positive impact on the city. As far as career goals, this new position helped me be more confident in my knowledge and expand my views on project management and teamwork.  Effectively proving myself here allows me to grow within Dana which the company is very animated about doing with their employees.
More than anything, making this change made me realize that I'm not only dealing with IT in my current position. I'm also working with Supply Chain, Engineering, and Finance. Luckily the College Of Business and Innovation prepared me to understand what I was looking at and act accordingly due to the finance and supply chain classes part of the curriculum.
ORIGINAL TESTIMONIAL

My internship title has gone from active directory analyst to field support technician as my position has shifted from summer to fall semester while at Dana. I started there in May and will finish during exam week of fall semester, 2016
As an active directory analyst part of the Information Security team, some of my responsibilities included taking on a temporary project management role, implementing a system that will centralize and secure multiple "privileged access" accounts. I also was in charge of gathering information for side projects, and helping manage the security side of their server provisioning process.
I enjoyed the hands-on experience I receive during with my time at Dana. I wrote two different group policies to help manage vulnerabilities and security standards during the server provisioning process.
COBI prepared me for this internship by teaching all the relevant information I could want and need through the stimulating and challenging curriculum of the business college. Through the group work and projects, these experiences helped my ability to run meetings and ensure progress is always being made. COBI helped me obtain this internship through their job fairs, which I always attend and at least hand out resumes. The networking side of it is invaluable.
I also landed a position working as a student technician for the business college and joined ASM. Both of which helped me network to a much larger and valuable crowd. It has opened countless resources for my use as a student or job-seeker.
I selected the University of Toledo College of Business because while I had a passion for IT, I wanted the bridge between IT and business rather than what the engineering college offers.  While my major is information systems, I also have a minor in professional sales. I selected the IS major because of my engrained passion for IT, while still being involved in business practicality.
My internship has helped me realize all that goes into implementing security information systems and the detail needed to correctly manage the implementation.  My ultimate career goal is to achieve a management position of a select team implementing security information systems in organizations.
The job fair is the single best way to land an internship and more than likely secure a job for your future; the curriculum will give you the know-how to match!