Javier Gomez
PwC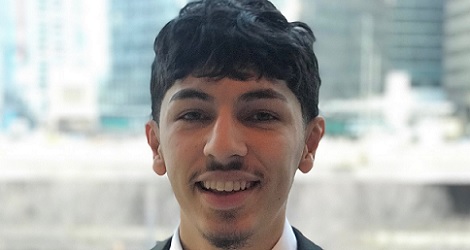 Beginning this September, I will be a full-time Core Assurance Associate (Audit) at PwC.I will be on an audit engagement team auditing a Fortune 500 company in the Greater Toledo area (OC, Dana, or Marathon) and I will be responsible for analyzing financial statements and ensuring that reliable financial information is reported. Also, I will also analyze internal controls to analyze their strength and effectiveness. 

I have not begun yet, but the interview and on boarding process has been flawless and easy to navigate thus far. The uplifting and diverse work environment is what drew me to PwC originally, and it has been even more engaging and exciting as I advanced throughout the hiring process. 
I will begin my career in public accounting and then pursue a career in tax law, so being able to land this position right out of college is amazing. Not only will I get valuable experience, but it will add to my resume and prepare me for applying to law schools and understanding what a career in tax law will actually look like.
COBI helped me obtain this position because I met the recruiters at the job fair and COBI even let me use one of their rooms for my webcam interview when I had no quiet place to host it myself.
COBI's upper division courses played a key role in teaching me the technical skills needed to qualify for this position, and the lower division courses did a good job of exposing me to every major offered so that I was sure I wanted to declare in accounting in my junior year. Also, COBI's mock interviews and resume critiques were essential in preparing me for the intense interviewing process.
I chose to attend the University of Toledo College of Business and Innovation because of its affordability, diverse range of majors/minors, and rising pedigree. I selected accounting as my major because it is always a required position in business, so job placement is very high. Also, I am an analytical person and I know that a degree in accounting would give me great preparation in pursuing any other advanced degree(s) I might choose to pursue later in life. Accounting is the language of business: you can switch to any other field of business later on with an accounting degree, but the opposite cannot always be said. 
If someone is considering studying business at UT COBI, I would tell them "Do it!" Make sure you find the right major (or majors) for you and go for it! COBI does an awesome job of exposing you to a variety of recruiting events and supplemental student business organizations. If you do your due diligence while in undergrad, then you will surely land a job out of college that is right for you!  Finally,consider joining student organizations. Network, network, network. It's not just about what you know, but who you know!