Jerome Watson - Management Trainee (Enterprise)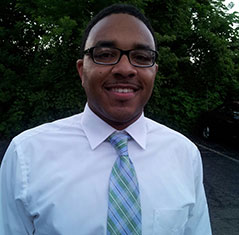 "I am a Management Trainee at Enterprise Rent-A-Car, where my responsibilities include developing new business and maintaining current relationships, understanding cost control, delivering superior customer service, problem solving, making deposits, renting cars and marketing to companies to gain their business.
The growth and opportunity that my job has to offer is what I am most excited about. How quickly I move up at Enterprise is all on me, and I love that the company gives that opportunity. There are no limitations on what I can do here. Also, other employees help each other grow.
My major is in marketing. I selected this major because I like the different types of marketing you can be involved in. The advertising of a brand, the fact finding of a customer or company to find their needs, and the person-to-person interaction are a few reasons I selected this as my major.
I was in the Educational Talent Search in Akron when I came on a visit to The University of Toledo. I liked the visit and the environment at the University. Also I read and heard great things about the College of Business. That's how I made my selection.
COBI is a great program and I have not one negative thing to say about COBI. The advisors are great as well as the professors. I would honestly have to say that their career development programs helped me the most in preparing for my career. I would strongly recommend others to experience what I did with COBI."