Josie Yesmunt - Haworth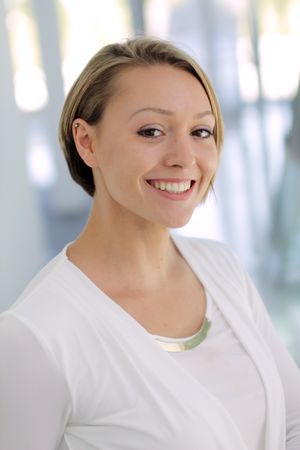 My major is supply chain management. I choose supply chain management because you get to see the process of a product from the beginning to the end. I honestly love it because of organizing the inventory and overseeing the process. My ultimate career goal would be to become a supply chain management executive or operations director.
I was a material planner for Haworth from May through August. My internship was great! It gave me a good base of software programs and great connections leading towards my career. I also became accustomed to term analogy and how a business side is run within a manufacturing plant.  I was in charge of scheduling customer orders, ordering purchasing parts, helping with level loading on the production schedule, creating daily fill for week production forecasting, SAP help with alerts and more. I would have it change day-to-day with projects, but it would be consistent with having to order every day because we had lean inventory and specialized orders.
I truly enjoyed being treated as a coworker. I was not a guinea pig running around grabbing coffee. I was able to be a part of meetings and projects. I also was able to work independently on day-to-day tasks. I am thankful to have gained the computer software skills and connections within the workplace. This helped me solidify that this is the right career for me. I have been offered the opportunity to go back next summer, and I think Haworth is definitely a company I would like to work for later on.
COBI has many great opportunities for people to gain positions through meeting recruiters at job fairs, connecting with your instructors and the COBI office. Amy O'Donnell's class prepared me for getting this job by updating my resume with great tips. My bosses were impressed with my resume right away. I am so thankful COBI has the Career Development class. Even though you might have your stuff in order, you can always learn something new and gain connections.
I choose the University of Toledo College of Business because it was the type of college that felt right for me. I am one of those people that gets motivated and intrigued about business and how it runs. Honestly, I just followed my interests and this college was just the right fit.
I am definitely grateful for my experience at Haworth. I am glad to have done it as early as I have to get real world business experience. If someone is trying to get the experience of how a business is run inside and out, it would be good to get an internship earlier to know if you like it. I think if I waited for my senior year I would not have been as confident going into my major. I think I definitely got a leg up on some people. My classes are becoming easier to understand and making more connections than I would have ever thought.
If you are interested in studying business, think about the games or things you liked doing as a child. Did you make the classic lemonade stand? Did you enjoy setting it up or going to the store to get supplies or was it the dealing with the financials? As a child we already become interested in these things and we didn't realize it. I would say key into what you really love doing and run with it. Try it out. You can never go wrong because you will gain more experiences and more of a baseline.