Joud Rahal - Health Care Applications Developer (The University of Toledo)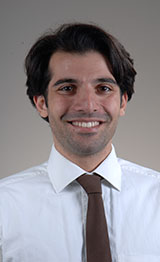 "As an entry level Health Care Applications Developer, I am responsible for developing applications for The University of Toledo health care system and sub-application system, consisting of inpatient, ancillary and outpatient for physicians, nurses, pharmacy and nursing students. As a member of a project or enhancement team, this position will deliver impactful changes to new and existing applications systems.
COBI helped me prepare for this position by making me more "Business Suave." The different job fairs and guidelines for dressing, acting, speaking, and preparing my CV made me feel like I was more professional with future employers.
The Business Career Program office helped me immensely. I went there on many occasions and asked them what they think I should do. Craig A. Turner helped me first when I showed him my CV and he critique it, second when I asked him what he thinks I should be like during my interview, and third after my interview when he instructed me about the post-interview thank you email.
I selected the University of Toledo because the city is not too big, but not too small; other than that I've heard many good things about the innovation of the College of Business and the professors that make it their personal job to help their students with the subjects they're teaching.
I majored in information systems with a minor in management. I selected that major because I have a penchant for solving complex and interesting problems, such as mathematical programming algorithms, and I would love to think of new ways to stay up-to-date with ever-evolving technologies.
COBI is a school for those who want to be successful. As a business major you have to build your contacts from your school, and the students who are going to school at UT right now will one day be the employers, employees, and managers. Save every project you are creating for their professors in UT because they could use them to apply for a job. I used a visual basic program as an extra submission when I applied for my job to show them that I have some programming skills and the interviewers liked it a lot.
The University of Toledo is an amazing place to learn, have fun, and grow. When going to UT you get a feeling that leadership, innovation, and creativity are a part of the University's core values, some of which rub onto its students. The classes are always clean, the technology in it is always renewed and the students in it are always fresh with ideas. It's a good University to be a part of, so good that when you graduate you feel like you want to come back. I want to go back and get my masters, however I don't know if I want to stop there.
I'm looking forward to growing and learning more. I have a feeling that this job is only the first step towards the horizon, and once I reach my horizon there will be another one ahead. UT has pointed me towards the direction I should be taking in life and now I just have to keep going."