Kyle Schaefer - Talent Acquisition Specialist (The Andersons)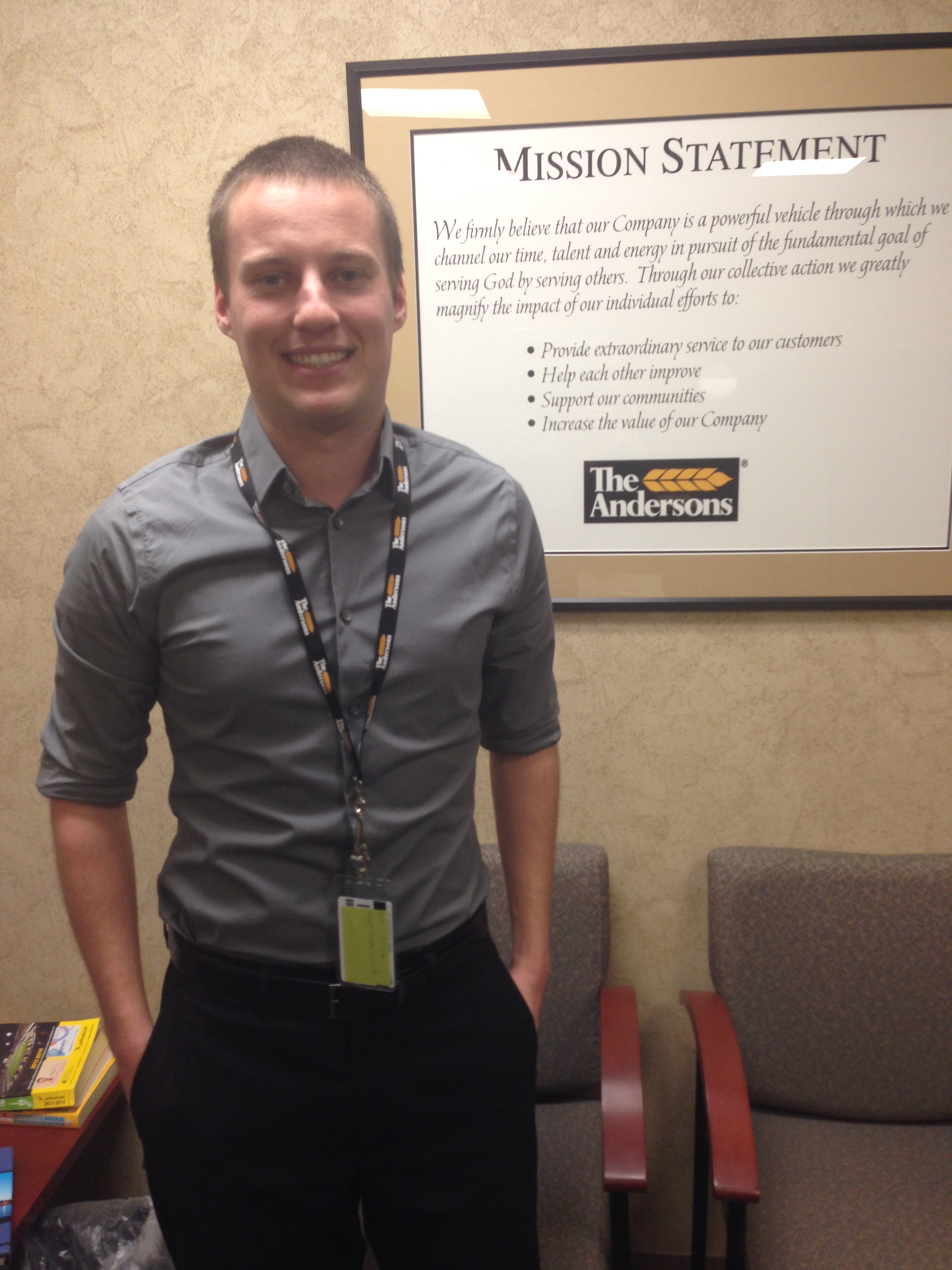 "As a Talent Acquisition Specialist, I provide support for a variety of Human Resource functions, but primarily to the Talent Acquisition team. This includes, but is not limited to: managing seasonal hires, assisting with interns/part-time/full-time hires, processing paperwork for new hires, creating requisitions and job postings, coordinating claims for unemployment/employment verifications, and working on various continuous improvement projects.
I applied for this position after seeing it posted online. I worked with some of our faculty members through COBI to get a good understanding of what the company was like. I received a positive recommendation of the company, as well as me being a good fit for them. I am grateful for the emails that Dr. Terribeth Gordon-Moore sends out to all COBI students, as all three of my previous experiences (HR co-op, HR internship, and HR coordinator), I learned about and hired as a result of. I'm really glad that I took advantage of all of these experiences, because it helped me obtain my current career.
I've just started my job, for only a few weeks, but I can already tell what I like most about the company is the culture. There are many things a potential candidate must consider, such as benefits, compensation, etc. when choosing companies to apply to and interview with. Culture is something that is overlooked more often than it should be. Everyone (not just those in the Human Resources Department) has been great to me. There is a fresh and open environment where you feel that your opinion matters in the company. The Andersons strives for all employees to work through their statement of principles and to exemplify them each and every day. I can see myself working with this company for many years to come.
COBI helped prepare me for this position by giving me a comprehensive learning experience, and an education to apply to real-world business practices. One of the many goals is for all COBI students to enter the workforce upon completion of their degrees and to be successful in the career path that they choose.
I elected to attend The University of Toledo for numerous reasons, one of which included the breathtaking campus. I received a gracious scholarship from the University and I asked many alumni's opinion of UT. Living in Oregon, OH where the majority of my family resides was hard for me to move away from home and I wanted to stay close to home. So UT was the natural place for me to earn my education. I chose to go in the direction of business because I was interested in pursuing a law degree after graduating with a BBA in general business administration.
Initially, I started UT with the intention of graduating with General Business Administration degree. That idea for my majors changed halfway through my education after I pledged and gained membership into Alpha Kappa Psi, the Professional Business Fraternity at The University of Toledo. The pledging process required us to interview active members, of which some were HR majors. After multiple conversations with them, I choose HR/OLM as a dual major. My first HR position was with General Electric as an HR co-op, which was an extremely positive experience. I want to focus on my career in human resources and see where that leads me. I plan on applying for the MBA program at UT within the next year.
I had a wonderful experience at The University of Toledo. Those 4.5 years honestly flew by, but also hold some of my most precious memories as a young adult. I highly recommend COBI to any of my colleagues, family, or friends who are thinking of pursuing undergraduate or graduate degrees because COBI truly prepares you for the real world and gives you the tools you need to be successful."