Michael Blazevich - Owens Corning, Marathon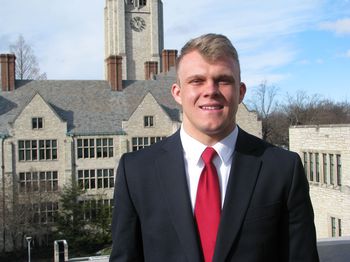 Since May, 2016, I have been a corporate strategy and financial planning/analysis intern at Owens Corning, where my responsibilities are to forecast OC's capital expenditures, create financial presentations for upper level management, and help budget future costs.
I enjoyed the ability to work with like-minded individuals.  The work was challenging, but the entire team was there to help me every step of the way. In addition to this, the internship was extremely structured and had plenty of opportunities to network and increase my Microsoft Office skills.
This job fit my personal career goals in that I always wanted to work in finance at a Fortune 500 company. I was also given the ability to grow in the corporate function and learn more about it, which I have always wanted to do.
In addition to this internship, I was able to obtain and accept a full-time offer at Marathon Petroleum Corporation in the Accounting Department.
COBI has been a huge influence in getting me to this position today. They have been extremely helpful with anything involving getting a job and internships, such as their job fairs, mock interviews, and personalized help. The entire staff has been extremely helpful and supported me during my road to getting a full-time job. 
I selected the UT College of Business because I had heard about their good reputation, job placement, facilities, student feedback, and because the campus was only 20 minutes from where I grew up. My majors during my undergrad were accounting and finance. I selected these majors because I have always been interested in how businesses operate, how to make money, and how to manage money. I am currently studying in the accounting master's program.
I would highly recommend that high school students consider going into the UT College of Business and Innovation because I have learned a lot during my time here, including accounting, finance, time management, self-motivation, how to get an internship/job and more. Also, all students who are in the College of Business should make use of the service they provide to help get you on the right path to get a full-time job/internship.