Patty Dutcher - Core Assurance Associate (PricewaterhouseCoopers)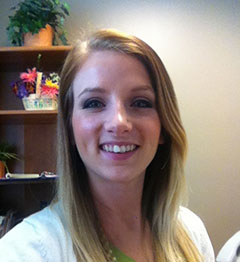 "My high school offered a vocational accounting program, which I really enjoyed. That is why I chose to go into accounting at UT. My undergraduate major was accounting and I just completed my masters of science in accounting in May.
I had a core assurance internship with PricewaterhouseCoopers in the summer of 2011. I was able to get a good sense of what life as a CPA would be like. The experience was great and at the end of the internship I was offered a full-time position, which I will begin in August.
As a core assurance associate in the PwC Toledo office I will work on the auditing team, which tests the financial information of our clients to issue an audit report. The opinion expressed in the report is used by investors and creditors to assess the reliability of the company's financial statements.
COBI prepared me for my future with the resources they offer for career development. In the two required career development courses you learn how to create your resume, how to act in an interview, how to dress properly, etc. I think they are crucial to each student's career success.
I obtained my internship through the COBI job fair. I gave my resume to the recruiters at the PwC table and received an offer for a campus interview afterward. COBI hosts the campus interviews in the career services office.
I would tell someone considering studying business at UT COBI that it is a great school with a lot of resources available to their students. Most importantly, they do an excellent job of preparing you for a career."