Program Technical Standards
The faculty encourage applications from all qualified individuals regardless of race, color, national origin, religion, gender, sexual orientation, age or status as a veteran of any conflict, and disability status.
The OTD program exceeds the entry-level standards established by the Accreditation Council of Occupational Therapy Education of the American Occupational Therapy Association and prepares graduates who we believe are competent for entry-level practice, ready to assume advocacy roles, capable of research involvement, and able to make autonomous decisions. Our objective is to increase opportunities for persons with disabilities, while maintaining the expectation that all students achieve the goals of the program. It is the intent of this statement to describe the overall academic skills, professional role skills, and therapeutic skills required to successfully complete the program. Additionally, each course syllabus identifies specific expectations for students.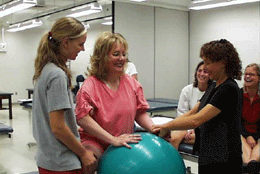 People with disabilities attend classes to
help students understand their challenges.
Academic Skills
A. Students need sufficiently developed cognitive, emotional, motor, and written and oral communication skills to complete individual and group assignments at the graduate level including papers, exams, presentations, and demonstrations. Students need interpersonal skills to successfully engage in the mentoring process and the skills necessary to independently carry out required research projects.
B. The OTD program requires intensive study and occupational therapy practice is increasingly fast-paced. Both of these realities require that students perform under stressful conditions. Students need to be able to cope with large bodies of diverse information (written, verbal, electronic, etc.) and changing environments in a timely fashion.
C. Multiple off-campus practica, including fieldwork experiences, occur throughout the program. Students are responsible for transportation and for independent mobility on campus and at fieldwork placements.
Professional Role and Therapeutic Skills
A. Students need a realistic understanding of the field of occupational therapy including the scope and diversity of the profession and the requirements of therapists in their day to day work. Students should understand the role distinction between the occupational therapist and the occupational therapy assistant. Students also need to understand the populations the occupational therapist serves and cope positively with the ramifications of disability, differences in cultures, socioeconomic status, and age.
B. Occupational therapists have the responsibility to practice ethically and to provide services within legal parameters. Occupational therapists also have a legal and ethical responsibility for the treatment delivered under their auspices. Therefore, students need to demonstrate the ability to assume responsibilities for the full spectrum of occupational therapy services including but not limited to screening, assessing, planning, treating, reassessing, discharging, and referring as appropriate in multiple settings. Some settings require that the therapist act as a consultant, case manager, or educator and students must develop and demonstrate these skills. Clinical experiences are an integral portion of the curriculum necessitating interactions with patients, staff and supervisors. Therapeutic skills must be developed including the ability to:
review and synthesize previously gathered data;
establish rapport and therapeutic relationships;
gather data through observation and assessments;
manipulate assessment materials and therapeutic equipment;
safely and skillfully move and handle patients of various ages and sizes;
pose appropriate questions, and find answers in a timely manner;
synthesize, prioritize, and communicate findings and treatment plans to faculty, patients, staff, and supervisors; and
observe and use non-verbal communication with all patients. 
C. The program requires fieldwork experiences in clinical settings. These setting mandate that students meet health requirements including specific vaccinations and screenings. A detailed list of these requirements can be obtained from the program. It is the applicant's responsibility to inquire as to inquire as to the implications of any individual health related circumstances.
D. Students need the ability to respond adequately to the health and safety needs of patients. It is essential that students complete training in cardiopulmonary resuscitation, are knowledgeable of Center for Disease Control standards for infectious control, and have the skills needed to respond appropriately to emergency situations in the classroom and at clinical placements.
We urge applicants to ask questions about the program's technical standards for clarification and to determine whether they can meet the requirements with or without reasonable accommodations. Such questions may be directed to the Program Director or the Academic Enrichment Center on campus. Revealing a disability is voluntary; however, such disclosure is necessary before any accommodations may be made in the learning environment or in the program's procedures. We handle disability-related information in a confidential manner. We expect that any student who requires accommodation to attain the course objectives will notify the course instructor at the first opportunity. Reasonable accommodations will comply with the Americans with Disabilities Act and require program and institutional approvals.