/med/depts/anesthesiology/
Welcome
/med/depts/
Additional Information
Contact Us
Health Science Campus
University of Toledo Medical Center
3000 Arlington Avenue
Mailstop # 1137
Phone:  419-383-3556
Fax: 419-383-3550
webmaster@utoledo.edu
Anesthesiology Residency Program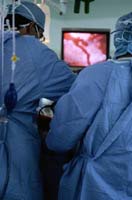 Welcome to the web site for the Department of Anesthesiology Residency Program at the University of Toledo (UT). The Department of Anesthesiology offers four years of postgraduate education, including the Clinical Base Year (CBY), leading to eligibility for certification by the American Board of Anesthesiology. Candidates who have previously completed a CBY may apply for the Clinical Anesthesia I (CAI) year. The strongest resource of our program is the energetic faculty with a deep commitment to resident and student education.

Clinical components are located at the University Medical Center, with some supplemental rotations offered off-site. Our obstetric anesthesia rotation is offered at St. Vincent Mercy Medical Center in Toledo, a Level III Perinatal Center, with up to 3,000 deliveries per year. Our pediatric anesthesia rotation is offered at the University of Michigan Medical Center in Ann Arbor, Michigan, which is 40 miles north of Toledo. Our institution provides a wide variety of surgical procedures, including open heart, major vascular, a wide variety of orthopedic and urologic cases, liver, kidney/pancreas and heart transplants, in addition to general surgery. The Cardiothoracic Division is involved in heart transplantation, minimally invasive techniques and ventricular assist devices as well as transesophageal echocardiography and spinal cord cooling for thoraco abdominal aneurysms. Resident participation is extensive and well appreciated by current residents.

Because our Residency Program is small, we are able to provide a great deal of personal attention to our residents. Our curriculum can be tailored to meet the individual needs of residents who enter our program with anesthesiology training or those who progress at a faster rate.

Thank you for visiting the web page for the Residency Program in the Department of Anesthesiology at UT. We invite you to take your time exploring our web site and the associated links. Please feel free to contact us by e-mail or phone if you have any questions.