Public Programs
---
Public programs are offered on Friday evenings throughout the year at 7:30 PM (or 8:30 from May through August) and Saturday afternoons during the academic year at 1:00 PM.  Admission to all public programs is  $7 for adults and $5 for children, seniors, and UT community members  (children 3 and under are free) .  We accept credit card and cash payments.  All shows are first come first serve and reservations are not accepted.  Doors open 30 minutes before the show, during which time you can explore the displays in out lobby or try to answer our fun astronomy-themed quiz projected inside the dome.

What you can expect:


A live guided tour of the Toledo night sky

You will learn about the constellations visible from Toledo and any planets visible to the naked eye.  We also typically discuss one "hot topic" in astronomy, such as the discovery of new planets around other stars, or the latest NASA discover on Mars.
The full-dome presentation

Whether we are traveling inside a black hole, taking a tour of the moon with Elmo, or learning about the skies over Toledo, you and your family will simply be amazed at the full-dome immersive show.



An open-ended question and answer session

Our expert host will answer all of your astronomy questions, whether they pertain to the live tour of the night sky, the feature presentation, or any other astronomy question that you might have.



Observing at Brooks/Ritter Observatory

You will be escorted over to Brooks Observatory atop McMaster Hall to view the stars and/or planets through our new 14 telescope. On the first Friday of every month, we instead observe with the Ritter 1m (40 in) telescope.  This telescope is the largest active telescope east of the Mississippi and is still used by the astronomers at UT for their research.  All observing is weather permitting!
The planetarium portion of the program is roughly an hour long, while the observing session will continue until everyone has had a chance to take a look through the telescope.
Summer & Fall 2019 SCHEDULE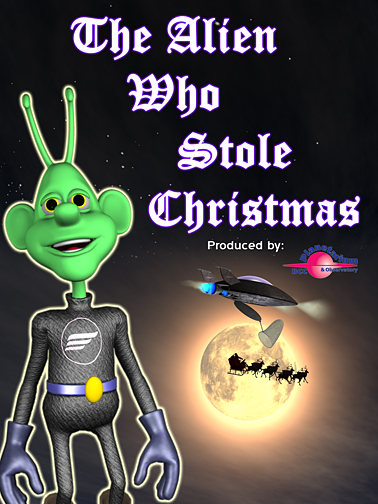 The Alien Who Stole Christmas
Friday: November 22nd, November 29, December 6th, December 13th, and December 20th at 7:30 PM
Take a brisk walk on clear winter evening and look at the stars and constellations overhead without ever leaving your comfortable seat in the planetarium. Then tag along with Santa as he meets Mr. Freep, an alien from another world. Together they head of on a cosmic adventure taking them to the farthest regions of our Solar System. Will Santa make it back in time to deliver his toys to the children of Earth? Join for us this holiday season for The Alien Who Stole Christmas, an amusing, entertaining, and educational program for children and Santa fans of all ages.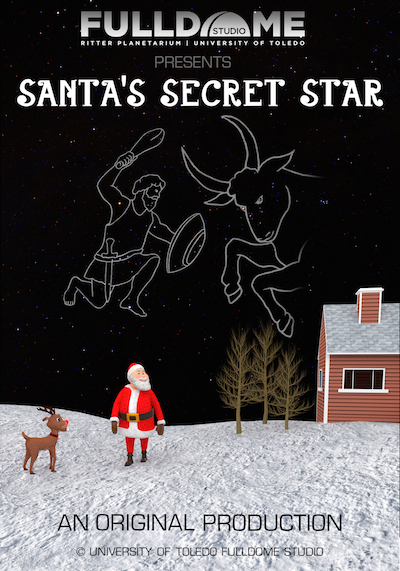 Santa's Secret Star
Saturday's: November 23rd through December 21st at 1:00 PM
Santa's Secret Star is an updated full-dome version of our classic children's program by the same name. Follow along as Rudolph introduces Santa to his friends the constellations. Watch how the constellations help Santa and his crew make it back to the North Pole. Learn how you can navigate by the stars just like Santa.