Campus Visits
A campus visit is the best way to figure out if UToledo is a great fit for you. We're confident that once you explore our beautiful campus and meet our students and faculty, you'll find a home here.
In fact, one of our engineering students told us that he was so impressed when he visited that he applied to UToledo on his way home!
---
Schedule Your Visit Now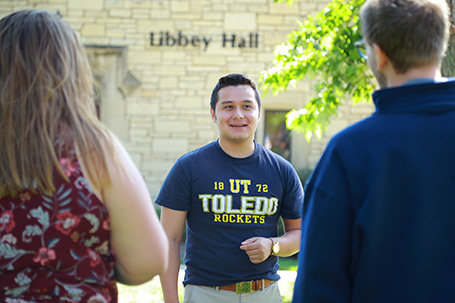 In-person Tour
Our student ambassadors and admission staff will lead your tour. Wander campus. Learn about academics, student life, financial aid and scholarships. Ask as many questions as you like! You also can sign up to tour your academic college.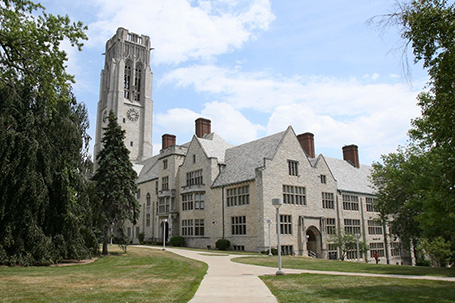 Virtual tour
Can't make it to campus? Take our virtual tour to get a glimpse of life at UToledo. We'll show you our academic buildings, residence halls and other fun spots on campus.
Preview Days
These special days are geared to high school juniors and offer a more in-depth look at all UToledo offers. They include a college and resource fair, panels with current students and more. If you've already visited campus, it's worth your time to come back for a Preview Day. You'll learn even more.
Have you been admitted?
Come to Experience Day
Experience what it's like to be a UToledo student. Talk with faculty about what to expect in class. Meet current students. Explore ways to finance your education. Learn more about the facilities and opportunities in your admitted college and program. Register for the date of your choice.
Health/Helping Professions Experience Day
Are you admitted to one of UToledo's health and helping professions majors or programs? This event is just for you. Meet with staff, faculty and admissions representatives on our Health Science Campus. Explore the immersive technology at our cutting-edge simulation center. Learn about the amazing opportunities available to you.
More Visit Opportunities for Prospective and Admitted Students
Register by clicking on the date or time.
Virtual information sessions
General Admission Information
Academic college events
Colleges schedule in-person and virtual events throughout the year to share more about their programs.
College of Natural Sciences and Mathematics
Cellular Architecture and Dynamics Summit
The Cell Architecture and Dynamics (CAD) Area of Excellence group invite you to its inaugural summit showcasing cutting-edge research in cell biology and translational cell biology.
March 31 - April 1, 2022
College of Pharmacy and Pharmaceutical Sciences
Virtual Cosmetic Science and Formulation Design Summer Camp
If you're interested in learning about the process of creating makeup and personal care products, join us for our second annual Virtual Cosmetic Science and Formulation Design Summer Camp.
June 22 - June 24, 2022
Residence Life events
Residence Hall Preview
Want to know more about what it is like to live on campus? Come tour the residence halls at this Open House event. Explore at your own pace. Representatives from admissions and housing will be available to answer questions and help you complete your housing application. 
---
Events For Transfer and adult Students
Transfer and Adult Virtual Information Sessions
Learn everything you need to know about how to transfer seamlessly to UToledo and how to apply as an adult student. Sessions start at 6 p.m.
Register for:
---
More Events for Admitted Students
Regional Events
Hang out with current students and staff from our admission and resource offices. These events are informal ― we will have games and giveaways, answer questions and share next steps on how to become a Rocket. Bring your family and friends and meet other future Rockets from your area!
Cincinnati/Kentucky: March 7
Columbus: March 10
Toledo: March 23 and March 24
Cleveland: March 28
Ann Arbor/Detroit: March 29
---
Meet with your admission counselor
Schedule a personal visit with your admission counselor. Learn more about admissions, academics and financial aid. Get answers to your pressing questions.
Our COVID-19 Protocols Keep You Safe
UToledo joins its peers across Ohio and requires masks indoors on our campuses, effective Aug. 6, in response to high COVID-19 transmission rates in our community. The protocol, which is in line with updated guidance from the U.S. Centers for Disease Control and Prevention, applies to everyone, regardless of their vaccination status. Individuals who are not fully vaccinated should continue to distance while on campus. Our space is sanitized daily.
Plan Your Visit
We're so glad you're coming to see us. This list of resources will help you plan your visit.