EARN CREDITS AND TRAVEL TO Prague,
Czech

 Republic

, Milan, Italy and Como, Italy

All students - all majors - are strongly encouraged to study abroad during their undergraduate degree program. Study abroad programs can assist students in the development of academic, intellectual, personal, professional and cross-cultural skills.

TRAVEL GRANT:
Grant money is available to help reduce the cost of the trip for UT students from the Center for International Studies and Programs(CISP). To apply for the CISP grant, go to:http://www.utoledo.edu/cisp/travelgrant/

Click here for a few photos from the previous trip 

REGISTER FOR CLASS FOR THE STUDY ABROAD TRIP:
Go to the course registration webpage through the MyUT portal, the class will show that it is "closed", so in order to register you will need to go to the register/drop/withdraw screen in your myUT portal and type  the CRN# 23500 (for IBUS 4100) or CRN# 14450 (for IBUS 6100) into one of the boxes at the bottom of the screen (see picture below).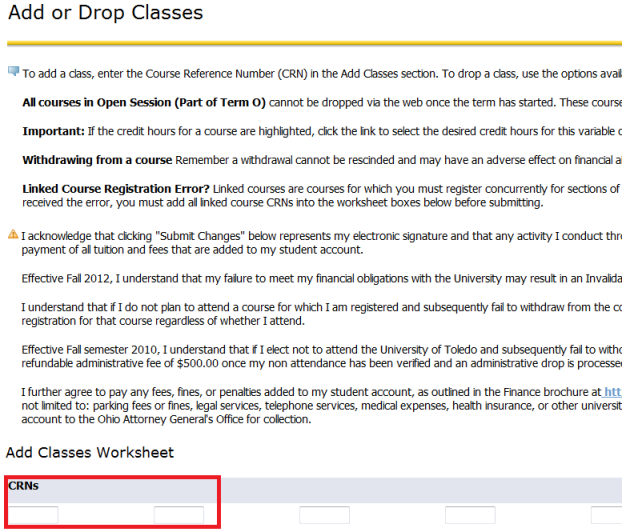 Other options for students interested in studying abroad are trips sponsored by UT's Foreign Language department. These programs are especially helpful for students seeking intensive language programs. Additional information is also available from UT's Study Abroad Office and from the USAC central office.
The University of Toledo is a member of University Studies Abroad Consortium (USAC) which offers opportunities  in 50  different programs in 27 countries. Currently more than 800 universities around the world participate with USAC program.  In addition to the USAC programs, there are study abroad programs led by College of Business faculty members. These trips are often 2-3 weeks in length. Examples of College of Business faculty trips include eastern Europe, western Europe, and Asia. Opportunities vary from year to year. The International Business program has recently gone to Japan over Spring Break to study business culture in the country. Be sure to check your email and student newsletters for updates regarding these special travel opportunities. Students typically enroll in a combination of business courses (taught in English), non-business courses (taught in English), and foreign language courses (at the student's option).