Directions and Parking

Jump to:
---
Glass Bowl Stadium
The University's Spring Commencement will take place at Glass Bowl Stadium on Main Campus. Gates will open two hours in advance of each ceremony.
Scroll down for map of Commencement Ceremony Parking Areas.
Parking Areas for Commencement Ceremonies 
Graduating Students
Areas 3, 4 and 5 are the recommended areas to park for graduating students. 
Graduating Students with Handicap Permits
Handicap spaces in Area 6 (adjacent to the Health Education Center) will be designated for individual graduating students with handicap permits. 
Staging for Graduating Students
Staging for graduating students will occur in Area 10.  Area 10 will not be available for public parking May 7 - 8, 2021. 
Guest Parking (Guests, Family, Friends, Students)
Areas 1N, 1S, 2, including the East Ramp Parking Garage, 25 and 26 (25 and 26 take walking paths to the stadium) are the recommended areas for guest parking.  Additional areas 8, 13, 18, 19, 20, 27B, 28 and the West Parking Garage are available. 
Visitors are recommended to enter campus from the west side (Secor Road) and park in area 25 or 26.  The GPS address to this area is 1625 W. Rocket Drive, Toledo, OH 43606.  Guests can use walking paths to arrive at the Glass Bowl.  
Guests with Handicapped Parking Permits
Area 9 will be dedicated to individuals with handicap permits (spaces in Area 9 are available on a first-come, first-serve basis) with overflow in areas 18 and 19.
Shuttle
A shuttle will serve areas 18, 19 and 20 to take individuals to and from the ceremony beginning at 8:30 a.m. until 6:30 p.m. 
Golf Cart Transport
Golf carts will be available to assist those who need transport from areas 1N, 1S and the East Parking Garage to and from the ceremony beginning at 8:30 a.m. until 6:30 p.m.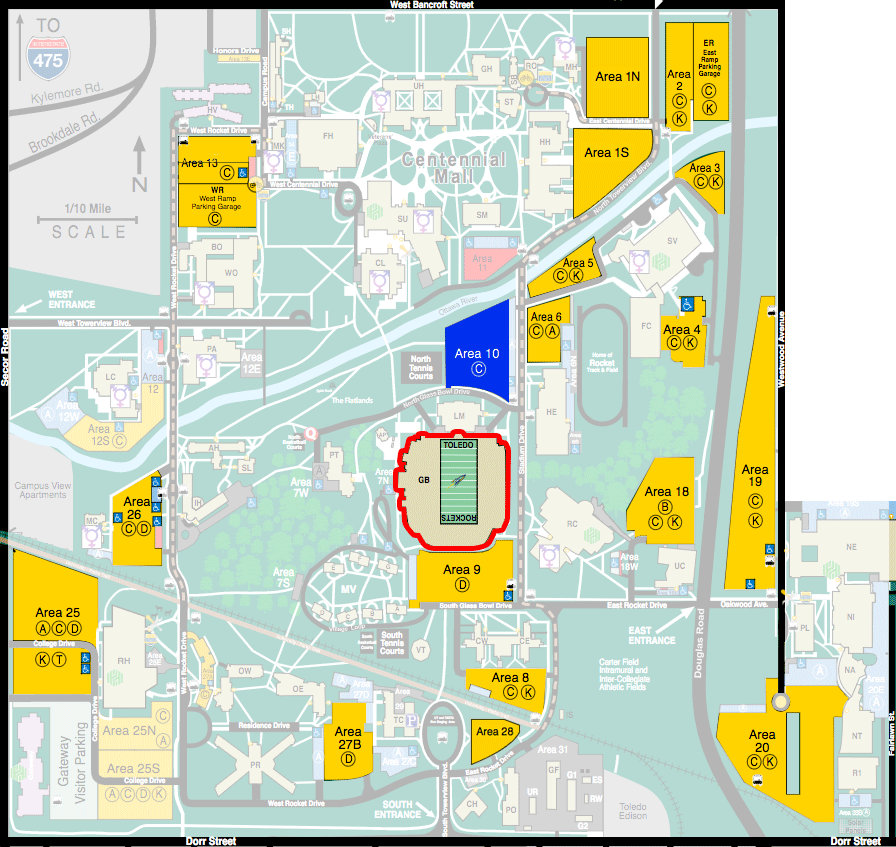 ---
Savage Arena
The University will host a doctoral hooding ceremony, and commencement ceremonies for the College of Pharmacy and Pharmaceutical Sciences, College of Law, and College of Medicine and Life Sciences in Savage Arena.
Doors will open two hours before each ceremony.
Graduating students parking
Areas 5 and 6 are the recommended parking areas for graduating students.
Areas: 1N, 1S, 2, Including East Ramp Parking Garage, and 10 are the Recommended Areas for Guest Parking.
Handicapped accessible parking
Guests/family members/friends who have a state issued disability parking permit needing to access disability parking can park in Area/Lot 4 off Douglas Road. Spaces in Lot 4 are available on a first come, first serve basis.
Additional Parking
Additional parking is available for the general public in areas 8, 9, 20, and 28.