Commencement
Fall COMMENCEMENT 2023
Join The University of Toledo in celebrating success as we recognize the graduating Class of 2023. Rocket Nation will celebrate multiple ceremonies on Saturday, Dec. 16.
 More information is available on the University Commencement page.
Fall 2023 Ceremony Information
Morning Ceremony - Saturday, Dec. 16 at 9:00 a.m.
The morning ceremony will include candidates for graduate and undergraduate degrees from the colleges listed below. This includes doctoral candidates, graduate certificate, educational specialist and master degree recipients, as well as students receiving baccalaureate and associate degrees.
Students should arrive by 8:15 a.m. to line up for the ceremony.
College of Arts and Letters
John B. and Lillian E. Neff College of Business and Innovation
College of Law
College of Medicine & Life Sciences
College of Natural Sciences and Mathematics
College of Nursing
College of Pharmacy and Pharmaceutical Sciences
Afternoon Ceremony - Saturday, Dec. 16 at 1:00 p.m.
The afternoon ceremony will include candidates for graduate and undergraduate degrees from the colleges listed below. This includes doctoral candidates, graduate certificate, educational specialist and master degree recipients, as well as students receiving baccalaureate and associate degrees.
Students should arrive by 12:15 p.m. to line up for the ceremony.
Judith Herb College of Education
College of Engineering
College of Health and Human Services
University College
Fall 2023 Important Dates
Deadline to apply* to be included in commencement program:                        Thursday, October 12, 2023
MarchingOrder response website opens:                                                                      The week of October 16, 2023
Deadline to apply* to be included in MarchingOrder response process:         Thursday, November 16, 2023
Deadline to submit name pronunciation information to MarchingOrder:    Sunday, November 19, 2023 at 11:59 p.m.
Deadline to submit RSVP to MarchingOrder:                                                              Sunday, November 19, 2023 at 11:59 p.m.
*Apply refers to the act of submitting a graduation application through the "Apply to Graduate" link in the myUT portal.
General Information for Graduates and Guests
MarchingOrder Website
Students who have applied for graduation in Summer 2023 or Fall 2023 will receive an email invitation from MarchingOrder to submit name pronunciation information and review the graduation information we have on file. Students will also be able to indicate their intent to participate.
Watch your email for more instructions from MarchingOrder.
Ticketing Information
Commencement will be a ticketed event with general admission seating.  There is no cost associated with the tickets. 
You will be able to receive up to 6 tickets for family members and friends to attend the commencement ceremony at Savage Arena. On Tuesday, December 5, the Athletics Ticketing Office will send a link via email to claim tickets. You may need to check your spam or junk folders. If you were a late addition to fall commencement, your tickets will be sent on Thursday, December 7.
All tickets will be print-at-home.
If tickets are still available as of Friday, December 8, you will have the opportunity to claim tickets on a first come, first serve basis. The Athletics Ticketing Office will e-mail you on Friday, December 8 with more information and a link to claim extra tickets.
On the day of commencement, all guests will be required to have a ticket for entrance into Savage Arena. Tickets will be checked by event staff at all entrances.
Graduates must RSVP through MarchingOrder in order to receive ticketing information.
Viewing Commencement Virtually
A live stream video of the commencement ceremonies will be available on the main commencement webpage. Recordings of the ceremonies will also be posted for graduates and guests who are unable to attend in person.
Name Cards and Honors Cords Pick Up
Name cards will be distributed by Registrar's Office staff in the Rocket Hall front lobby (Secor Road entrance).  Eligible students will also receive their honors cords at this time.
Graduates can pick up materials during the following dates and times:
Monday, December 11 through Friday, December 15 from 10:00 a.m. to 5:00 p.m.
If you cannot pick up your name card yourself, a friend or family member may pick it up on your behalf.
Graduates must bring this name card to the commencement ceremony in order to have their name announced.  During the ceremony, each graduate will receive a commemorative diploma case, hand their name card to the announcer to have their name read, and then walk across the stage. Afterward, graduates will return to their seats for the remainder of the ceremony.
Ceremony Line Up
Graduates will line up in the Fetterman Training Center, next to Savage Arena. Graduates should follow posted signage to enter Fetterman directly. Parking Area 5 can be used to drop off students for entrance to Fetterman.
Students should line up behind their college banner. Graduate students line up behind the college banner, followed by undergraduate students. All doctoral candidates will line up together behind the Doctoral Candidates banner for their respective ceremony.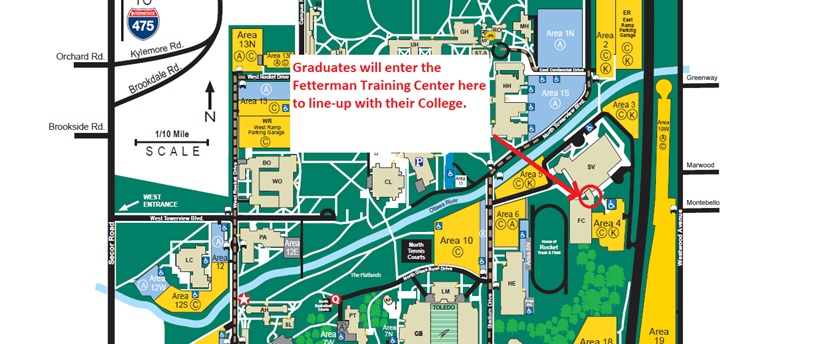 Diploma Cases and Commencement Programs
Diploma cases will be distributed at the commencement ceremonies. If you are unable to attend the commencement ceremony, you may contact graduation@utoledo.edu to arrange pick-up.
Summer 2023 and Fall 2023 graduating students wishing to have their names published in the Fall 2023 Commencement Program must apply for graduation by Thursday, October 12, 2023.  If you do not wish to have your name appear in the Commencement Program please email graduation@utoledo.edu and request to not have your name published.
Photographs
Each graduate is professionally photographed at multiple points during the ceremony.  Approximately three weeks after the ceremony, each graduate will receive a proof of their pictures taken along with ordering instructions. For more information about photographs, please go to Grad Images website at www.gradimages.com. Family and guests are free to take pictures from the stands, but may not come down onto the arena floor.
When are diplomas mailed? What happens after Commencement?
Following commencement and after all grades are posted, the colleges begin the task of clearing students for graduation.  This means the college reviews final grades to determine that all degree requirements have been met and notifies the Registrar's Office when the degree can be awarded. Once cleared by the college, the Registrar's Office posts the degree to the transcript and orders the diploma from Paradigm Inc.  The diploma is printed and then mailed by Paradigm Inc. to the student at the address listed on the graduation application. Students will receive an email to their UT student email address once the diploma has been mailed.  This clearing, posting, and ordering of diplomas are ongoing for about 45 days past commencement. 
To verify that your degree has been awarded,  view your unofficial transcript through the myUT Portal. Follow instructions for viewing unofficial transcripts online.
How to update diploma mailing addresses
Students can verify the diploma mailing address that is currently on file by viewing their application for graduation. To view your application go to the Student tab in the myUT portal and select the Student Profile link found in the upper right-hand corner of the page.  Select the 'Active' link in the Graduation Information section (middle of the page) to access your application.  Here you will find all of the information you included when you submitted your application. 

If your diploma mailing address is different from what is displayed then complete the Diploma Address Change web form. Diploma address changes can be made up until the last day of the graduating term.
Digital Diplomas
UToledo now offers digital diplomas and certificates. These are certified electronic credentials known as a CeDiploma or CeCertificate. Visit our CeDiploma page to learn more about digital diplomas.
Cap and Gown
Academic Regalia for all students is available for purchase from the Main Campus University Bookstore. Students participating in commencement are required to wear appropriate regalia. You may purchase regalia in-store at the Barnes & Noble University Bookstore, located in Gateway Plaza. Regalia will be available for purchase in the store closer to the ceremony.
Students may order regalia online, which will be shipped to your home directly from Oak Hall. There is a charge for shipping. Please note, if you do order online, it can take up to 5 weeks for the regalia to arrive. The bookstore does not track online orders, you will work directly with Oak Hall to resolve any issues.
Honors
The actual honors awarded at the time a degree is posted is based on the final cumulative GPA. The diploma will show the honors awarded with the degree. View the University's Graduation with Honors Distinction Policy for complete details.
Summer Graduates
Although there is not a summer commencement ceremony, all summer graduates are invited to participate in the fall commencement ceremony and will have their names published in the fall commencement program unless otherwise indicated as do not publish.

General and Accessibility Parking
Students being dropped off for the ceremony line up can be dropped off in Parking Area 5. Additional details on general and accessibility parking can be found on the university's main commencement page.
Accessibility and Accommodation Information
Information about accessibility measures for the ceremony can be found on the university's main commencement page .  
Inclement Weather Plan
In the event of inclement weather, notifications will be sent through the University's UT Alert System.  Additional information on the Commencement Inclement Weather Plan can be found on the main commencement page. 
Additional Tips for Graduates

Leave personal items like coats and purses with guests. There are no facilities available for storing these items. 
Remember to wear sash, medal, ribbon, etc. that corresponds with your honor society.
For safety reasons, graduates are discouraged from wearing high heeled shoes, as graduates will be lining up on the turf field at the Fetterman Center.
Contact Information
For questions or comments, please contact the Graduation Processing department at graduation@utoledo.edu.
---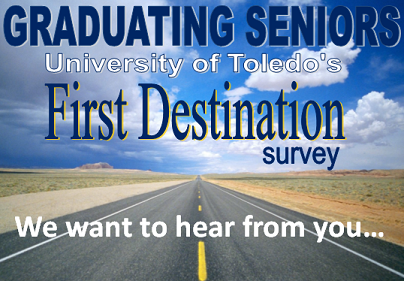 The First Destination Survey link will require you to log into your myUT portal.