Commencement
Spring COMMENCEMENT 2021
The University of Toledo will recognize the Class of 2021 with a virtual commencement ceremony on Saturday, May 8.  The ceremony will begin at 9 a.m. online and will include the elements of a traditional ceremony, beginning with a processional, messages from campus leaders, keynote address, presentations of degrees, the alma mater and additional video presentations.  The virtual ceremony will be available on the University Commencement page.
Spring 2021 Important Dates
Deadline to apply to be included in commencement program:                         Monday, March 1
Deadline to apply to be included in MarchingOrder graduation slides:           Friday, April 2
Deadline to submit name pronunciation information to MarchingOrder:      Friday, April 9
Deadline to upload photo for graduation slide to MarchingOrder:                    Tuesday, April 20
MarchingOrder Graduation Slide
Students who have applied for graduation will receive an email invitation from MarchingOrder to create a personalized graduation slide. This slide will feature your name, photograph (if you choose to upload one), major and any academic honors you've earned. The personalized display also includes an audio feature which announces your name.
This personalized graduation slide will be included in the virtual commencement ceremony, and you'll also have the option to download and share it on social media or with friends and family. Watch your email for more instructions from MarchingOrder.
Diploma Cases and Commencement Programs
Diploma cases and commencement programs will be available for graduates to pick up during a drive-through style pick-up event. More details about the pick-up event will be sent to graduates via email as the date nears.
All students wishing to have their names published in the Spring 2021 Commencement Program must apply for graduation by Monday, March 1.  If you do not wish to have your name appear in the Commencement Program please email graduation@utoledo.edu and request to not have your name published.
When are diplomas mailed? What happens after Commencement?
Following commencement and after all grades are posted, the colleges begin the task of clearing students for graduation.  This means the college reviews final grades to determine that all degree requirements have been met and notifies the Registrar's Office when the degree can be awarded. Once cleared by the college, the Registrar's Office posts the degree to the transcript and orders the diploma from Paradigm Inc.  The diploma is printed and then mailed by Paradigm Inc. to the student at the address listed on the graduation application. Students will receive an email to their UT student email address once the diploma has been mailed.  This clearing, posting, and ordering of diplomas are ongoing for about 45 days past commencement. 
To verify that your degree has been awarded,  your unofficial transcript through the myUT Portal. Follow instructions for viewing unofficial transcripts online.

How to update diploma mailing addresses
Students can verify the diploma mailing address that is currently on file by viewing their application for graduation. To view your application go to the Student tab in the myUT portal and select the Student Profile link found in the upper right-hand corner of the page.  Select the 'Active' link in the Graduation Information section (middle of the page) to access your application.  Here you will find all of the information you included when you submitted your application. 

If your diploma mailing address is different from what is displayed then complete the Diploma Address Change web form. Diploma address changes can be made up until the last day of the graduating term.

Cap and Gown
Academic Regalia for all students is available for online purchase from the Main Campus University Bookstore. 
Students are not required to purchase a cap and gown to participate in the virtual event, but we encourage interested students to do so, especially if you'd like to wear it in the photograph you upload for your graduation slide.  Academic regalia will not be available to purchase in-person at the bookstore; it must be purchased online and will take approximately two weeks to arrive once purchased.
Honors
The actual honors awarded at the time a degree is posted is based on the final cumulative GPA. The diploma will show the honors awarded with the degree. View the University's Graduation with Honors Distinction Policy for complete details.
Summer Graduates
Although there is not a summer commencement program, all summer graduates are invited to participate in the virtual spring commencement ceremony and will have their names published in the spring commencement program unless otherwise indicated as do not publish.

Contact Information
For questions or comments, please contact the Graduation Processing department at graduation@utoledo.edu.
---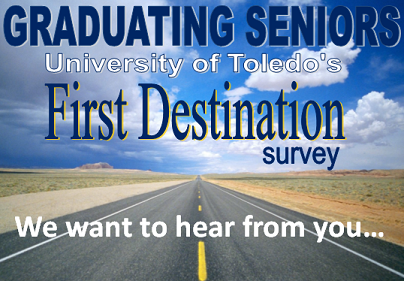 The First Destination Survey link will require you to log into your myUT portal.