Commencement
Fall 2019 Commencement 
GRADUATE COMMENCEMENT
Date: Saturday, December 14, 2019
We will post more details as they become available
UNDERGRADUATE COMMENCEMENT
Date: Saturday, December 14, 2019
We will post more details as they become available

Click here to view the University Commencement web page for more information.
Summer Graduates
Although there is not a summer commencement program, all summer graduates are invited to participate in the fall commencement ceremony and will have their names published in the commencement program provided they meet set deadlines.

Commencement Program 
All students wishing to have their names published in the Fall 2019 Commencement Program must apply for graduation by the end of the fifth week of the fall term. If you do not wish to have your name appear in the Commencement Program please email graduation@utoledo.edu and request to not have your name published.

When are diplomas mailed? What happens after Commencement?
Following commencement and after all grades are posted, the colleges begin the task of clearing students for graduation.  This means the college reviews final grades to determine that all degree requirements have been met and notifies the Registrar's Office when the degree can be awarded. Once cleared by the college, the Registrar's Office posts the degree to the transcript and orders the diploma from Paradigm Inc.  The diploma is printed and then mailed by Paradigm Inc. to the student at the address listed on the graduation application. Students will receive an email to their UT student email address once the diploma has been mailed.  This clearing, posting, and ordering of diplomas are ongoing for about 45 days past commencement. 
To verify that your degree has been awarded,  your unofficial transcript through the myUT Portal. Follow instructions for viewing unofficial transcripts online.

Cap and Gown
Academic Regalia for all students is available for purchase from the Main Campus University Bookstore. Cap and gowns will be available for purchase from the Main Campus University Bookstore. The UT Bookstore will hold a Graduation Fair at a date to be announced.  
Honors
The actual honors awarded at the time a degree is posted is based on the final cumulative GPA. The diploma will show the honors awarded with the degree. View the University's Graduation with Honors Distinction Policy for complete details.
Contact Information
For questions or comments, please contact the Graduation Processing department at graduation@utoledo.edu.
---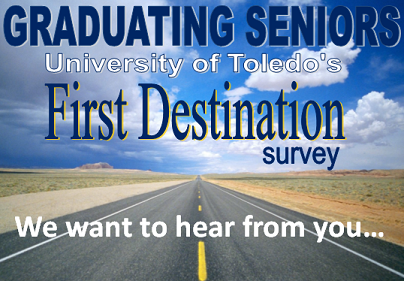 Please click here or on image for link