Our mission is to promote our freedom to think, read, create, and communicate to strengthen our democratic ideals.
---
Save the date!
September 30, 2021
Watch on:
---

Celebrate the Right to Read and Think Freely!
Thursday (September 30)
  Free Books via Gift Cards! Door Prizes! Extra Credit for Classes!
Campus friends: Barry's Bagels, UToledo Starbucks, Ann Lumbrezer, University Libraries, Lambda Pi Eta
(Communication Honor Society), Phoenicia Cuisine, UToledo Barnes & Noble Bookstore, UToledo departments: Art, Athletic, Communication, English, Theatre and Film, and World Languages and Cultures; UToledo administrative units: Center for Experiential Learning and Career Development, Center for Success Coaching, LGBTQA Advisory Board, Office of Excellence and Multicultural Student Success, Federal Credit Union, Greek Life (Office of Student Involvement), Jesup Scott Honors College, Marketing and Communications, Office of the Dean of Students, Student Government, CAP, Counseling Center, UT PRSSA (Public Relations Student Society of America), and WXUT Radio Station; special thanks to UToledo Office of the office of the Provost (Karen Bjorkman, Ph.D., Interim Provost), School of Visual and Performing Arts, UT College of Arts and Letters, UT School of Visual and Performing Arts, and Marcia King-Blandford, Associate Dean of University College.
Join Us from Home, School, or the Quad!   Virtually: Zoom, Facebook, and YouTube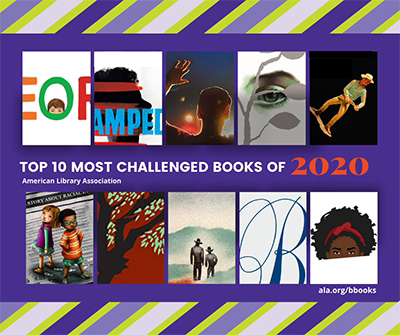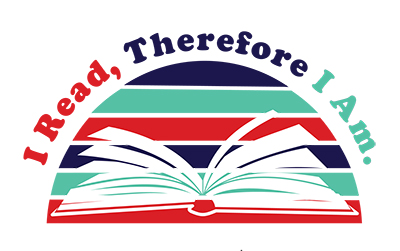 Become a Champion of Freedom of Expression! Donate a gift certificate for a banned book. Contact Cynthia
at TM573@bncollege.com or Kat at GM573@bncollege.com.
Mayor's Proclamation of Banned Books Day,  September 30, 2021, and
photos of Banned Books Coalition members at One Government Center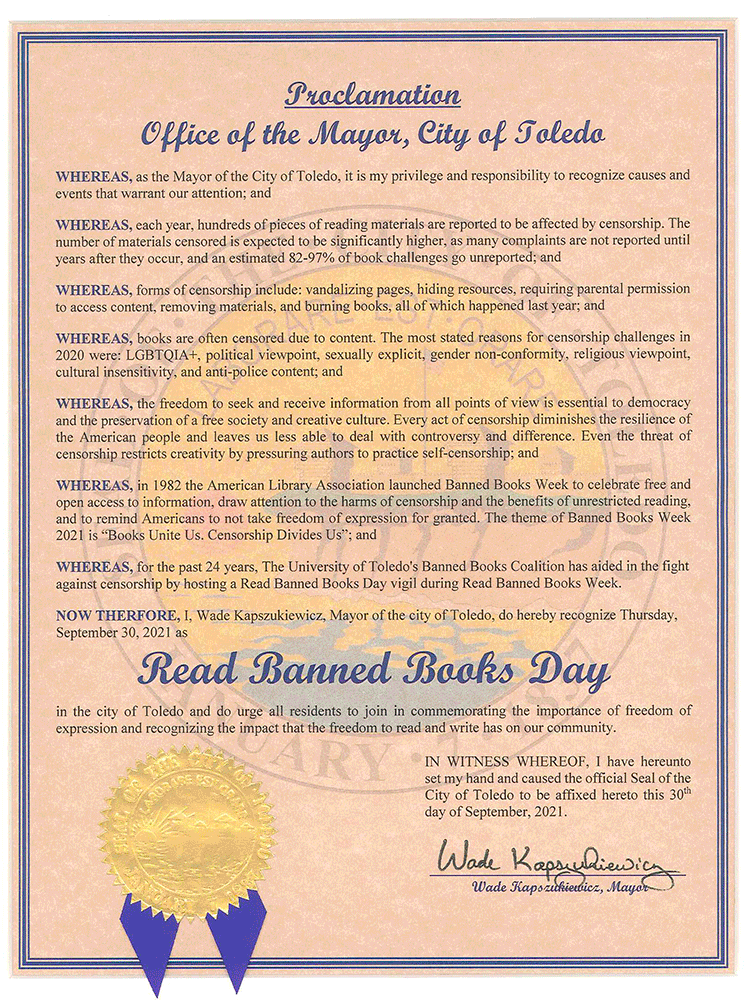 ---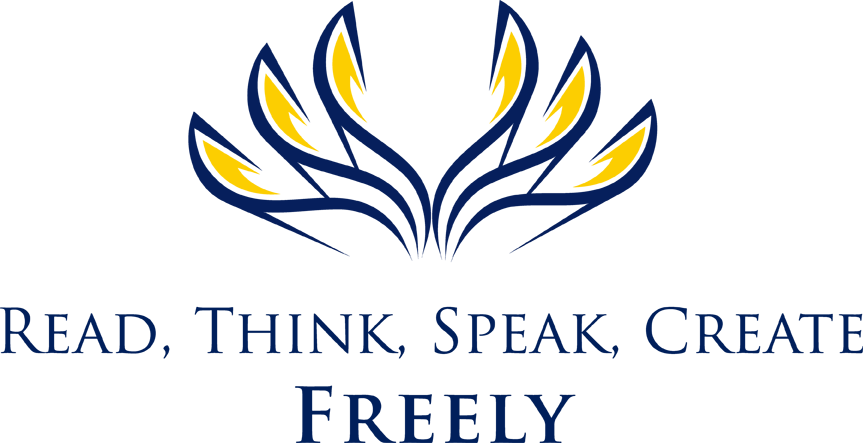 The University of Toledo Banned Books Coalition:
Paulette D. Kilmer (Coordinator), UT Communication Department, pkilmer@utnet.utoledo.edu
Arjun Sabharwal, University Libraries, arjun.sabharwal@utoledo.edu
Sumitra Srinivasan, UT Communication Department, sumitra.srinivasan@utoledo.edu
Laura Mitchell (UT Alumna), UT Alumna, lknisel@hotmail.com
Josie Schreiber, Reading Education Advocate,  themomillennial@gmail.com
Saadia Farooq (UT Alumna), saadia@muslimworldtoday.org
Ali Immani, President Graduate Students Association, Ali.imami@utoledo.edu
SaveSaveSaveSaveSaveSaveSaveSaveSaveSaveSaveSaveSaveSaveSaveSaveSaveSaveSaveSave