CampMed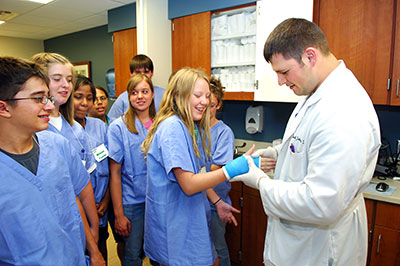 CampMed is a two-day intensive summer educational experience that stimulate interest in science and medicine for students entering 9th grade. This program allows students to experience firsthand what it is like to be a doctor. Students must demonstrate achievement in science and have an intense interest in medicine as a possible career.

The camp is sponsored by the University of Toledo College of Medicine & Life Sciences Office of Diversity, Equity and Inclusion, and is administered by the Area Health Education Centers Program (AHEC) department located on the University of Toledo Health Science Campus. Interested applicants, teachers, and counselors can contact The University of Toledo College of Medicine & Life Sciences Area Health Education Centers Program office at 419.383.4272.
Activities
CampMed puts students through the paces of a practicing physician.  On the first day, students are assigned to teams that are guided by professors, medical students and physicians.  During the two days, there are many hands-on activities where students get an up-close look at diagnostic, treatment and laboratory settings.  A series of laboratory sessions give students scientific experience in anatomy, molecular physiology, pharmacology, neurobiology, pathology and physical diagnosis.
Applications
Interested students should complete an application that includes a letter of recommendation and nomination from a science or math teacher, or school counselor and a personal essay. Selection is highly competitive. Applications may be obtained through school administration.
AHEC serves the center city of Toledo and 20 counties in northwest Ohio: Allen, Auglaize, Crawford, Defiance, Erie, Fulton, Hancock, Hardin, Henry, Huron, Logan, Mercer, Ottawa, Paulding, Putnam, Sandusky, Seneca, Van Wert, William and Wood.