Corporate Partners Program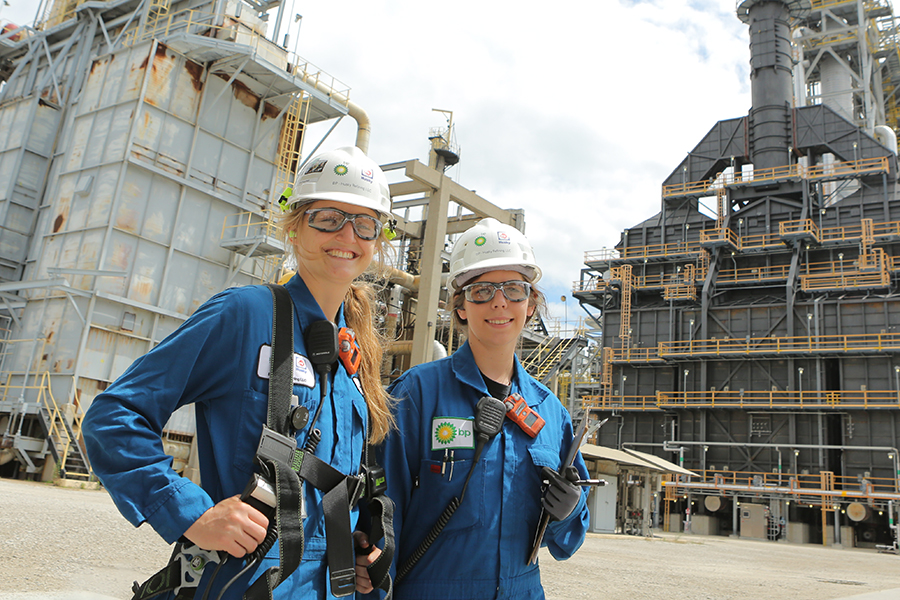 The UToledo Engineering Corporate Partners Program supports our emphasis on experiential learning and provides numerous benefits for our valued industry stakeholders.
Strong connections with our corporate partners, alumni and friends provide outstanding career outcomes for our students and our programs.

Supporting Education
Heidi Koedam
Senior Manager, Global Advanced Technologies and University Relations, Dana Incorporated
"The benefits of our membership with the Corporate Partners Program are immeasurable. From professional development to co-op student recruitment, to research activities, our business has been positively impacted by the relationship we have built with The University of Toledo's College of Engineering through this program."
Scotty Richmond
Director of Talent Development, PCC Airfoils, LLC
"As a leader in the aerospace industry, we are very excited to continue this partnership. PCC Airfoils has had awesome success utilizing the various resources from the College of Engineering over the past several years to successfully recruit and hire our technical experts and future leaders. Go Rockets!"
Laurie Adams
Managing Principal, DGL Consulting Engineers, LLC
"We felt that it was important to stay involved with the College of Engineering, and it's really a win-win. All of our current owners are UToledo engineering graduates. The enhancement of learning, both in the classroom and in industry, really increased the students' knowledge base and brought DGL great, quality employees upon their graduation."
Current Corporate Partners
The Andersons
The Andersons, Inc. started in Maumee, in 1947 as a small family business and has now grown to a publicly traded Fortune 500 company with a deep commitment to service — both to our valued customers and the world we share. Our diversified company is rooted in agriculture and conducts business in the commodity merchandising, renewables and plant nutrient sectors.  
Locations
21 U.S. states, Canada, UK and Switzerland
Alumni and Co-ops
25+ UToledo alumni and co-op students
---
Beckett Corporation
Located in North Ridgeville, Ohio, R.W. Beckett is the North American market leader in combustion products used in heating, cleaning equipment and for custom applications. Developers of electronic safety controls and sellers of HVAC related products, the Beckett Family of Companies has a presence in more than 50 million U.S. homes.
Location
North Ridgeville, Ohio
Alumni and Co-ops
10+ UToledo alumni and co-op students
Visit Becket Coorporation Website 
---
BP
Our purpose is reimagining energy for people and our planet. We want to help the world reach net zero and improve people's lives. We will aim to dramatically reduce carbon in our operations and in our production, and grow new low carbon businesses, products and services. We know we don't have all the answers and will listen and work with others. We want to be an energy company with purpose — one that is trusted by society, valued by shareholders and motivating for everyone who works at BP.
Locations
United States, Canada, Central America, Trinidad and Tobago, South America, Europe, Africa, Middle East and Asia-Pacific
Alumni and Co-ops
10+ UToledo alumni and co-op students
---
Cooper Tires
Cooper Tire & Rubber Company is an American company that specializes in the design, manufacture, marketing and sales of replacement automobile and truck tires, and has subsidiaries that specialize in medium truck, motorcycle and racing tires.
Location
Findlay, Ohio
Alumni and Co-ops
20+ UToledo alumni and co-op students
---
Dana
Dana is a leader in the design and manufacture of highly efficient propulsion and energy management solutions that power vehicles and machines in all mobility markets across the globe. We are shaping sustainable progress through our conventional and clean energy solutions that support nearly every vehicle manufacturer with drive and motion systems; electrodynamic technologies, including software and controls; and thermal, sealing and digital solutions.
Locations
United States, Canada, Central America, South America, Europe, Middle East, Africa and Asia-Pacific
Alumni and Co-ops
300+ UToledo alumni and co-op students
---
DGL
At DGL Consulting Engineers, LLC we are proud of our 95+ year legacy of providing civil engineering excellence to a wide range of both public and private sector clients including developers, architects, contractors and owners. Our success is attributed to a combination of quality design, client focus, creative solutions and team camaraderie. This practice has resulted in strong, long-standing relationships with our clients, partners and team!
Locations
Maumee, Wauseon and Dublin, Ohio
Alumni and Co-ops
24+ UToledo alumni and co-op students
---
The Douglas Company
Founded in 1976, The Douglas Company, headquartered in Holland, Ohio, with a southeastern office in Orlando, Florida, is a recognized industry leader in commercial construction, specializing in senior living and multi-family housing in a wide variety of markets. The Douglas Company has built communities all over the U.S., providing decades of experience, integrity, professionalism and exceptional client service while managing risk and controlling costs every step of the way.
Locations
Holland, Ohio and Orlando, Fla.
Alumni and Co-ops
85+ UToledo alumni and co-op students
---
First Solar
First Solar has developed, financed, engineered, constructed and currently operates many of the world's largest grid-connected PV power plants. Our experience across the solar value chain reduces risk while delivering more reliable, dependable and cost-effective solutions for our customers.
Locations
Perrysburg, Ohio, Tempe, Ariz., Malaysia and Vietnam
Alumni and Co-ops
15+ UToledo alumni and co-op students
---
Glasstech
Glasstech, Inc., is the world's leading manufacturer of glass bending and tempering technology for the solar, automotive and architectural glass markets. Today, that spirit of innovation continues as a new generation of products – from a new generation of technology – is being brought to market by a new generation of management. By listening and reacting to the automotive, architectural and solar industries it serves, Glasstech has developed sophisticated and innovative glass systems that have built the company's reputation as a world leader. 
Locations
Perrysburg, Ohio, New York City, N.Y., Shanghai, China and Mumbai, India
Alumni and Co-ops
20+ UToledo alumni and co-op students
---
IPS
IPS is both a general contractor and specialty contractor providing turnkey solutions to our clients from concept to completion. We are home to over 400 of the best professionals that possess all the advanced skills and capabilities to complete a project from the ground up. IPS has a 100,000 square-foot fabrication shop that sits across the street from our headquarters with the latest specialty welding and fabrication equipment. We also pride ourselves on community involvement by volunteering throughout the northwest Ohio area as well as providing scholarships to UToledo students each year.
Location
Rossford, Ohio
Alumni and Co-ops
30+ UToledo alumni and co-op students
---
Lathrop
Building business in Toledo has been a mission of Lathrop since 1895 when we were a local contractor specializing in the building of fine homes, small civil and industrial projects. Since then, Lathrop has continued to build Toledo's skyline and become Northwest Ohio's most established and trusted general builder and construction management firm
Location
Toledo, Ohio
Alumni and Co-ops
10+ UToledo alumni and co-op students
---
Marathon
Marathon Petroleum Corporation is a leading, integrated, downstream energy company headquartered in Findlay. The company operates the nation's largest refining system. Our marketing system includes branded locations across the United States, including Marathon brand retail outlets. Marathon also owns the general partner and majority limited partner interest in MPLX LP, a midstream company that owns and operates gathering, processing and fractionation assets, as well as crude oil and light product transportation and logistics infrastructure.
Locations
United States, Canada, Mexico and Singapore
Alumni and Co-ops
300+ UToledo alumni and co-op students
---
Matrix Technologies
We are a privately held, platform independent engineering, automation and information system provider poised to take on your challenges. Matrix Technologies has single-source capability for any process, facility or automation engineering need. With a professional team of engineering experts, in-depth process knowledge and a proven project methodology, Matrix consistently delivers superior results on time and on budget.
Locations
Maumee, Ohio, Cincinnati, Ohio, Indianapolis, Ind., Denver, Colo., Atlanta, Ga., Kansas City, Mo., Minneapolis, Minn.
Alumni and Co-ops
123+ UToledo alumni and co-op students
---
NSG Group
We are one of the world's largest manufacturers of glass and glazing products for architectural, automotive, and established creative technology to support NSG Group's future growth. We have around 26,000 permanent employees, and principal operations around the world and sales in over 100 countries.
Locations
North America, Europe and India
Alumni and Co-ops
150+ UToledo alumni and co-op students
---
North Star BlueScope
We're evolving the art of steel making. Our highly skilled team uses a high-tech, 4-step process to turn raw materials into hot rolled bands for end use in various industries including automotive, construction, agriculture and general manufacturing applications.
Location
Delta, Ohio
Alumni and Co-ops
60+ UToledo alumni and co-op students
Visit North Star BlueScope Website 
---
O-I
At O-I Glass, Inc., we love glass and we're proud to be one of the leading producers of glass bottles and jars around the globe. Headquartered in Perrysburg, O-I is the preferred partner for many of the world's leading food and beverage brands. We innovate in line with customers' needs to create iconic packaging that builds brands around the world. Led by our diverse team of approximately 24,000 people across 70 plants in 19 countries, O-I achieved revenues of $6.4 billion in 2021.
Locations
United States, Canada, Central America, South America, Europe and Asia
Alumni and Co-ops
50+ UToledo alumni and co-op students
---
Owens Corning
Our story is not simply a history of insulation or building supplies, or even the dates of inventions and buildings — It's an intricate tale of innovation and growth spurred by reinvention, curiosity and strong partnerships built over decades. Our roots reach back to an 1800s lab experiment that, through an unexpected twist, produced mineral wool insulation. This set off a wave of innovation for what would in time become the insulation industry we lead today. Over the decades that followed, we experimented with glass, partnering with organizations along the way to develop new applications and production methods for our innovative products.
Locations
United States, Canada, Central America, South America, Europe and Asia-Pacific
Alumni and Co-ops
50+ UToledo alumni and co-op students
---
PCC Airfoils
PCC Airfoils manufactures complex highly technical investment castings. As a leading producer of these components, we have developed highly automated casting furnaces and investment casting processes for the manufacture of blades and vanes. Significant process development at PCC Airfoils with ceramic cores, solidification technology, computer modeling and inspection methods assures our continued strength in this market.
Locations
United States, UK and Mexico
Alumni and Co-ops
30+ UToledo alumni and co-op students
---
PTI
PTI, founded in 1985, is a global leader in plastic sustainable design, development and process technologies for packaging. We work with leading brands to deliver packaging solutions that are optimized to perform in today's marketplace — elevating brand sustainable packaging from concept to commercialization.
Locations
Holland, Ohio, Swanton, Ohio and Yverdon-les-Bains, Switzerland
Alumni and Co-ops
100 UToledo alumni and co-op students
---
Rudolph Libbe
Rudolph Libbe, founded in 1955, has become one of the largest providers of construction services in the country. We're consistently ranked. We have the capabilities and resources to construct multiple, simultaneous projects valued at more than $100 million dollars each. But we also specialize in small projects starting as low as $500, with more than 500 projects completed each year valued at $100,000 or less.
And as a member of the Rudolph Libbe Group of companies, we offer the advantages of a full-service team that includes specialty design/build for process manufacturers, power generation and energy optimization, and property selection and management.
Locations
Walbridge, Lima, Columbus and North Ridgeville, Ohio, Plymouth Mich. and New York
Alumni and Co-ops
10+ UToledo alumni and co-op students
---
SSOE
SSOE is an internationally ranked architecture and engineering firm. We differentiate ourselves through collaboration — from the way we treat each other to how we deliver projects. We align project stakeholders, create a common vision and deliver that vision. We specialize in delivering complicated, high-stakes projects and value through long-term program management and sustaining support.
Locations
17 U.S. locations, Mexico and India
Alumni and Co-ops 
50+ UToledo alumni and co-op students
---
ZF
ZF is a global technology company supplying systems for passenger cars, commercial vehicles and industrial technology, enabling the next generation of mobility. ZF allows vehicles to see, think and act. In the four technology domains of Vehicle Motion Control, Integrated Safety, Automated Driving, and Electric Mobility, ZF offers comprehensive product and software solutions for established vehicle manufacturers and newly emerging transport and mobility service providers. With some 157,500 employees worldwide, ZF operates 188 production locations in 31 countries.
Locations
United States, Canada, Mexico, South America, Europe, Africa, Middle East, India, Asia-Pacific and Australia
Alumni and Co-ops
TBD UToledo alumni and co-op students