Rocket engineers share their stories
Grace snider
Major: Computer Science and Engineering Technology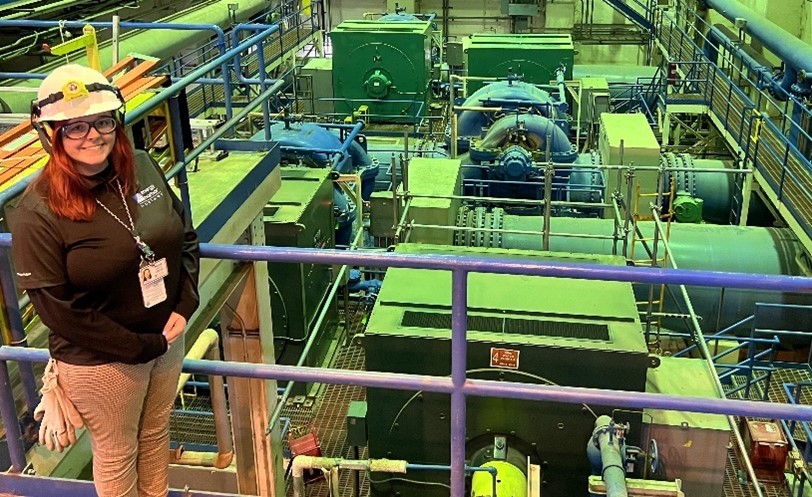 Home: Brighton, Michigan
Grace Snider, a senior studying computer science and engineering technology, never takes "No" for an answer.
So when her dreams of being an engineer hit a roadblock when she applied to The University of Toledo College of Engineering, she found another path forward: The GEARSET program.
"I applied to the University to be an engineer but due to testing scores I did not get accepted into the College of Engineering; however, I did have high enough scores to enter the University's GEARSET program," Snider said.
The Greater Equity, Access and Readiness for Success in Engineering and Technology (GEARSET) program is in place to help students who didn't make it into the College of Engineering right away but have parameters that will allow them to fast-track to success as an engineer.
GEARSET creates an alternative pathway to a bachelor's degree in engineering for first-year students who did not meet major-specific admission requirements within the College of Engineering.
Among the program's admission criteria requirements, students must test into trigonometry and have a minimum high school grade point average of 3.0. Students also meet regularly with engineering advisors and enroll in courses designed to introduce engineering principles, applications of mathematics in engineering and professional development, in addition to other classes needed to meet the College of Engineering's transfer requirements for their desired major.
"GEARSET was a great opportunity for me to achieve a degree in engineering even though I wasn't directly accepted into engineering," Snider said. "It allows students who didn't directly make it into the college of engineering to prepare for admittance into the College of Engineering a semester after you start school. This was a super important experience during my time at UToledo because, instead of potentially adding multiple semesters to my degree, I was able to jump right into an engineering degree my second semester."
"Grace came into our program in its first year and is now going to be graduating this fall with an engineering degree along with 18 of her fellow GEARSET students," said Bryan Bosch, manager of engineering diversity, inclusion and community engagement, whom Snider credits as having the most influence on her experience as a Rocket.
"She is not only an example of what the GEARSET program can offer, she's a shining example of a #Rocketengineer in general."
The 19 students are part of a 58% graduation rate among those who started in the program, which is above the national average for students directly admitted to their majors and a goal that Bosch and Dr. Lesley Berhan, an associate professor in the Department of Mechanical, Industrial and Manufacturing Engineering, and associate dean for diversity, inclusion and community engagement in the College of Engineering, had when creating GEARSET.
"It's a testament to Grace's work ethic and desire to be an engineer that she has gotten this far, and this program has been built to support and grow those traits in students, Bosch said. "We value those traits far more than what a test taken on one Saturday morning may tell us, and that has shown to bear significant fruit with GEARSET."
The College of Engineering's integrated co-op program, one of eight in the nation, is what really drew Snider to UToledo, she said. And through her success as a student, she's on a career path she never imagined.
"The biggest experience I will take away from my time at UT is the opportunity I have had to work at Davis-Besse Nuclear Power Plant," Snider said. "I would have never imagined getting to experience my degree in the power industry let alone the nuclear energy side. I have been with Davis-Besse for about 16 months with two full-time co-ops and then part-time co-ops for the past year.
"I have been able to apply some of what I have learned into the work that I do while also being able to completely step out of my degree field to help other departments in the previous refueling outage at the plant," she added. "I am planning to stay in the power industry and am completing a fourth co-op with Davis Besse. I have had some amazing opportunities with them, and every co-op rotation has offered me a new learning experience."
Moath Khriwish
Major: Mechanical Engineering Technology, Fall 2022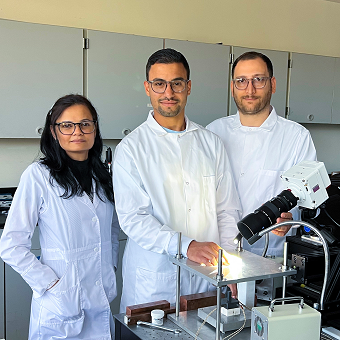 Home: Jordan / Toledo, OH
Moath Khriwish immigrated from Jordon in 2015 and attended Whitmer High School in Toledo. "I struggled with the transition to a foreign country, with the language and the culture, and this affected my GPA. As a result, I could not apply to college."  But Moath didn't let this discourage him.  With dreams of becoming a mechanical engineer, he attended Owens Community College for a year and a half, received high grades, then got accepted by UToledo in the mechanical engineering technology (MET) program.

During his time at UToledo, Khriwish won several awards and recognitions, and the MET Student Excellence Award in Spring 2022. He also made the Dean's list in Spring 2020, Spring 2021, and Fall 2021, and the president's list Spring 2021.
"I had my first co-op at FCA (Stellantis) where I was a unit leader in manufacturing, and I was able to save the company $46,000." Moath then decided to pursue his next co-op in academic research and was accepted into Dr. Anju Gupta's Interfacial Thermal and Transport lab (ITTL) in the Mechanical Engineering Department."
"As an undergraduate researcher, I have been involved with experimental set-up design, fabrication, data collection and analysis. I am also a second author on a publication which is under preparation and was given an opportunity to lead a hands-on activity on 3D printing to the College of Engineering's EXCEL participants."
Dr. Patricia Relue, Associate Dean of Graduate Studies and Research, commented, "In the College of Engineering, we actively recruit students for undergraduate research. Nearly all students that express interest are able to participate at some point during their degree program and can even use full-time research toward co-op rotation requirements."
This experience has let to Moath's future aspirations to obtain a master's degree and eventually a PhD. "Thanks to Dr. Gupta, her PhD student, Alireza Rozati and Dr. Karim Elhattab who recommended me to Dr. Gupta, I have the confidence to follow the unconventional path of pursuing scientific research coming from an engineering technology undergraduate major."
Dr. Gupta, an assistant professor in mechanical engineering, commented, "Moath has been a great addition in our lab. He is motivated, hardworking, positive and has a great sense of humor.  It is not common for mechanical engineering faculty to recruit students from mechanical engineering technology, but I am glad I took a chance on Moath."
Moath will graduate this weekend with a Bachelor of Science in Mechanical Engineering Technology. His work ethic has carried him through these challenging years, and it is paying off for him.  "I worked a part-time job at UPS working the night shift from 10pm to 3am as a package handler for a year and a half, and they paid my school tuitions, and then I headed off to a full day at school. There is nothing that comes without hard work, and I can proudly say that I will graduate December 2022 with zero student loans."
Branigan Lyczkowski
Major: Bioengineering, Fall 2022
Hometown:
Branigan Lyczkowski came to The University of Toledo because of her mother and grandfather, both of whom were Rockets.
Graduating Saturday with a bachelor of science degree in bioengineering, Lyczkowski also charted her own journey of personal growth during her time at UToledo.
What she's most proud of, Lyczkowski said, are her accomplishments through the Roy and Marcia Armes Engineering Leadership Institute.
"Through this organization, I completed 24 hours of Dale Carnegie Training, improving my public speaking and networking skills," she said. "I also completed several professional training modules such as insights, emotional intelligence and financial literacy. ELI has allowed me to develop myself further than even I thought possible as a young student. Using the skills I have learned throughout the years, I created and led a personal development session entitled 'Refocusing your Energy' with a fellow member.
Last spring, for example, Lyczkowski planned and hosted an engineering college-wide event consisting of a panel of distinguished alumni, something that would've once been almost unthinkable.
"I have gone from a shy girl who was afraid of speaking up to someone who has had conversations with distinguished alumni and company CEOs at events in the College of Engineering," she said. "Through the support of the members of ELI, Dean Toole and Dr. Jon Pawlecki, I have grown out of my comfort zone and learned how to use my strengths in a way that makes me the best version of myself."
Another extracurricular that has significantly impacted Branigan's college career has been her involvement with the Filipino American Association (FAA). From performing the traditional Filipino dance "Sayaw sa Bangko" at a national conference to being a valuable member of the executive board, she immersed herself in a diverse and rich culture.
"It was through FAA that I truly began to appreciate diversity and learned how to become a champion of equity and inclusion."
During her time in the College of Engineering, Lyczkowski had unique co-op opportunities: as a biomedical technician with TriMedX at Toledo Hospital, where she learned about medical devices and how to identify common problems the devices present to patients and physicians; as a materials and supplier engineer at Johnson and Johnson Vision Care in Jacksonville, Florida, which is where she "fell in love with engineering and knew that this career was the right path for my future"; and as a process engineer at Boston Scientific.
After graduation, she will join Boston Scientific as a full-time process engineer 1.
For the career opportunity and her success as a Rocket, Lyczkowski said has many to thank, particularly Dean Michael Toole, Dean of the College of Engineering, and Dr. Jon Pawlecki, Director of Student Services and Transfer Partnerships.
"There are so many people who have helped me throughout these past 4 1/2 years grow to become a well-rounded leader, engineer and student, but Dean Toole and Dr. Pawlecki have been influential mentors for me at UToledo," she said. "They continuously presented me with opportunities that allowed me to develop myself and achieve my goals. They have always been there to answer my questions, connect me with any and all necessary resources and send positive encouragement.
"Both Dean Toole and Dr. Pawlecki have shown me how important it is as a leader to remain true to my values and continuously empower others within the team."
Pawlecki said Lyczkowski has served as a great example to her classmates in the College of Engineering.
"She is an outstanding ambassador for the college and a role model to our students," he said. "The many contributions that she has made as a student leader in the Roy and Marcia Armes Engineering Leadership Institute have been tremendous. I look forward to seeing how Branigan will apply her many talents throughout her career."
James Chandler
Major: Environmental Engineering
Hometown: Findlay, Ohio
James Chandler, a senior in environmental engineering, has fought his way to student success.
Transferring from Owens Community College in January 2020, Chandler was full of hope and plans for his new adventure as a chemical engineering student at UToledo. And moving to Toledo from Findlay, he was excited to live on his own for the first time with plans to land a job to pay rent for his new apartment as he maintained a full-time class schedule.
Then COVID-19 struck and the world shut down.
"Life as a college student was very hard for me," Chandler said. "I did not find any work until May of 2020, I had spent all the money I was saving, I had a hefty credit card debt and I was not doing too well in my classes."
And it got worse from there. With the quarantine and online classes, he never left his apartment. Chandler's GPA dropped, he changed his major and moved back home with his parents. Chandler, like so many others during the COVID-19 pandemic, experienced severe depression and sought the help of therapy.
"I felt like a failure," he said. "Failing to live on my own, failing my classes, failing to fulfill my goal of being a chemical engineer, and failing to get a co-op with a company on my first rotation."
Fast forward to now, and Chandler is doing much better. He's improving in his classes and improving his GPA.
"I was able to get my second co-op with Ulliman Schutte where I worked as a pre-construction estimator and a BIM modeler," he said. "I traveled to a jobsite, learned new software programs like Revit, Bluebeam and CostOS, and was able to understand and create engineering. I made new friends with the people I worked with at Ulliman Schutte, and I even participated in one of their office cooking competitions."
Chandler is currently on his third co-op with the company where he started his engineering experience, AES.
"I am learning how to adapt to my environment and think of ideas of what I can do to make my system work, perform lab sample testing, and operate machinery like KDS, EKOTON, and QuickWash," he said.
Chandler is expected to graduate by end of 2023 and is looking forward to working full time as an engineer.
Part of Chandler's turnaround involved enrolling in a summer 2021 Alternative Co-op Course — Academic Industry Immersion Seminar (AIIS).
Developed by the Shah Center for Engineering Career Development team, AIIS closely replicated an industry co-op with various skill development strategies and served as his first co-op.
"In this class, I was able to learn skills like entrepreneurship, environmental footprint, ethics and leadership," Chandler said. "I worked with the environment consulting firm Applied Environmental Solutions (AES) and led a team of other students on a case study on treating phosphorus in a lagoon for a chicken farm. This class gave me my first engineering experience and I developed a contact at AES who allowed me to shadow their company for a day to get a better understanding of what being an engineer is like. This was an amazing experience where I got to ask a lot of questions and see firsthand how AES helps the environment."
Geoff Humphrys, associate director in the Shah Center, has been impressed with Chandler's resiliency.
"James Chandler is a student who has determined that nothing will keep him down or refrain him from reaching his goals," Humphrys said. "He has overcome many obstacles the past two years and has proven to be a stellar leader, student and co-op employee. James has accessed and capitalized on a variety of the resources at UToledo and within the College of Engineering. He truly understands that this was necessary to sustain a support system that would help nurture him to success. Obviously, he has been successful and I'm excited to follow him as he advances to the next level of his career. Watch out world!"
And for his fellow Rockets who might be struggling, Chandler offered this message of hope: it is important and never too late to get the help you need.
"Although my journey has not had the greatest beginning, I have had a lot of help from my therapist, my co-op director, my academic advisors, my success coach and the friends I made at UToledo," he said. "Without their help I wouldn't be where I am today."
Heritage Adeagbo 
Major: Mechanical Engineering, Fall 2021
Hometown: Ibadan, Nigeria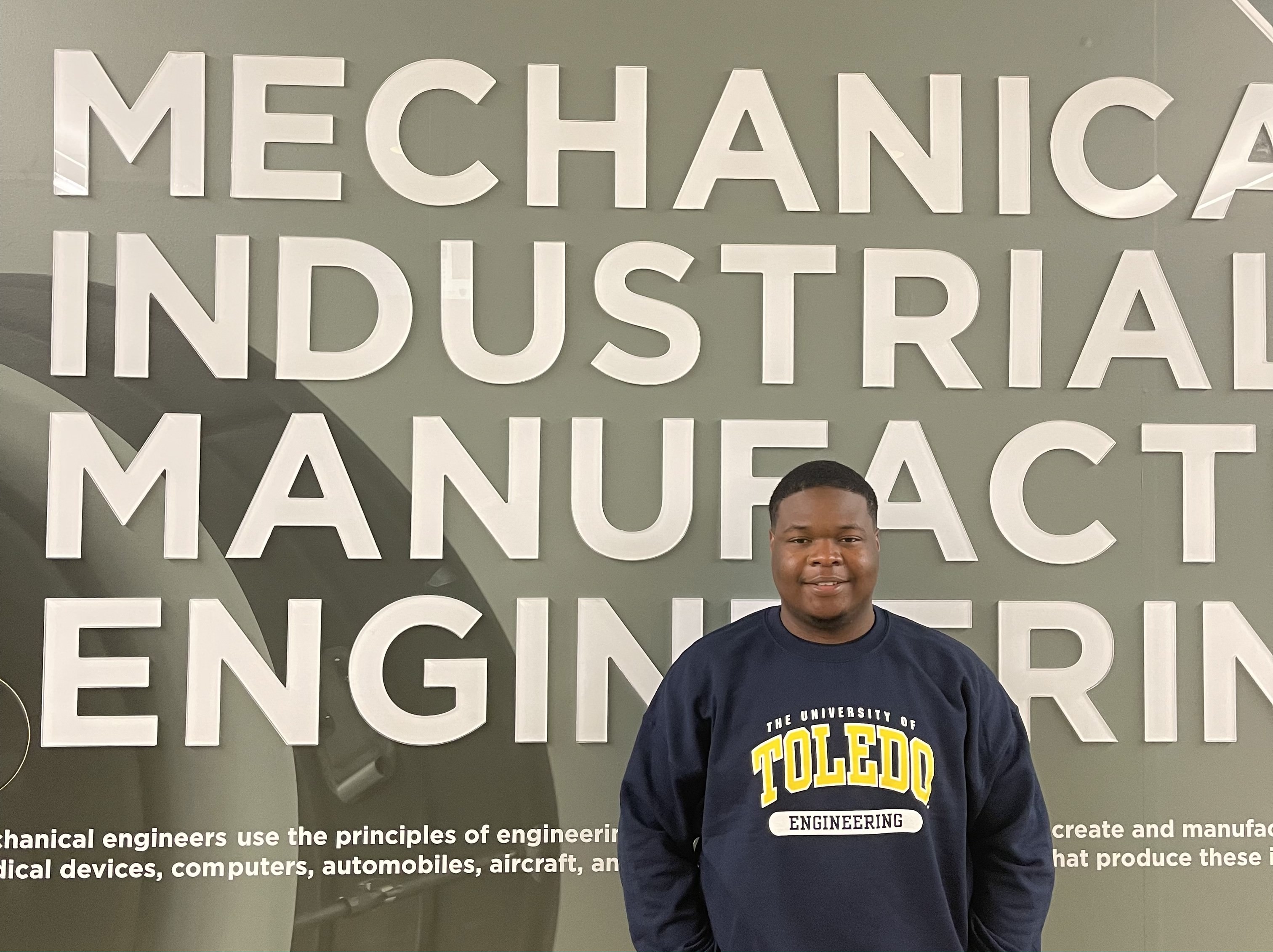 Heritage Adeagbo, graduating with a bachelor of science in mechanical engineering, was born and raised in Ibadan, Nigeria. He moved to the United States to start college at The University of Toledo at just 16 years old and credits the support of both his family and UToledo for helping him on his journey to the American dream.
"Campus involvement gave me the opportunity to serve the Toledo community while developing leadership skills. My early semesters with Engineers Without Borders (EWB) gave me the opportunity to participate in Clean Your Streams, which is an event to pick up litter and trash on stream banks in Lucas County.
My later semesters with the National Society of Black Engineers (NSBE) gave me the opportunity to volunteer with Cherry Street Mission and Toledo Food Bank. These organizations supported my growth at The University of Toledo", Heritage shared.
One person who had a big impact on Heritage was fellow student Hanan Ali. Adeagbo said, "I served as the treasurer of NSBE UToledo 2020-2021 executive board while Hanan was the president. She led NSBE during an unprecedented time. We had no experience on how to run a chapter virtually and were nervous about how things would go in the academic year. I observed her courageously lead by example and drive the team towards fulfilling NSBE's mission to "increase the number of culturally responsible black engineers who excel academically, succeed professionally and positively impact the community." She motivated me to develop in my role as treasurer, and her leadership gave me and the other executive board members the opportunity to contribute to important multicultural initiative meetings involving Dr. Lesley Berhan (NSBE Faculty Advisor), Dean T. Michael Toole, and other engineering faculty."  Mentor Hanan Ali said, "In our time working together, Heritage showed great initiative in championing innovative ideas that pushed our NSBE chapter forward. He always put in 110% into making sure meetings and events ran smoothly, as well as being forthcoming with feedback and challenging me as a leader for the good of the chapter."
Adeagbo is also grateful for UToledo's engineering co-op program, which encourages and supports engineering students to obtain real-world experience. "I completed three co-op rotations with Tenneco Powertrain (formerly known as Federal-Mogul Powertrain) in the Sealing & Gaskets Group as a Product Engineer responsible for designing, testing, analyzing, and researching engine sealing and gasket components. After Tenneco, I decided I wanted manufacturing experience and I completed a fourth co-op with ArcelorMittal as a Process Engineer, where I was responsible for improving the processes they used to manufacture steel tubular products. My final industry learning experience was with Amazon in the summer of 2021 as a Program Manager Intern in Seattle, Washington. My project involved cross-collaborating to lead the roll-out of new pack automation technology across 130+ fulfillment centers in North America, and I was part of Amazon's largest global intern class yet."

Thanks to his solid co-op work experience, Adeagbo will be Program Manager at Amazon RME after graduation. Adeagbo said, "I'll be working in the Pack Automation Group in the Reliability & Maintenance Engineering Organization (RME), optimizing and maintaining various technologies responsible for automatically forming and sealing goods you order from Amazon.com. We work with all fulfillment centers in North America. As a Program Manager, I will be responsible for coordinating and leading Pack Automation technology projects across fulfillment centers in North America."
---
Alain Bezing
Major: Bioengineering, 2023-2024
Hometown: Cameroon, West Central Africa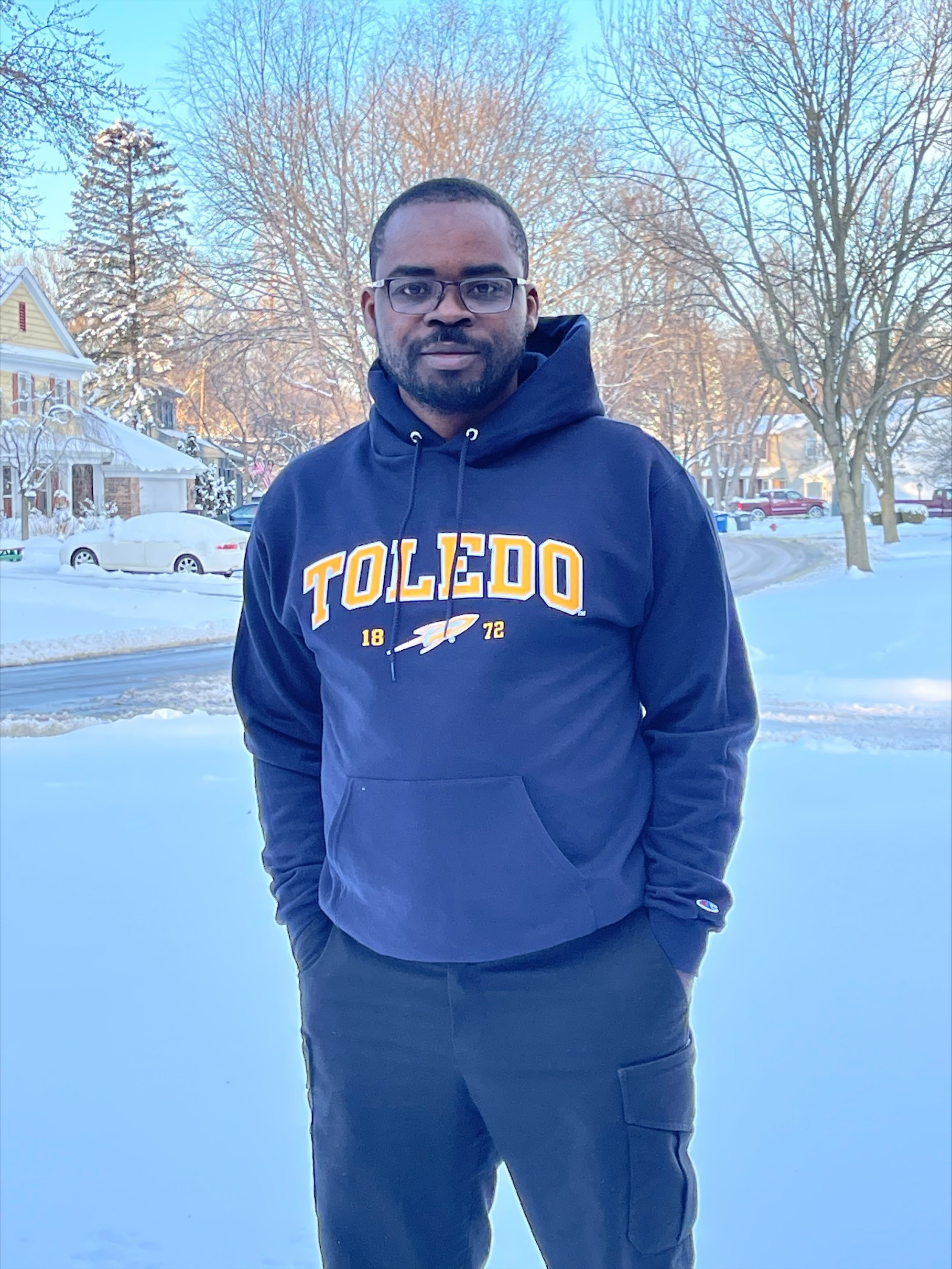 Not everyone's journey to college is the same, and Alain Bezing is proof of that. Bezing, a senior in bioengineering with a minor in chemistry, plans to graduate with his bachelor of science in 2023 and his master's degree in 2024.  Born and raised in Cameroon, a country in West Central Africa, he attended high school and the university of Yaoundé I (Faculty of Medicine and Biomedical Science), and graduated with his MD as a general practitioner in tropical medicine.
Bezing moved to the United States in 2014 to specialize, but due to family, health, and legal restrictions he had to pause his education.  "I had given up on my education and decided to just get a job and move on," said Bezing. "But I have always been interested in engineering and decided to change my direction to a bachelor in bioengineering, a master's in bioengineering and a PhD in Biomedical science and a specialization in internal medicine (nephrology)."
 Dr. Anju R Gupta, Assistant Professor, Department of Mechanical, Industrial and Manufacturing Engineering commented, "Alain is a great addition to my interdisciplinary team and brings his expertise in cell biology. I feel very fortunate to have found him in Spring 2021 when he was looking for on-campus co-op opportunities. His work involved comparing the efficacy of lab-grade ethanol, hand sanitizer and hand soaps against model viral membrane that he synthesized. He concluded that soaps are the best! Currently he is studying biocompatibility of various colloidal solutions and their coatings for biomaterial applications. He is one of the hardest working, sincere, and detail-oriented students in the lab."
Alain is currently working with the Educational Commission on Foreign Medical Graduates (ECFMG), which evaluates the qualifications of international medical graduates to complete the rest of his United States Medical Licensing Exam (USMLE) and doing his undergraduate and graduate studies at the same time. In addition to his studies, Alain also owns a medical digitalization company called Brilydal Ltd, that helps startups and enterprises with their digital transformation needs, and he is currently working on a platform called MySelf to be released in March 2022. Alain also works as a Correctional Counselor with the Lucas County Sheriff's Office helping pretrial inmates with their incarceration issues. Through all of this, Alain shares, "My most important role is as a husband and father of Brielle (almost 3 years old) and Bryson (3 months old). I am not the best, but I do my very best in all I do and let God do the rest."
---
Kayla Chapman
Major: Chemical Engineering, Fall 2021
Hometown: Canton, Ohio
High School: Jackson High School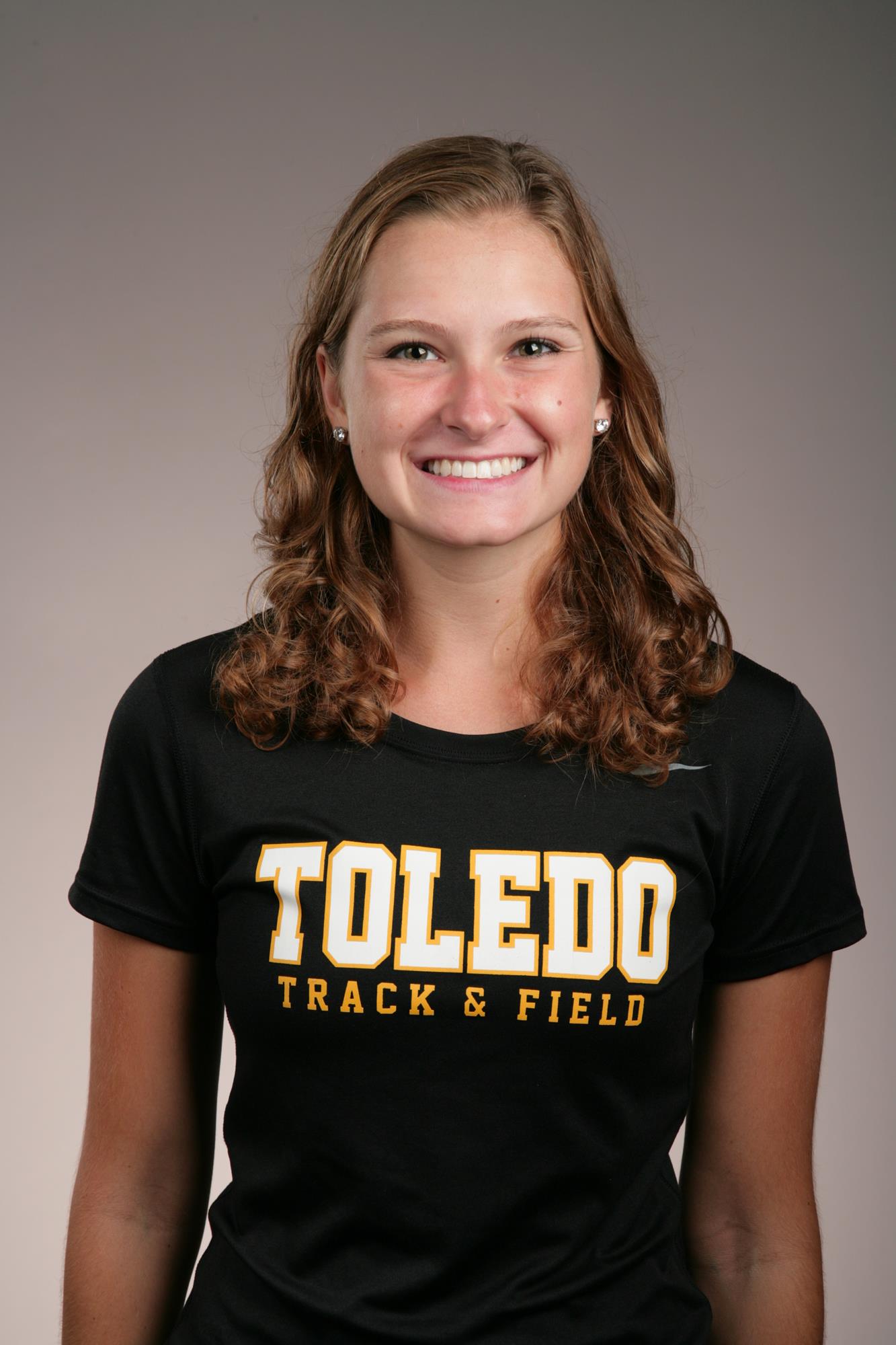 Kayla Chapman is graduating with her bachelor of science in chemical engineering and will be working as a Process Engineer at the J.M. Smucker Company in Orrville, Ohio.
Kayla started her experience at UToledo as a student-athlete, but she was medically disqualified from track and field due to too many injuries. Kayla shared, "I will say that being a student-athlete has taught me many valuable lessons over the years such as maintaining a positive attitude and being able to see the good in any situation, in addition to, recognizing that comparison is the thief of joy and that I am 'running my own race' not someone else's. Along with this, I have developed great perseverance, determination, and time management skills to strive to be the best engineering student I can be as well as a different perspective on teamwork and leadership. I am extremely grateful for my experiences as a rocket student-athlete!"
As with most of our engineering graduates, Kayla is also proud of her vast variety of co-op experiences. She spent a semester with Plastic Technologies, Inc. in Holland, Ohio as a Project Engineer Co-op, two semesters with Cooper Tire and Rubber Company in Findlay, Ohio as a Test Development Engineer Co-op, and a Manufacturing Process Engineer Co-op, and one semester with Folgers in New Orleans, Louisiana as a Technical Services Organization Process Engineer Intern. "I have been fortunate to have four total co-ops with four different job titles, and three different companies in three different industries. Each unique experience has shaped me into the passionate engineer I am today. Additionally, I have met many influential employees at each co-op. I am glad I branched out of my comfort zone to travel to new places and experience different work environments because I greatly enjoyed each experience."
Kayla shared that Dr. Liberatore, professor of her favorite chemical engineering class, Material and Energy Balances and her research advisor, has had the most impact on her UToledo engineering experience. "As a part of his engineering education research team, I have been able to be a co-author of three published journal articles along with many conference proceedings. Furthermore, I have grown as a public speaker through presenting my research at various virtual and in-person conferences. Through researching engineering education, I have a greater appreciation for college professors and their passion to teach students to the best of their ability. I then became passionate about teaching and tutoring chemical engineering students. Thank you Dr. Liberatore for encouraging me to continue to work hard, be innovative, and pursue my dream of being a chemical engineer."
Kayla's research is focused in engineering education, specifically analyzing big data trends from the use of auto-graded homework questions within an interactive chemical engineering textbook. The findings are then used to continually optimize homework questions and develop new content to positively impact student engagement and learning. Kayla presented her research at The American Institute of Chemical Engineers (AIChe) Regional and National Conferences as well as the American Society of Engineering Education (ASEE) Annual Conference.
"Kayla is an outstanding student in the classroom, a focused and productive researcher, and an incredible asset to our chemical engineering program through her tutoring activities. While data analytics is not part of our chemical engineering curriculum right now, Kayla has led our engineering education research in this area by learning new skills from statistics to aggregating and visualizing large data sets generated by students using an interactive textbook that I authored. Kayla's industriousness and ability to grow will garner success in her life as a process engineer or whatever job and life roles that she pursues." Matthew Liberatore, Professor of Chemical Engineering.
---
Alexander Enders
Major: Mechanical Engineering, Spring 2022
Hometown: Marion, Ohio
High School: Pleasant Local Schools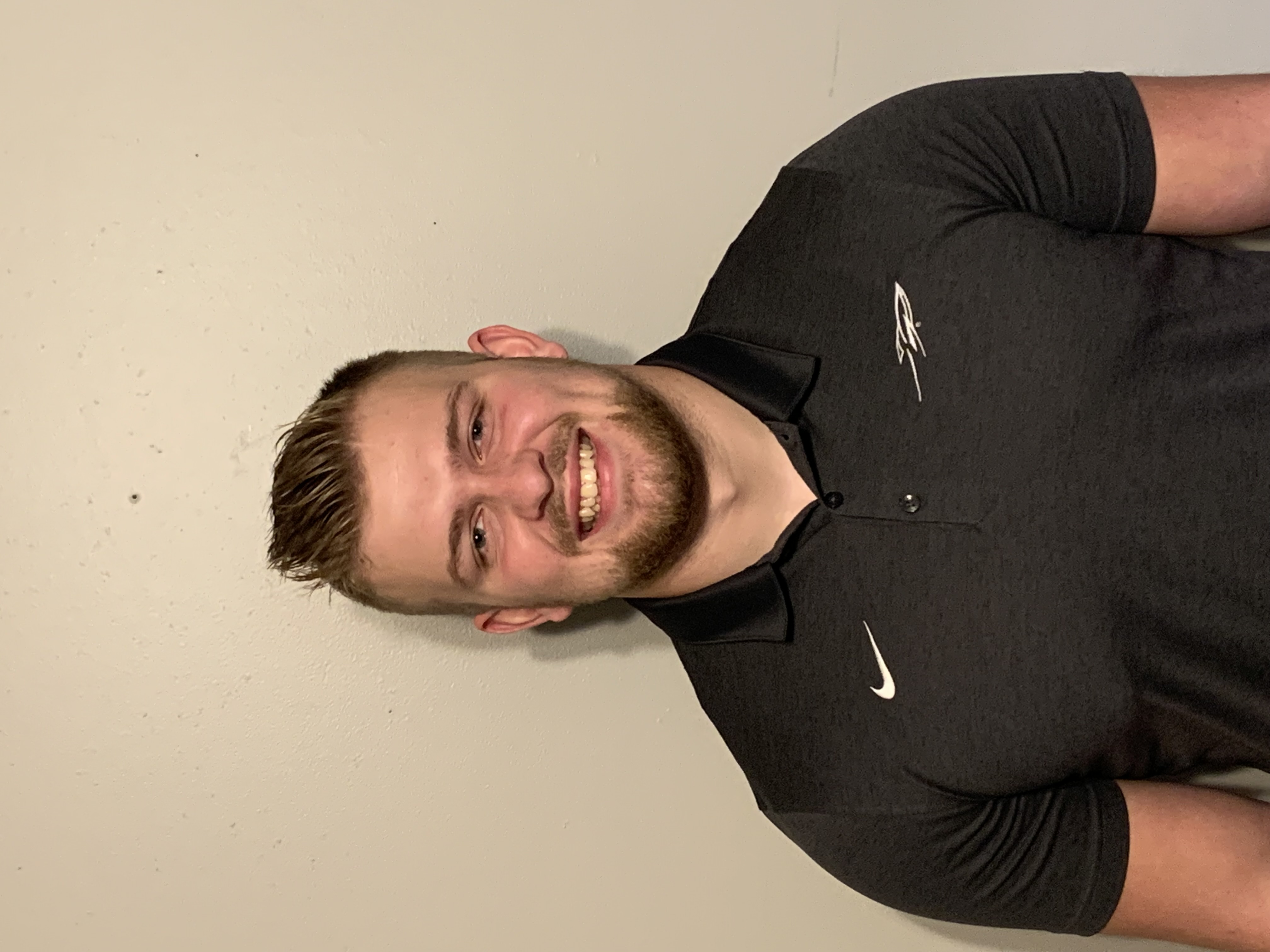 Alexander Enders, graduating with a bachelor of science in mechanical engineering, has taken time-management skills to the next level.  As a member of the special-teams unit on the Rocket Football team, Alexander has been able to juggle his engineering courses and play D1 football, but it hasn't been an easy road. Alexander came to UToledo as a preferred walk-on out of high school and eventually earned a scholarship. During the 2020 season, he tore the meniscus cartilage in his knee and chipped off a part of his tibia, but Alexander's goal of returning to the team was reached after a lot of hard work and dedication. "I was able to come back and play this past season and contribute on multiple special-teams units. I am incredibly excited to have earned a scholarship to play football here at the University of Toledo and am more driven than ever before for the coming season."
While these challenges would be enough for most people, Alexander decided to take on the additional challenge of earning his Certified Associate in Project Management (CAPM) certification. CAPM was offered as part of his MIME 3200 Project Engineering course with Dr. Douglas Oliver, Emeritus Professor in Mechanical Engineering. Dr. Oliver explains, "The Harvard Business School has suggested seven business skills that "every engineer needs, one of which is management skills.  This is a particularly important skill for graduating engineers who desire to become project managers, and by becoming CAPM certified an engineering student can demonstrate that they have both an interest and serious training in project management. CAPM certification requires training in project management as well as passing a standardized test, which has a failure rate of about 40%. "
"The CAPM certification was a great addition to classes this past fall and allowed me to broaden my skills as an engineer," Alexander stated. "Earning the certification allowed me to learn and now display knowledge of the different domains that make up a project from start to finish and what is needed to manage all 13 areas as one team or unit as a project manager, for example, knowing how to identify and communicate with stakeholders, manage and procure resources, and meet the scope of the project. Finding time to prepare for the certification test was hard while being a full-time mechanical engineering student as well as a student-athlete on the university's football team."
In addition, although the typical bachelor of science in mechanical engineering is a 4 ½ year program, Alexander will be graduating in 3 years due to previous college credit-plus classes that he achieved during his time at Pleasant Local Schools in Marion, Ohio.  "I took 66 CCP hours throughout my high school career before coming to the University of Toledo. I will graduate this Spring and look forward to applying this semester to the University of Toledo graduate school to further pursue my education and earn a Master's degree."
"Having this certification allows me to have the ability to further understand and contribute to major projects after learning what can be most beneficial and supportive from a managerial standpoint as well as an employee standpoint to complete a project within a project team. I am excited to see what doors this certification will open for my career in the future," he said.
---
Elly filas
Major: Environmental Engineering, Spring 2022
Hometown: Toledo, Ohio
High School: Notre Dame Academy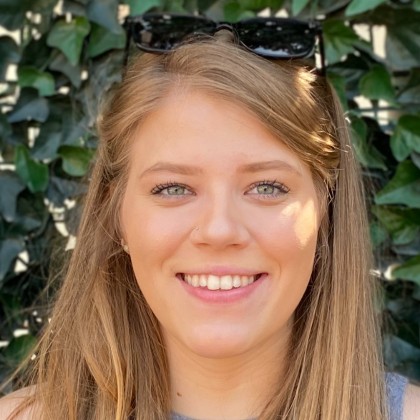 Elouise (Elly) Filas, graduating with a bachelor of science in environmental engineering, didn't know she wanted to be an engineer until her third year at UToledo.  She used her first few years at the University of Toledo to leave her mark on our school and the community surrounding it. Elly got involved; as a founding member of the club swim team, a Freshman Camp counselor, attending service trips, co-directing songfest.
Elly knew that she wanted to help people in her career and initially thought that her path would be through medicine. "When it came to junior year though, I realized that I dreaded the thought of going to school for 8 more years; now I realize it wasn't more school I dreaded but doing something I wasn't truly passionate about. Over my time at UT, I have met so many people in different majors. From meeting all these people, I realized that everyone helps someone, and anything I did in some way could help others.  During her search, she took classes that were heavily focused on the environment, and I fell in love with helping people through sustainability and the environment around me. From there, I decided to go into environmental engineering."
As an environmental engineer, Elly is most interested in research leading to the clean-up of pollution in our waterways. Participating in undergraduate research with Dr. Defne Apul, Chair, and Professor in Civil and Environmental Engineering, Elly worked with the City of Toledo on the Trash Free Waterways project. "This is opened my eyes to the world of research, allowed me to be a part of a project that has not only educated our UT community but Toledo about the issue of trash in our waterways, and allowed me to meet many inspiring people."
"Dr. Apul played a large part in my experience at UT. She was the professor that oversaw my first co-op, which due to Covid-19 had to be virtual, but she worked with Hull and Associates to find a very worthwhile project for us. This led to me doing research with her for Trash Free Waterways, and then she became the advisor for Chi Epsilon. She is constantly pushing me to succeed and to always try to better myself. I owe a lot of what my UT experience was to her and her support."
After graduation, I have accepted an offer to work in the Infrastructure Department at Jones and Henry Engineers, the company I've co-oped with and worked part-time with for the last year and a half. I also am planning to continue my education by pursuing a master's degree at the University of Toledo in Civil Engineering with a focus on Environmental Engineering.
---
Kevin Fruth
Major: Chemical Engineering, Fall 2021
Hometown: Fostoria, Ohio
High School: Valedictorian at Hopewell-Loudon High School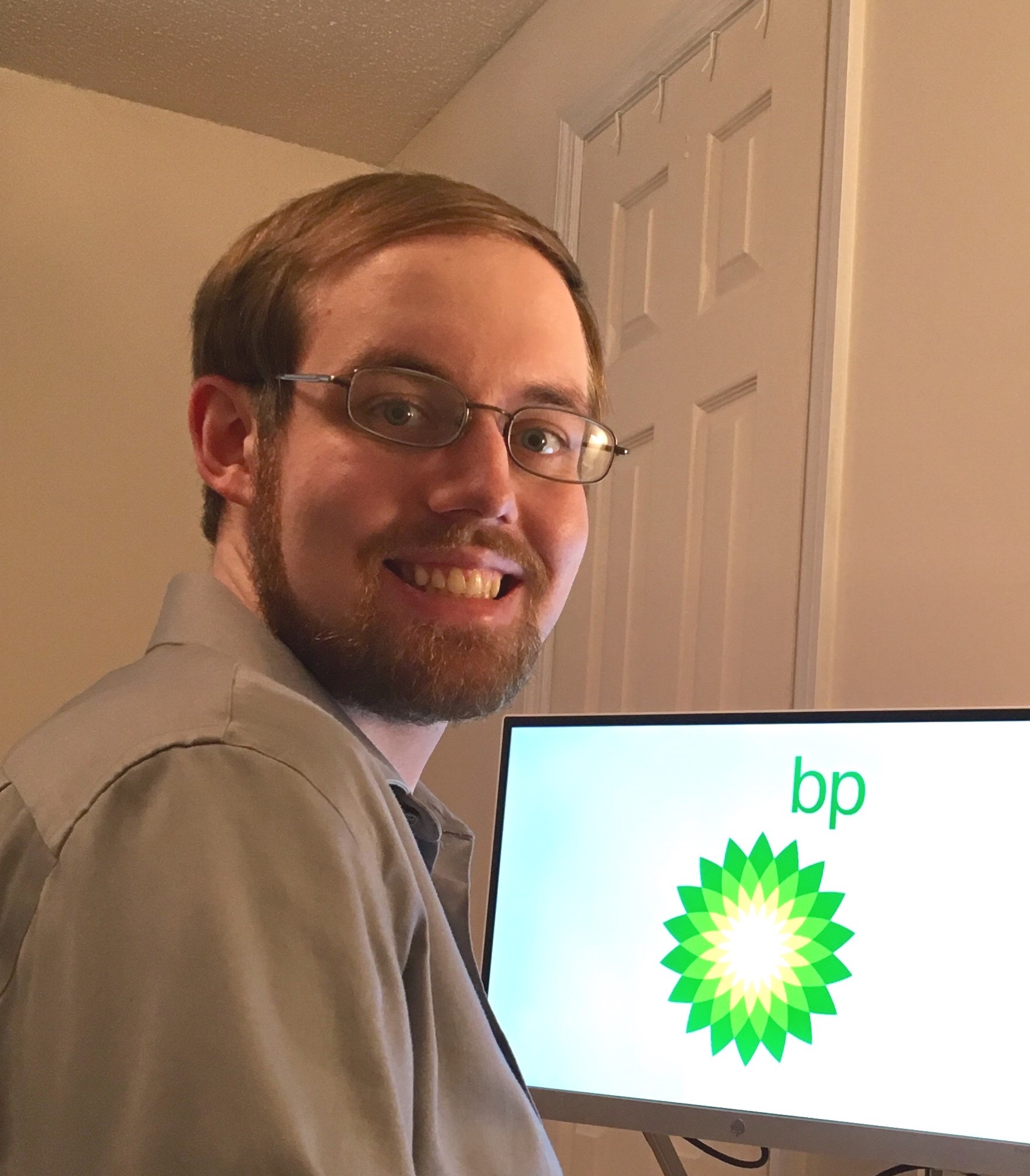 Kevin Fruth is graduating with a bachelor of science in chemical engineering with a chemistry minor. During his undergraduate studies at The University of Toledo, he has had the opportunity to participate in one co-op rotation with First Solar, two co-op rotations at BP's Whiting (Indiana) Refinery, and one co-op rotation at BP's Toledo Refinery. Kevin's co-op experiences allowed him to apply his coursework to solve real-world engineering problems and prepared him for a chemical engineering career after graduation.
But Kevin credits his extracurricular involvement - three years as an officer for the American Institute of Chemical Engineers (AIChE), three years as University of Toledo Chem-E Car Team Captain, an active member of the Omega Chi Epsilon Beta Nu Chapter and the Maker Society, and three years as a Freshmen Interest Group Leader for the Department of Chemical Engineering - as one of things of which he is most proud.
Kevin's involvement with the American Institute of Chemical Engineers (AIChE) taught him to be an active leader on a conference planning committee as they prepared to host 300 chemical engineering students from surrounding universities during the 2019 AIChE North Central Regional Conference in April, 2019.  "As University of Toledo Chem-E Car Team Captain, I have been so proud to foster significant growth and continuous improvement for the Chem-E Car Team. During my time as team captain, our team won the 2018 North Central Regional Chem-E-Car Competition, took third place in the 2021 North Central Regional Chem-E-Car Competition, and participated in the 2018, 2019, and 2021 National Chem-E-Car Competitions against 30-40 other teams from around the world. Being Chem-E Car Team Captain also provided me with an excellent opportunity to hone my leadership skills, improve my time management abilities, and develop technical expertise as well as form life-long friendships with my teammates."  In addition, the team recently won first place in the AIChE 2021 Annual Student Conference Chem-E-Car Competition® in Boston, MA!
When asked who had the greatest influence on his success here at UToledo, Kevin mentioned both Dr. Sridhar Viamajala, professor in chemical engineering, and Dr. Thehazhnan Ponnaiyan, lecturer in chemical engineering, as both having had tremendous impact on his undergraduate studies. "Dr. Viamajala welcomed me into his research group and allowed me to lead one of his research projects that aimed to convert non-edible vegetable oil and waste cooking oil into p-xylene through a continuous pyrolysis reactor system, which would be further reacted into terephthalic acid and then PET to create a more environmentally friendly plastic bottle. Leading this undergraduate research project was an excellent experience that allowed me to apply my coursework in a real-world setting, expand my technical knowledge, and hone my problem-solving abilities, and Dr. Viamajala's guidance was crucial to my growth and development throughout this experience. Dr. Ponnaiyan was a superb lecturer for many of my chemical engineering courses, and I received an extensive amount of chemical engineering knowledge from his instruction. As I rose to the challenge of meeting Dr. Ponnaiyan's high academic standards, I developed a greater understanding of the course material than I may have otherwise, and I am thankful because my enhanced understanding should be beneficial throughout my career. Dr. Ponnaiyan's instruction has also promoted a significant increase in the professionalism of my engineering report writing, which will be crucial during my career."
---
stephanie hill
Major: Construction Engineering Technology, Spring 2022
Hometown: Springfield Township, Ohio
High School: Springfield High School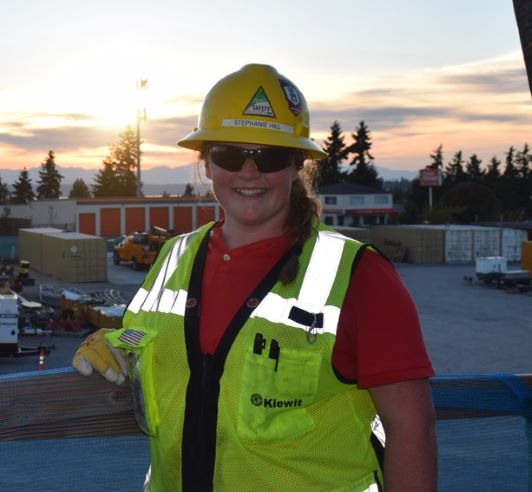 Stephanie Hill charts her own course.
As a freshman at Springfield High School, she convinced the school to let her be the school's first twirler in 15 years.
Not only did she twirl all four years she was there, she was a feature twirler for the Rocket Marching Band her freshman and sophomore years.
And following her May graduation, the Construction Engineering Technology student will join a select group of women who are entering a historically male-dominated construction career field.
Women make up about 10% of the construction industry's workforce, according to an estimate from the National Association of Women in Construction.
"As an incoming freshman I had a lot of doubts," Hill said. "I had very little prior knowledge about construction before starting school. Not only was I worried about how I was going to do in my major but also in college in general.
"But I always loved to build things," she said, "and after I learned about the different majors offered at UToledo during my tour of the engineering college, I was able to decide that construction engineering was right for me. I applied to a lot of other colleges just to see what else was out there, but The University of Toledo just felt right."
Hill's first co-op was spent building an apartment complex in Michigan, where she was able to learn about the construction process firsthand. Her second and third co-ops were in Seattle, where she worked on a heavy civil project with Kiewit Construction.
That was where she "fell in love with bridges," she said.
"I even secured a full-time position as a field engineer nine months before I graduated, with the company, Kiewit Construction, that I set my sights on during my freshman year," she said. "Nothing is better than having a full-time job lined up before you start your last semester, especially with an amazing company."
Before she receives her diploma, Hill has embarked on a successful career path.
"I find myself, after five years at UToledo, very confident with the ability to contribute positive ideas and knowledge to topics related to my major," she said.
Rhonda Moore, associate co-op director in the Shah Center for Engineering Career Development, said, "Stephanie's co-op evaluations always came back with comments about her great attitude and professional behavior in the field, and her early full-time job offer reflects this. The opportunities for women in Construction Engineering Technology are endless, and I know Stephanie will be a great role model for our future Rocket engineering alumna."
And just as other women in engineering helped push her forward, Hill said she wants to help bring along others as well.
Her advice?
"As a woman in construction, it can be intimidating putting yourself on the line, but in my experience, that is how I learn best. Learning is meant for failure and without failure, success would mean less."
---
Victoria Janas
Major: Bioengineering, Spring 2022
Hometown: Chesterfield, Michigan
High School: L'Anse Creuse North High School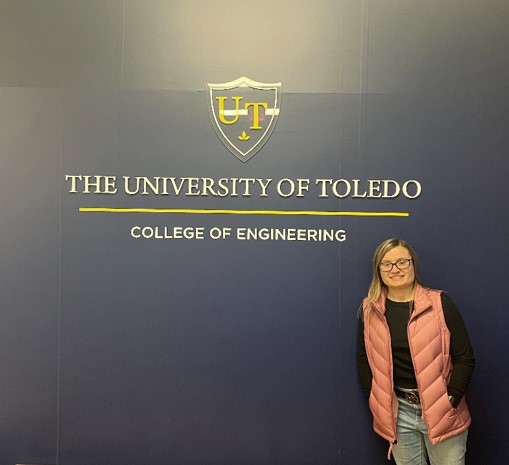 Victoria "Tori" Janas, graduating with a bachelor of science in bioengineering, is the epitome of what Dr. Michael Toole, Dean of the College of Engineering, describes as a "T-shaped engineer". This term refers to the importance of developing both the technical and soft skills of a professional engineer.  While Tori feels well-prepared for the technical aspects of her new role at Parker Hannifin in their Operations Leadership Development Program, she also had the opportunity to develop her soft skills at the College of Engineering.
"I had a tremendous support system from faculty, who presented information and challenged me to learn all aspects of engineering that involved electrical, mechanical, civil, and biology to understand how engineering is implemented to create medical devices and products that help people have a quality life. But being a member of the Roy and Marcia Armes Engineering Leadership Institute (ELI) helped shape me into a leader. ELI challenged me to leave my comfort zone and has greatly impacted my communication skills.  It provided me with the tools to hit the ground running in my new career and immediately make a difference as an engineer in the company. ELI, along with Dale Carnegie Training, Insights Discovery modules, etiquette workshops, and more have helped strengthen my communication and leadership skills and have helped me during my various co-op rotations."
The accessibility of the faculty and staff to the students, even the Dean of the college, was another way that Tori felt UToledo differed from other schools! "I had the wonderful opportunity to work closely with Dean Toole as a member of ELI, and he has had an instrumental role in my time at UToledo. He supported my planning and execution of various events, especially when I planned an alumni event at the Toledo Walleye Game with the organization's founders, Roy and Marcia Armes. Additionally, Dean Toole helped me ensure my career choice was the right one for me and set time aside to help talk me through my career options and gave me life advice which I greatly appreciated." 
Dean Mike Toole, replied, "Tori is the personification of a UToledo engineering student:  Bright, eager to learn in and outside of the classroom, and willing to devote her personal time to making our community stronger in every respect.  It has truly been a pleasure to watch her develop personally and professionally over the past three years.  I look forward to watching her promising career unfold."
---
Yogesh Kumaran
Major: B.S. in Bioengineering Spring 2020, M.S. in Biomedical Science 2021
Hometown: Waterville, Ohio,
High School: St. John's Jesuit Academy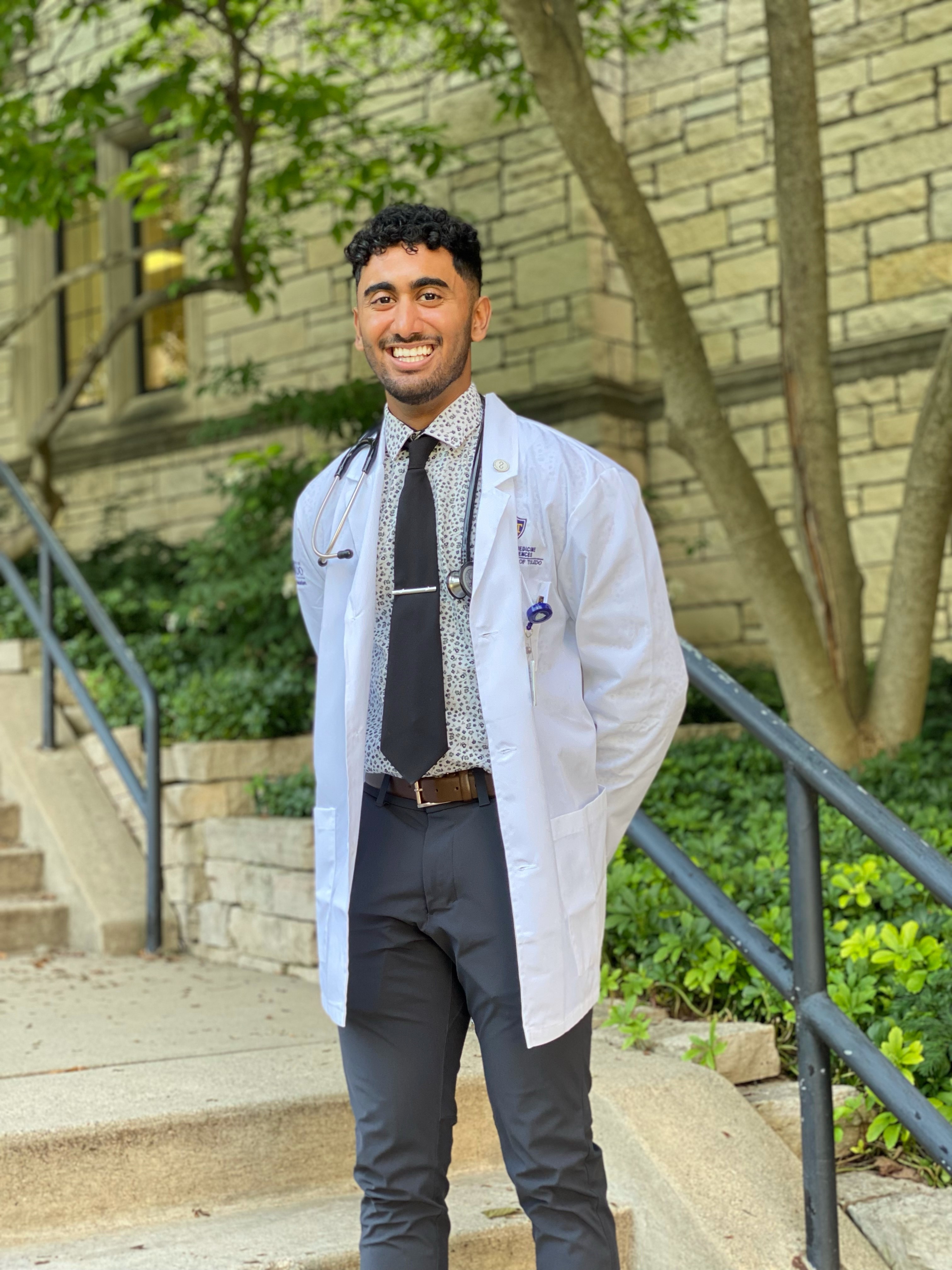 From the first day of my freshman year at the University of Toledo, I knew my path to medical school was going to be different from that of the traditional pre-medical student. Despite that, I was determined to pursue medicine through bioengineering. As technology grows exponentially, the field of medicine evolves with it and thus I was inspired to develop a foundation in engineering that posed as the catalyst for my interest in innovation. I believe that the College of Engineering has provided me the necessary tools to view medicine from this unique scope.
 For the past 4.5 years, my research involved finite element analysis of spinal surgeries and subsequent pathologies under Dr. Vijay Goel at the Engineering Center for Orthopaedic Research Excellence (e-CORE). This experience has given me the opportunity to publish in peer-reviewed journals and present at numerous national conferences. More importantly, my experience has shown me that the future of medicine will rely heavily on physicians trained with backgrounds in engineering. Having a thorough understanding of these engineering concepts will allow physicians to not only excel in delivering exceptional patient care but give them the arsenal to curate solutions and be at the forefront of medical innovation.
I am thankful for the opportunities the College of Engineering provided me which were the sparks that lit the fire in my pursuit to becoming a lifelong learner. After completing medical school, my plan is to pursue a career in a surgical specialty and transform healthcare by advancing the intersection of engineering and medicine.
---
Bethany McCutchan
Major: Mechanical Engineering, 2025
Hometown: Pittsburgh, PA
High School: Hampton High School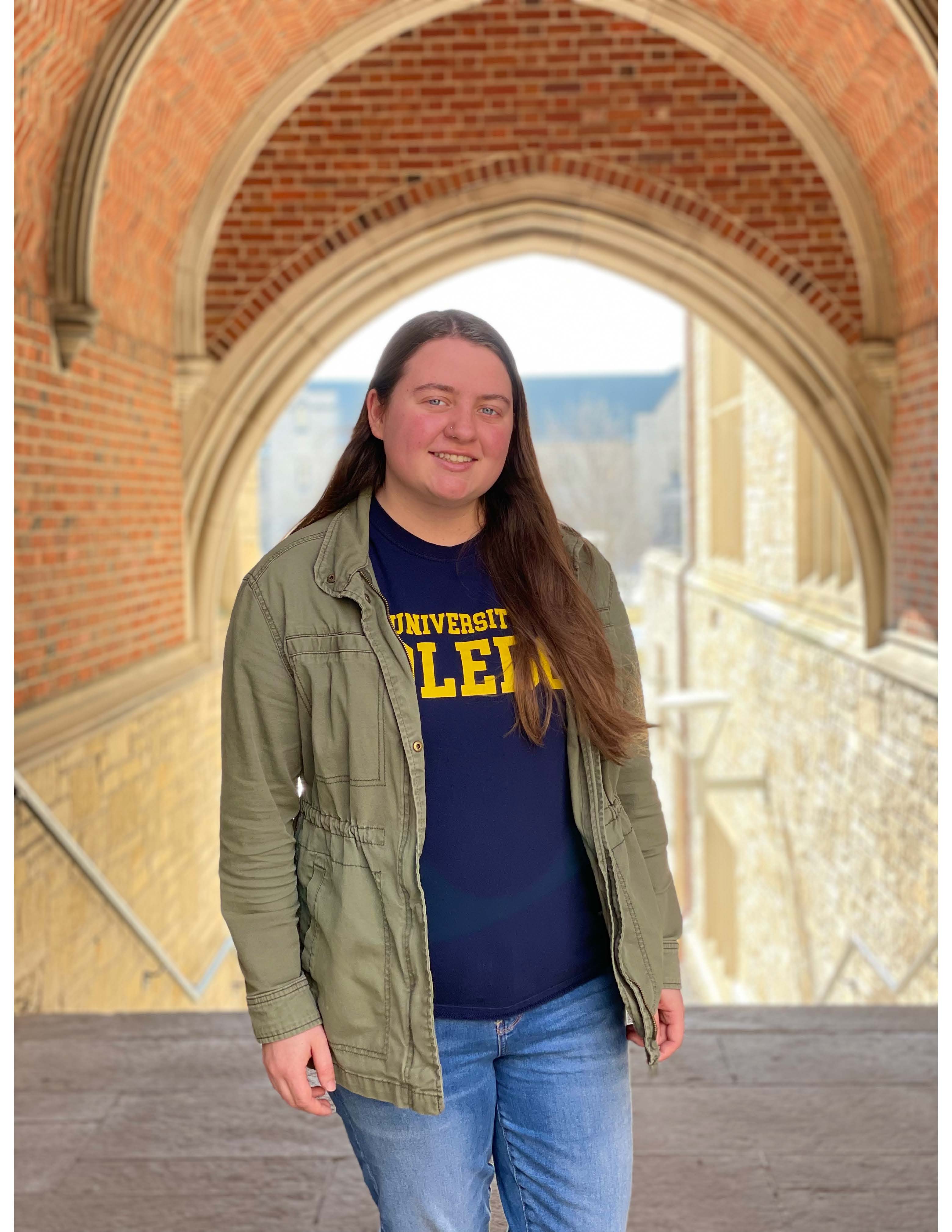 Bethany McCutchan, a mechanical engineering major from Pittsburgh, PA, has always known that she wanted to work for the Walt Disney Company. She was enthralled by the amazing rides that they had built and knew she wanted to be a part of the team, with the goal of being a Disney Imagineer. "While I was trying to decide what major would help me achieve that goal, University of Toledo College of Engineering recruiter came to my high school physics class and spoke about UToledo and their engineering program. At that moment I knew I wanted to study mechanical engineering at the University of Toledo," she shared.
Though Bethany is still a freshman, she has already been making steps toward realizing her dreams. "I applied to the Disney College Program, and on January 31st I was accepted for their Fall 2022 term. While on this program I will be working as a cast member and be able to spread the Disney Magic to families, all while networking within the company. My next goal is to be accepted for a Professional Internship with Disney Imagineering.  I feel like with Toledo's amazing co-op program and advisors at my side, I will be able to make my dream of becoming an Imagineer a reality."
 "The Disney College Program is highly competitive", stated Kalen Decant, assistant director in the Shah Center for Engineering Career Development.  "There are over 50,000 applications submitted with only a 20% acceptance rate.  Bethany will learn valuable transferable skills during this experience, and it will help her resume stand out when she applies for Disney's Imagineering. Bethany's motivation, passion, eagerness to learn, and tenacity in working toward her goals are going to serve her well at Disney!"
---
raelyn nyren
Major: Bioengineering and Mechanical Engineering, Spring 2022
Hometown: Ham Lake, Minnesota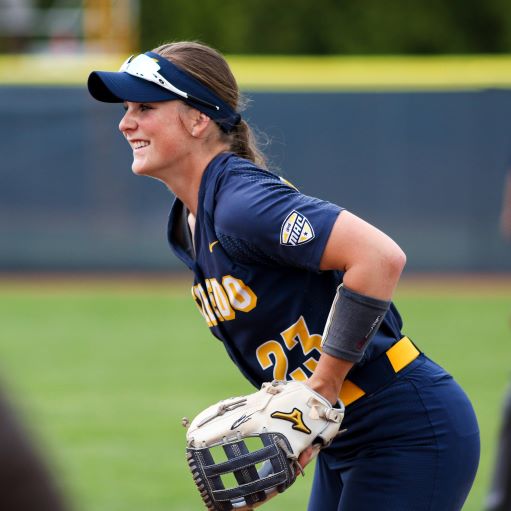 Raelyn Nyren had two goals, to play D1 college softball and to become an engineer, and she found the fulfillment of both at UToledo.  "The University of Toledo is unlike any other college when it comes to the success of their student-athletes.  Most universities don't allow their athletes to pursue an engineering degree while playing a Division I sport due to the rigor of the coursework.  However, from the moment I stepped on campus as a young softball recruit, the University of Toledo embraced my passion for both engineering and softball from the very start and was determined to see me succeed in both areas."
Not only did Raelyn play 4 years of softball, but she is also graduating with two engineering degrees.  "A dual engineering major is not something that is easily accomplished by any student, let alone one who is also playing a collegiate sport.  However, the UToledo College of Engineering saw this as a challenge (as did I) and we have been working to make this all possible ever since.  In May, I will have played all 5 years of my college softball career at the University of Toledo (4 full years + covid year when our season got canceled) and will be graduating with a Bachelor's of Science Degree in Bioengineering, as well as a Bachelor's of Science Degree in Mechanical Engineering.  Walking away from college with two engineering degrees and the experience of playing the sport I love at the highest level is truly what I am most proud of." 
 Raelyn worked hard on and off the field, but still had time to make connections with classmates as well as the faculty/staff.  "The College of Engineering is probably the most tight-knit college within the University.  In fact, there are classmates that I met on my Rocket Scholar Day back in 2017 that I am still friends with to this day. My favorite part of the school year has always been the start of the semester when a new set of classmates and friends rejoin the classroom after being out on co-op.  After a few semesters at the College of Engineering, you get used to seeing the same friendly faces in all your classes.  You really start to miss your classmates when they go out into the workforce for the semester, but the best part is always when we are all finally back at school again and we get to spend time catching up and sharing stories from our industry experiences. "
 Some advice that Raelyn would share with students considering becoming a Rocket engineer is to take advantage of the co-op program the college requires of its engineering students.  "Coming into college, my dream was to walk at graduation already having accepted a full-time job offer with Medtronic (a medical device company founded in my home state of Minnesota).  The co-op program at the University of Toledo allowed me to do just that.  I ended up completing 2 of my 3 co-op rotations with Medtronic's summer intern program.  Medtronic is one of the biggest medical device companies in the world and their internship program is not easy to get into.  However, the College of Engineering did an exceptional job of preparing me to not only obtain an internship with Medtronic but to succeed on the job as well.  By the end of my second Medtronic internship in Summer 2021, I had already accepted a part-time (virtual) position with them, to stay connected with the company throughout the school year, as well as a full-time position following my graduation in Spring 2022.  Without the College of Engineering co-op program, I don't think any of this would be possible.  The department puts a lot of time and effort into ensuring its engineers are as prepared as possible to succeed in the working world, and it really shows through the co-op program they have put together over the years.  So, take advantage of the fact that UToledo is one of eight universities that requires its engineering students to go out on co-op.  You may come into college with zero work experience, but you just may leave with your dream job."
Raelyn loves the tight-knit community of the College of Engineering and feels that it extends beyond the students.  "The second you start your career at UToledo Engineering you will notice just how much the faculty and staff care about you and your success.  There is true personal interest from people like my co-op director, Rhonda Moore (an Associate Director in the Shah Center for Engineering Career Management) remembering where your last co-op was, even though she has hundreds of other students to worry about, or Dr. Adam Schroeder (Visiting Assistant Professor in Mechanical Engineering) knowing the names of all 40+ students in his Modeling and Control of Engineering Systems lecture.  There is no limit to the number of examples proving just how invested the UToledo Engineering staff is in their students." However, the person at UToledo that had the most impact on her during her time here was Robin Van Hoy, who was the Assistant Director of Student Services for the Bioengineering Department for most of her college career.  "Robin Van Hoy was the first person I expressed my interest to when it came to dual majoring.  It would have been easy for her to tell me that a dual engineering major in combination with playing softball is a scheduling nightmare and not in any way possible, but she did the exact opposite of that.  Instead, she spent the rest of that week making a personalized flowchart for me which outlined my coursework for the next four years.  From the very start, Robin was on top of everything when it came to my dual major.  She met with me every time course registration came around to ensure I was on track to graduate and that all my course requirements for both majors were being met.  Anytime I had a question or concern about anything related to my courses, she was always my first point of contact.  I truly believe that Robin Van Hoy and the effort she put in to ensure I succeeded is the reason I am graduating with two engineering degrees and having played college softball.  None of this could have been accomplished without her dedication to the university, its students, and me."
Robin reflected, "Raelyn is one of the hardest-working students I've had in Bioengineering. Not only did she complete two majors in the same amount of time it takes to complete one traditional degree all while being a university athlete, which takes an incredible amount of time away from studying. Through it all, I have never seen her without a huge smile on her face."
Rhonda Moore, Associate Director in the Shah Center for Engineering Career Management, shared, "As a student-athlete, and engineering dual major, Raelyn has shown how to prioritize her time and energy to be successful while at the University of Toledo. She has excelled on and off the softball field, while in the classroom, and out on co-op. She surpassed her supervisor's expectations on co-op and her 'can-do' attitude was simply infectious. Raelyn has shown a high level of maturity, professionalism, dedication, work ethic, transparency, and organization. We are extremely proud of all of her accomplishments while at UToledo and know she will have a very successful career in medical device manufacturing at Medtronic."
---
ELIZABETH SKOWRONSKI
Major: Bioengineering, Spring 2021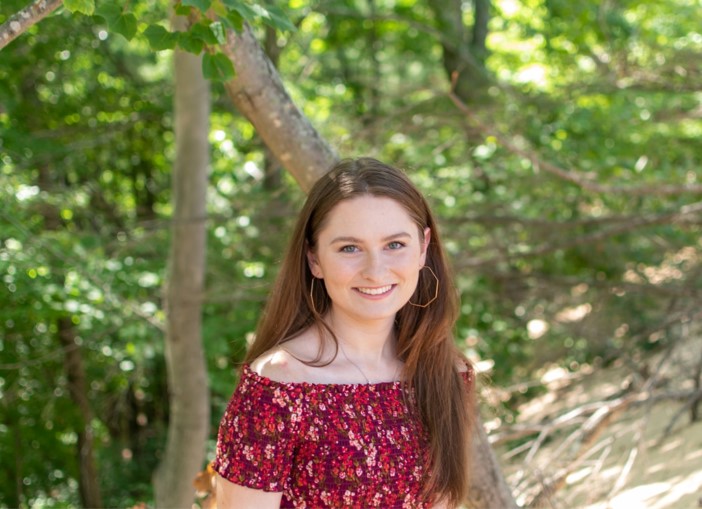 Hometown: Toledo, Ohio
High School: The Toledo Technology Academy 
If you look up the word determined in the dictionary, there may be a picture of Elizabeth Skowronski.  The first in her family to earn a college degree, she chose the rigorous curriculum of bioengineering and decided to add a minor in chemistry on top of it. Through hard work and perseverance, she will be graduating with a 3.838 GPA, magna cum laude, and will go on to her full-time dream job while also working towards a master's in engineering.
Elizabeth has accepted a full-time job at Stellantis (formerly Fiat Chrysler) upon graduation in May. "I have been accepted into the Chrysler Institute of Engineering Program, which is a full-time two-and-a-half-year rotational program. Stellantis only takes about 30 individuals each year, and while in the program we are required to complete our master's in engineering. I am in the process of applying to grad school, where I plan to work towards a master's in computer science and electrical engineering."
Elizabeth believes that her experience with the College of Engineering's integrated co-op program was a main factor in being chosen for the highly selective Stellantis program. "I know some of the prospective students reading this might roll their eyes because we talk about it ALL OF THE TIME but having real-life paid work experience while in college is game-changing and sets you up for so much success during and after college. My advice to other students is to really put yourself out there, don't be afraid to make connections, and use those contacts to build a stronger network. When you're on your co-op, reach out to as many people as you can, set up one-on-ones and chat with people, learn about what they do and what their development plans are. I've reached out to upper-level Vice Presidents thinking I would never get a response, and to my surprise not only did they respond, but I had the opportunity to meet and chat with them."
Elizabeth stated that there were many other small steps that led to her larger success. Among them was her acceptance into the Roy and Marica Armes Engineering Leadership Institute. "This organization has been transformational for me in both my personal and professional development. It was an honor to have been one of a few accepted into this prestigious organization. ELI has provided me with focused tools and training, such as improving my communication skills in front of small and large audiences, to make me a better leader. I cannot speak more highly of this amazing organization and the opportunity it has provided for students through Roy and Marcia Armes. Our ELI advisor, Jon Pawlecki, has also been there to support me through so many extracurricular activities such as being a First-Year Rocket Engineer Officer, a UTEC member, joining Phi Sigma Rho a national engineering sorority, and most importantly my development through ELI. Jon is one of the first people you meet to support you coming into the college of engineering, and he continues to be that support during your time at UToledo."  
Jon Pawlecki, Director of Student Services and Transfer Partnerships in the College of Engineering and advisor to ELI noted, "I have had the pleasure of working with Elizabeth since her freshman year in the College of Engineering. Elizabeth's determination, motivation, and leadership qualities have always been impressive to me.  The many skills that Elizabeth possesses will serve her well throughout her career." 
---
Tyler ulbricht
Major: Mechanical Engineering, Fall 2021 
Hometown: South Lyon, Michigan
High School: South Lyon East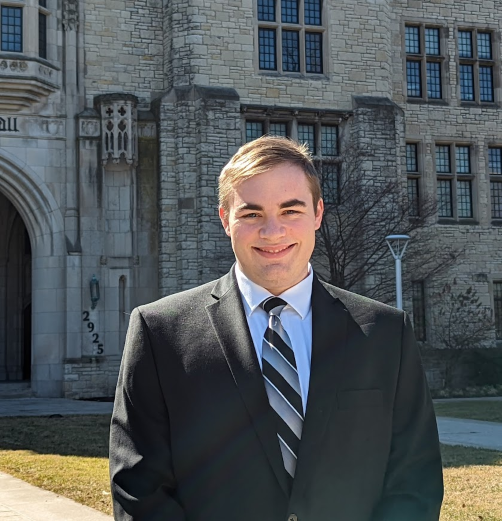 Growing up in Cuyahoga Falls, Tyler Ulbricht was only about 60 miles east of Cedar Point.
Spending summers at the amusement park, sometimes referred to as the Roller Coaster Capital of the World, was almost a rite of passage. But his time there, first as a customer and later as an employee, also ignited his years-long passion for roller coasters.
 "The Wildcat and Corkscrew at Cedar Point sparked my interest in the mechanics of roller coasters, and I spent three seasons working at Cedar Point at the Magnum XL-200 and Steel Vengeance. Working at Cedar Point helped me to learn more about how roller coasters work, and this interest in roller coaster mechanics is what led me to choose to work towards a degree in mechanical engineering."
Ulbricht graduated from the College of Engineering Saturday with a bachelor's degree in mechanical engineering.
During his years at The University of Toledo, Ulbricht said he is most proud of the projects that allowed him to apply classroom lessons including becoming a member of the Rocket Motorsports team.
"Each year, we design and build a racecar that then competes against other schools around the world," he said. "Taking part in Rocket Motorsports has given me the chance to learn more skills beyond the classroom, such as manufacturing skills and Solidworks 3D CAD software."
Ulbricht's ability to take what he has learned in class and create something real led him to create his own roller coaster. He credits Dr. Brian Trease, assistant professor in Mechanical Engineering, with encouraging him to share the roller coaster he designed as a "pandemic project."
"My roller coaster project began as a pandemic project that I worked on as I was isolated in my apartment," Ulbricht said. "It grew from there, but I never thought anyone else would be very interested in it. Dr. Trease suggested I submit it to the Undergraduate Research Fair for fall 2021, where it was on display in Carlson Library during the last week of the Fall 2021 semester."
Ulbricht and Trease share a love of roller coasters.
"When Tyler first let slip his passion for rollercoasters, I knew our conversations were about to get a lot more interesting," Trease said. "Already among the pleasant office-hour regulars during my fall 2021 mechanisms course, Tyler, it turned out, also was among the group of committed devotees who attend limited behind-the-scenes events at Cedar Point, led by ride technicians during their wintertime maintenance season."
After the pair geeked out about various aspects of rollercoaster engineering, Ulbricht showed his professor photos of his at-home roller coaster project. Trease was floored.
 "This was no off-the-shelf, by-the-manual construction; he had designed it with the same operating and safety principles used in real coaster parks," he said.
Ulbricht had made multiple electrical and mechanical hacks to his system to get it running smoothly, adding sensors and 3D-printing custom parts as needed. He'd even integrated several "Arduino" microcomputer controllers, which are common components in mechatronics and robotics courses.
"Every time he updated me on his progress, my jaw dropped a bit more and I knew he had to get it out for the public to see," Trease said. "Altogether, Tyler is a great model of how students can find a way to apply their studies to their passions to do something meaningful and engaging. Whenever a student finds that connection, the learning takes off on its own and I can barely keep up."
"My roller coaster project took 13 months to build and went on through two semesters of classes and one co-op," Ulbricht said. "I named it 'Rocket Run' as it 'blasts off' like a rocket. I was able to use the lessons I learned in class to help improve its functionality as time progressed, and the electronics within the ride thanks to the help of many friends who are more familiar with electrical circuits and Arduinos."
Ulbricht posted a video on YouTube of Rocket Run in operation with an explanation of how it works.
"Roller coasters and amusement parks are my passion and always have been," he said. "I have always been fascinated by how engineers use some of the fundamental principles of physics to create a safe and enjoyable experience. I enjoy how they give off the illusion of being a terrifying machine but are some of the safest forms of entertainment.
"My dream job is to help engineer safe and thrilling rides and roller coasters for amusement park fans to enjoy, and I'm working to make that happen." 
---
Ben Wolak
Major: Mechanical Engineering, Fall 2021 
Hometown: South Lyon, Michigan
High School: South Lyon East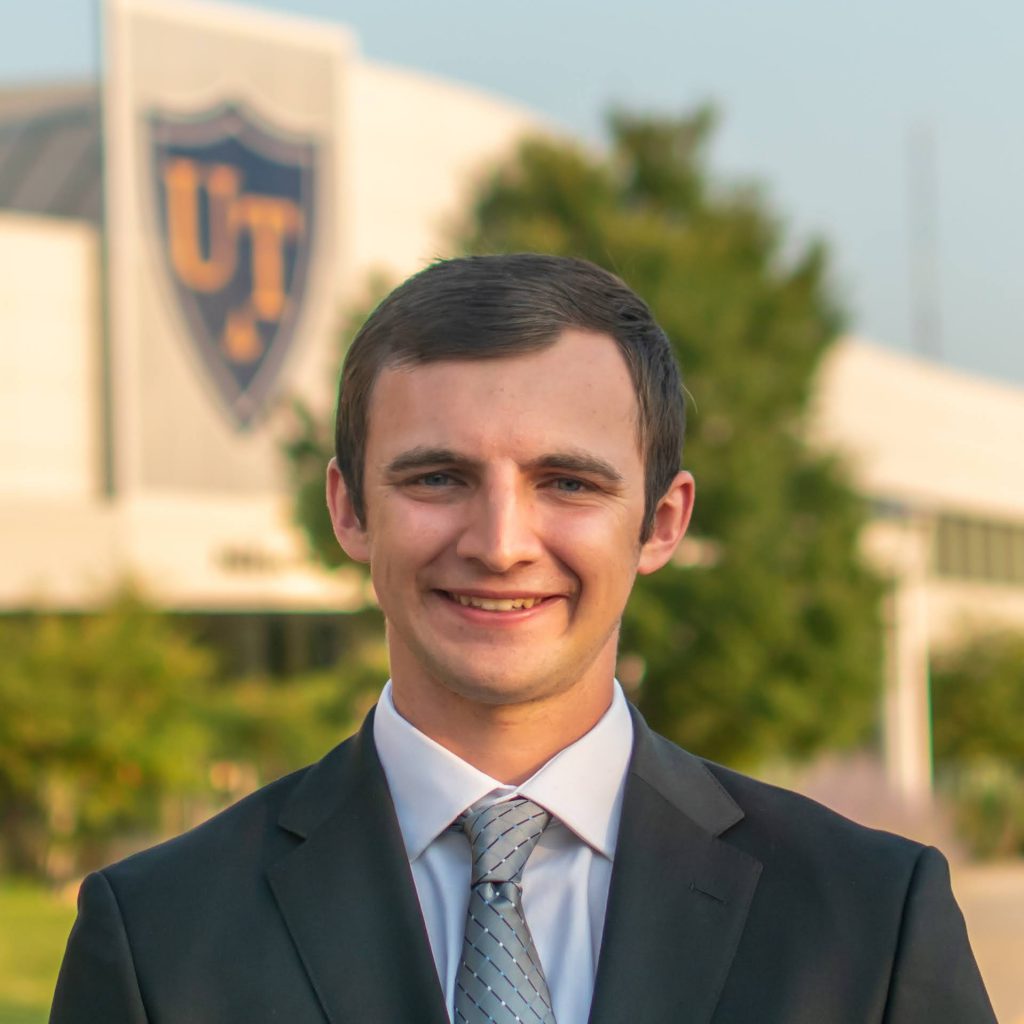 After graduating from South Lyon East High School in South Lyon, Mich., Ben Wolak's goal was to obtain a well-rounded education in electrical and mechanical engineering to help futureproof his career in engineering.
And when Wolak graduates from The University of Toledo on Dec. 18 with his bachelor of science in mechanical engineering, he made sure that he has the necessary experience in electrical engineering — classroom and real world — to make that happen.
The payoff? Wolak recently accepted a full-time offer from General Motors in its TRACK engineering program, a rotational engineering and early career development program.
But there was a substantial effort by Wolak to earn this career opportunity.
During all four of his years at UToledo, Wolak was a highly involved member of Rocket Motorsports, UToledo's Formula Society of Automotive Engineers racing team; worked four co-ops in the Mechatronics group at Dana Inc.; worked for the UToledo Information Technology department and even ran his own aerial photography company, Wolak Media LLC.
"Running my own company has taught me valuable leadership, management and financial skills," he said. "But without the co-op program at UToledo, there's no way I would have received all that experience in the Mechatronics group at Dana and no way that I would have been accepted into the selective TRACK program at GM.
"I'm very proud of building a diverse and well-rounded education during my time at the University of Toledo College of Engineering."
Keeping so busy wasn't easy, he said.
"Learning to balance my grades against those time commitments was a major struggle of mine early on in college," he said. "My grades in my first couple semesters had my GPA dangerously close to losing my scholarships to attend UToledo, and as an out-of-state student, those were very important to retain."
Wolak determined that he had to make personal adjustments.
"I turned things around during my second and into my third year at UToledo and learned new time-management and organizational tactics, including keeping a ridiculously detailed calendar and better study strategies," he said. "In my third and fourth years at UToledo, that work has yielded the highest grades of my college career and along with my experience from the Formula SAE team and my co-ops, enabled my acceptance into GM's TRACK program."
During his time in the College of Engineering, Wolak said that he had a great network of support to bolster him, including Jon Pawlecki, director of Student Services and Transfer Partnerships, and Dr. Adam Schroeder, assistant lecturer in mechanical engineering.
"I've had the pleasure of interacting with Mr. Jon Pawlecki quite often," Wolak said. "He is always willing to go above and beyond to help with almost any student or team issue and it's clear talking to him about these issues that he has a genuine interest and cares about getting the issue resolved.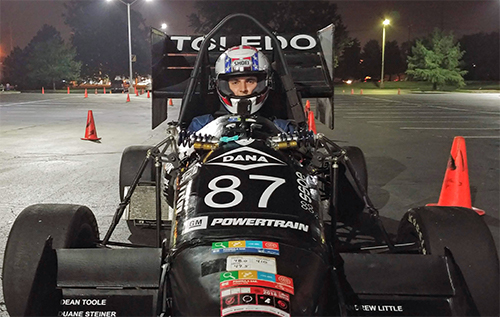 Among his many commitments, Ben Wolak was a highly involved member of Rocket Motorsports, UToledo's Formula Society of Automotive Engineers racing team.
"I also have to include a shoutout to Dr. Adam Schroeder, who last year took time out of his day to meet with me to discuss mechatronics-related educational and career paths," he added. "We talked about everything from electric skateboards to drones and I wasn't even taking any of his classes. It meant a lot that he took that much time for someone who wasn't a student or former student of his, and I think that is indicative of the personal attention students receive at the UToledo College of Engineering."
Both Pawlecki and Schroeder are equally impressed with Wolak.
"It has been a pleasure working with Ben through his involvement in the First Year Rocket Engineers student organization and UToledo's Formula Society of Automotive Engineers (FSAE) team," Pawlecki said. "I have always appreciated Ben's professionalism and I have been impressed with his problem-solving skills and his positive attitude.
"Ben is always ready for a challenge. His exceptional communication skills and his can-do attitude will serve him well as an engineer. I look forward to seeing how Ben will apply his many skills throughout his career."
Added Schroeder: "Ben is bright, hard-working and has taken great advantage of opportunities at UToledo, at Dana on his co-op in their mechatronics lab and in pursuing his own interests. I am proud of him as an individual and proud that our program is producing students of his caliber and character."