SOCIAL WORK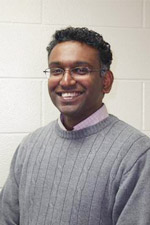 Arvindh has taught across the curriculum in both BSW and MSW levels.   His teaching interests are: Arts based engagement in social work, Human behavior and the social environment, oppression and social justice, social work practice, community mental health, social research methods, psychopathology and mental health, medical and psychiatric social work, substance abuse treatment, family therapy and child welfare.  He won the John A. Yankey award for outstanding teaching at Case Western Reserve University, Ohio.
Arvindh's professional interests involve the use of the Arts in social work practice and research.  In social work practice, the Arts can be cathartic for clients and can facilitate better client-worker interaction.  The Arts can also play a great role in research by facilitating knowledge building and then disseminating that information to the public.  He uses photography, painting, sketching and other art forms to explore issues of social and economic justice.
Arvindh's other research interests are in the areas of Mental Health and substance abuse treatment.  He studied alcohol consumption and related problems among sanitary workers in Chennai (Madras), India, and group processes in groups for alcohol dependence at the National Institute of Mental Health and Neurosciences (NIMHANS).  His doctoral work involved studying stages of change and mandated substance abuse treatment under the criminal justice system.  As a psychiatric social worker, he has practiced family systems therapy, cognitive-behavior therapy and group therapy.  He has worked with clients diagnosed with substance abuse, depression, schizophrenia and obsessive compulsive disorder.