History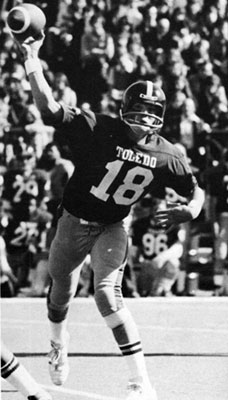 The first University of Toledo Homecoming game was played on October 27, 1923 against Bowling Green Normal College. In a historical milestone, Toledo defeated B.G. 27-0. UT alumni originally sponsored Homecoming as a means of stirring support and funds for their "good old Alma Mater."

Over the years, Homecoming has become an annual event that encompasses a whole week of fun-filled events aimed at showing our school spirit. The week includes such traditions as a pep rally, parade, bonfire, concerts, king and queen contest, and the football game.  National acts such as Blessed Union of Souls in 2005 and Simon and Garfunkel in 1968 have played on campus during Homecoming week.
Homecoming Week is a unique time of year that unites current students, University alumni, faculty and staff, and the Toledo community to celebrate pride in The University of Toledo.
Homecoming is The University of Toledo's longest standing tradition and is cherished by Rockets of the past, present, and future.  Student Government was the organization in charge of planning the Homecoming events until the Homecoming Commission became a separate organization for Homecoming 2001.
Past Homecoming Themes, Grand Marshals, and Kings/Queens
YEAR

THEME

GRAND MARSHAL

KING & QUEEN

2022

Rockets Flashback: 150 Years of Excellence

Bryan Blair
Vice President and Director of Athletics

Keith Nelson Jr.  (National Pan-Hellenic Council) 

Kennedy Copeland (National Pan-Hellenic Council) 

2021

Rocket's Red Carpet

Dr. Gregory Postel
UToledo President- 1st year in office

Valentina Campos Yanez (International Student Association) 

Selina Ohene Obeng (International Student Association) 

2020

Rocky's Rush to Candy Castle

 n/a
Yash Shingan (International Student Association)
Yashika Bohge (International Student Association)

2019

Rocky's Haunted Homecoming

Joy Findley
General Manager of JCPenney
Charles Pelfrey (Kappa Delta Rho)
Farzana Qurban Ali (International Student Association)

2018

Ringmaster Rocky's Big Show

Wade Kapszukiewicz
Mayor of Toledo

Jared Malott (Catholic Student Association)
Grace Garcia (Catholic Student Association)

2017

Aloha Rockets (Hawaiian)

Bruce Gradkowski
Former UT and Pro Football QB

Daniel Napoli (Pi Kappa Phi)
Mekayla Pullins (Black Student Union)

2016

Celebrating 50 Years of Rocky
Rocky the Rocket
UT Mascot's 50th Birthday
Lance Price Jr. (National Pan-Hellenic Council)
Kylie Koesters (Presidential Ambassadors)

2015

Rocket Road Trip - All Roads Lead Back to UT!
Dr. Sharon Gaber
UT President - 1st year in office
Alex Wisniewski (Sigma Phi Epsilon)
Sumeya Abdullahi (African Peoples Association)

2014

A Blast From the Past
Steve Cavanaugh
UT Alum and UT Board of Trustees
Jacob Torres (Latino Student Union)
Kendra Stabler (NPHC/BSU)

2013

Rocket to the Moon, Stars and Beyond - 90 Years and Still Shining

John-David "JD" Smith
Astronomer and UT Lead for the Discovery Channel Telescope, UT Department of Physics and Astronomy

Gavin Dailey 
Melanie Munoz

2012

ROCK-et Under the Big Top - The Greatest School on Earth
Becki Bair
UT Alum and Former Staff, Former UT Dancing Rockette, and Former Advisor to Blue Key and Homecoming Commission
Jangus Whitner
Molly Steller

2011

Wild, Wild, Midwest - Sweet Home Toledo
Tricia Cullop
UT Women's Basketball Coach
Matt Rubin
Sarah Dickey

2010

Press Play
Dr. Lancelot C.A. Thompson
Former VP for Student Affairs
Alex Wise
Stephanie Gurgol 

2009

Homecoming of Heroes
William Koester
UT Alum, Former Blue Key Member and Homecoming Parade Organizer, UT Board of Trustees
J. David Golzalez
Jocelyn Cruz

2008

Rock-et Back to UT
Chuck Sullivan
UT Alum and Namesake for the Sullivan Athletic Complex
Kyle Koenig
Breanne Democko

2007

There's No Place Like Home
Steve Mix
Former UT and Pro Basketball Player
Carlos Gooden
Andrea Daniel

2006

Building the New UT
Christine Brennan
National Sports Columnist for USA Today, Radio and TV Commentator, and Best Selling Author
Michael R. Robinson
Jodi Moorman

2005

Let the Games Begin
Chuck Ealey
Former UT and Pro Football Player
Brian Zorman
Ashley Oliker (Sheroian)

2004

UT Goes Old School: Tradition
Jim Findlay
UT Alum and Namesake for the Scott Park Findlay Athletic Complex
Rick Miko (Jackson)
Katie E. O'Connell

2003

Bancroft Street Masquerade: Mardi Gras Toledo Style
Jon Hendricks
Jazz Legend and Former Distinguished Professor of Jazz Studies at UT
Gordon C. Pokorny
Cara R. Sterken (Yoder)

2002

Rockets Across America: Celebrating 130 Years
Jamie Farr
Actor and Toledo Native
Isao Sekiguchi
Alexia F. Schneider

2001

Anchored in Rocket Country
 
Gregory Young
Carrie Anasinis (Price) 

2000

Rocket Pride Worldwide
 
Marion L. Gibson
Lavender D. Krupp (Ayres)

1999

 
 
Michael J. Moore
Shanices Chambers

1998

 
 
James. M. Upshaw
Crystal A. Windbigler (Williams)

1997

 
 
John S. Clark
Heather J. Piazza (Fairbanks)

1996

 
 

Sherron L. Jones
Nausheen Hasan - Tie
LaTesa Brown-Carter - Tie

1995

 
 
Taran K. Bhatia

1994

 
 
Jeff Johnson
Francesca B. Holmes-Walker

1993

 
 
Kevin Moore
Kimberly A. Cromwell

1992

 
 
Scott R. Scheel
Kenji Nogami - Tie
Amy L. Clement (Weiss) - Tie

1991

 
 
Deepanshu Gupta
Jennifer S. Baker

1990

 
 
Ricardo A. King
Robin D. Burger (Eyerly)

1989

 
 
Troy Fabish (1st UT Homecoming King)
Shannon L. Phillips

1988

 
 
Dawn Nowicki (Szczepanski)

1987

 
 
Betty Ling Yieng

1986

 
 
Anne Marie Hinkle (Clarke)

1985

 
 
Lisa Marie Wheeler (Casper)

1984

 
 
Sherri Renee Navarre

1983

 
 
Melissa J. O'Neill (Habacker)

1982

 
 
Kimberly S. Klochko (Perry)

1981

 
 
Patricia A. Mikac (Casper)

1980

 
 
Kelly S. Kaser (Hayes)

1979

 
 
Dr. Diane M. Puccetti

1978

 
 
Mary Lou Evans (Rosendahl)

1977

 
 
Judy A. Toth (Kopko)

1976

 
 
Valerie Kaiser (Heidmann)

1975

 
 
Dr. Rosemarie Ohliger Osowik

1974

 
 
Rochelle D. Davis (Bowman)

1973

 
 
N/A

1972

 
 
Anne Mindock (Talks)

1971

 
 
Faye L. Early

1970

 
 
Nancy C. Creech

1969

 Sign of the Times
 
Judith L. Knox

1968

Rockets Go Western
 
Cathleen Heidelberg (Duszynski)

1967

 
 
Nancy Collins (Comer)

1966

 
 
Elly Beutler (Pankratz)

1965

 
 
Andrea C. Monoky (Elmore)

1964

 
 
Diane P. Sinclair (Pasch)

1963

 
 
Patricia Green (Schreiner)

1962

 
 
Pamela Sommer (Muir)

1961

 
 
Mary Lou Mollin (Welter)

1960

 
 
Sandra Jones (Underwood)

1959

 
 
Patsy Radunz Camp

1958

 
 
Janell A. Maeder Falter

1957

 
 
Patricia Shinaver (Rankin)

1956

 
 
Doris Moore

1955

 
 
Patricia A. Perez (Moulton)

1954

 
 
Polly Jo Collins

1953

 
 
Barbara Howell (Mulligan)

1952

 
 
June (Foltz) Heidtman

1951

 
 
Betty A. Barron (Adams)

1950

 
 
Suzanne Schneider (Lattin)

1949

 
 
Patricia A. Conklin (Deviney)

1948

 
 
Patsy J. Girkins (Stacey)

1947

 
 
Celia Koontz Findlay

1946

 
 
Martha L. Seubert Deshetler

1945

 
 
Jane (Dorothy) Robinson (Brechenser)

1944

 
 
Barbara MacKinnion

1943

 
 
N/A

1942

 
 
N/A

1941

 
 
N/A

1940

 
 
Carolyn Meyers