OneDrive Sync Client: Faculty and Staff
With the OneDrive Sync Client, your Desktop, Documents and Picture folders are backed up to your OneDrive Cloud storage automatically.   You can work with your synced files directly in File Explorer and access your files even when you're offline. Whenever you're online, any changes that you or others make will sync automatically.
OneDrive Client Employee Workstations:
Faculty and Staff workstations will have the Microsoft OneDrive policy applied.  This will configure the following on your system:
Automatic Microsoft OneDrive Sync Client sign in using your login credentials
Create or move the OneDrive folder to the default location c:\users\username$\OneDrive – University of Toledo
Users will be prompted to protect important folders: Desktop, Pictures and Documents if not already configured.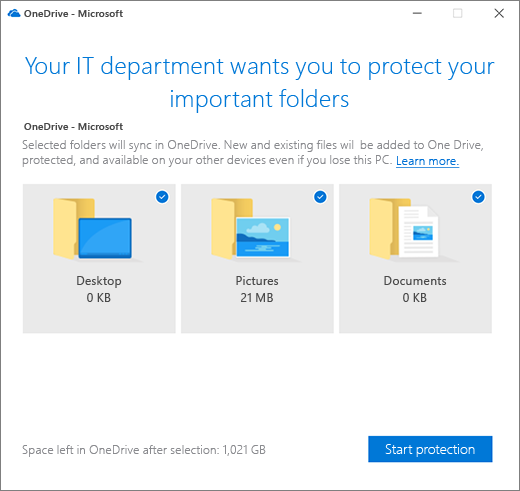 NOTE: OneNote files are unsupported and cannot be synced using the OneDrive client.  Please move .one files to a location outside of the important folders location or follow the instructions to move OneNote notebooks to OneDrive.
How to Move OneNote notebooks to OneDrive
NOTE: To avoid excessive or lengthy re-syncing, .PST files are blocked from syncing to OneDrive. It is recommended to import your .PST files to office 365.  https://support.office.com/en-us/article/import-email-contacts-and-calendar-from-an-outlook-pst-file-431a8e9a-f99f-4d5f-ae48-ded54b3440ac.
If users dismiss the prompt to backup files, a reminder notification will appear in the activity center until all known folders are moved.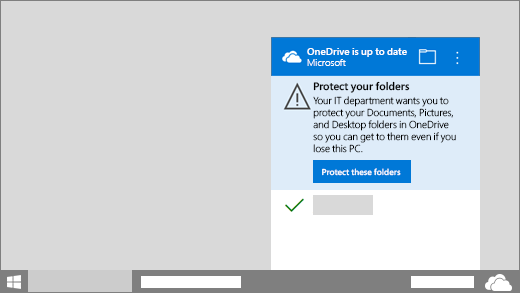 Error processing SSI file