Email Encryption
---
The University of Toledo has implemented an email encryption service for communications containing sensitive information.  All external university correspondence (sent to addresses other than those at utoledo.edu) containing PHI, SSNs, Credit Card numbers or other sensitive personal information should be encrypted prior to transmission (see UT Electronic Mail Services Policy).  To have an email encrypted, please include the phrase [encrypt] in the subject line of the email (the brackets [ ] must be used to force the encryption).



Note:  Encryption only works when sending to external (non-University) email addresses.
To aid you in understanding what the recipients will receive, the following instructional information is provided and can be sent to your recipients prior to sending them an encrypted message.  We strongly encourage anyone who will be sending encrypted messages to test the procedures by sending to a personal email account such as your Yahoo!, Gmail, Hotmail, etc. accounts and then following the receiver instructions below.
Recipients of encrypted email will receive a notification that they have received a secure message that will have a "SecureMessageAtt.html" attachment, and the following information in the body of the email.
---
To read your encrypted email:
Click either on the attachment or the Click Here link in the body of the message.

First time recipients of UT's encrypted email will need to register with Proofpoint's Secure Reader.  To register: 1) Fill out your first name, last name, and create and confirm your password.  2) Click continue.
Already registered email addresses will be prompted to enter their password before being directed to the Secure Reader.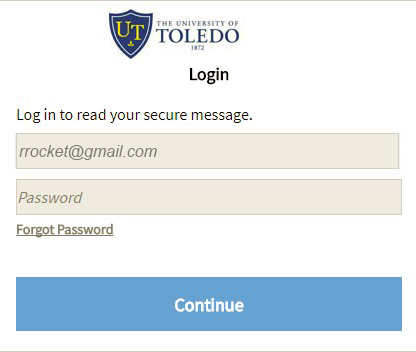 You will then be taken to the Secure Reader Interface.
---
To Reply or Forward an encrypted email
Click the Reply or Reply All button at the top of your message.

Type your message.

Click on the Send Button.
Note:  Due to security reasons, messages cannot be forwarded.  If you feel additional recipients need to see this message, please contact the sender.