Polizzi '97, From The General Counsel's Office To The C-Suite
By Rachel Phipps '07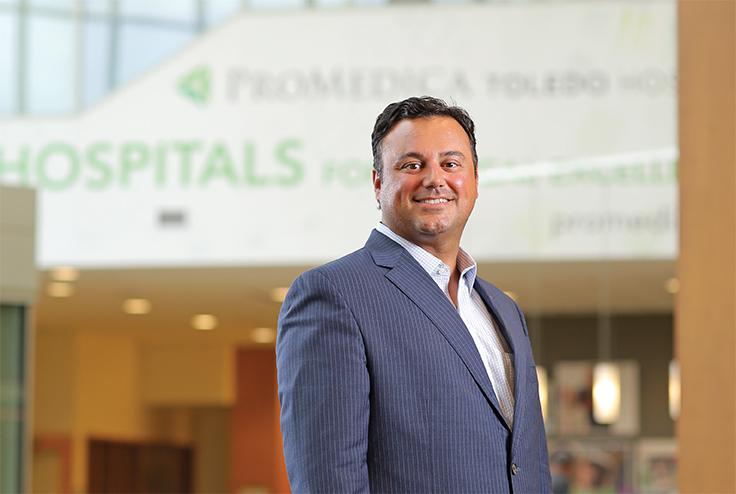 "IF you pass the bar, give me a call." This was what G. Opie Rollison '80, then general counsel for ProMedica, a large health care network of hospitals, physicians, researchers, and specialty clinics serving Northwest Ohio and Southeast Michigan, told Arturo Polizzi '97 when Polizzi was a 3L at Toledo Law.
After studying and passing the bar exam as directed, Polizzi spent the next three months patiently hounding Rollison with a weekly phone call until he was invited to ProMedica for a face-to-face. Polizzi showed up at Rollison's office on a Monday morning and was hired on the spot.
"No specific reason was given, but I expect my patience was a big part of it," says Polizzi.
Almost 18 years later Polizzi is now the president of ProMedica Toledo Hospital and Toledo Children's Hospital, ProMedica's flagship facilities. He manages 5,000 people, including more than 1,000 primary care and specialty physicians. Toledo Hospital is a level one trauma facility and was recently named one of the Top 100 hospitals in the country, according to a 2016 ranking by Healthgrades.
"I use my law degree every day in my current role," Polizzi says. "My J.D. was incredibly helpful in training me to think." He also credits law school for teaching him to communicate effectively and to actively listen, two skills he finds essential in his current role. Polizzi also negotiates constantly, with vendors, with physicians for services, and within the ProMedica system for resources. His training as an attorney helps him here, too.
Polizzi began his career at ProMedica as an associate legal counsel and was quickly promoted to associate general counsel. As a lawyer for a huge, complex health care system he was involved in a broad array of legal issues, from labor and employment to real estate, patient care and end of life decisions to corporate mergers and acquisitions.
And he loved lawyering. "I thought I would be a lawyer for the rest of my life," Polizzi says.
But then ProMedica's new CEO Randy Oostra asked him to move to the chief human resources role, a natural move for Polizzi and many in-house attorneys who spend a significant chunk of their days poring over employment laws and regulations. He accepted immediately.
"It was an opportunity that I couldn't pass up," he says. Polizzi enjoyed being in a leadership role from the very start. From chief human resources officer he moved to chief operating officer of ProMedica's Toledo Hospital and Toledo Children's Hospital, and then, two years ago, to his current role as president of those institutions.
Polizzi is the son of Italian immigrants who moved to Cleveland, Ohio right before his birth. With a bachelor's degree from Miami University, he is the first in his family to graduate from college. He also holds an MBA from the University of Michigan.
Polizzi has wanted to be an attorney for as long as he can remember. While at Toledo Law he devoured business law courses (and met his wife, Kristen Connelly '98 – the pair have three children, ages 14, 13, and 8!). He hoped to work as in-house counsel for a big company after graduation and had in mind an employer that would provide plenty of opportunities for professional growth and advancement. He found such an organization in ProMedica and has spent the last 18 years there.
Is Rollison, the former ProMedica general counsel who hired him, surprised that Polizzi is where he is? Nope.
"Arturo is instantly likeable and immediately credible," says Rollison, who is now a member at Marshall & Melhorn, LLC in Toledo. "I hired him immediately knowing his job as in-house counsel was just a first step in what would be an immensely successful career."