James Nusbaum '95
By Rachel Phipps '07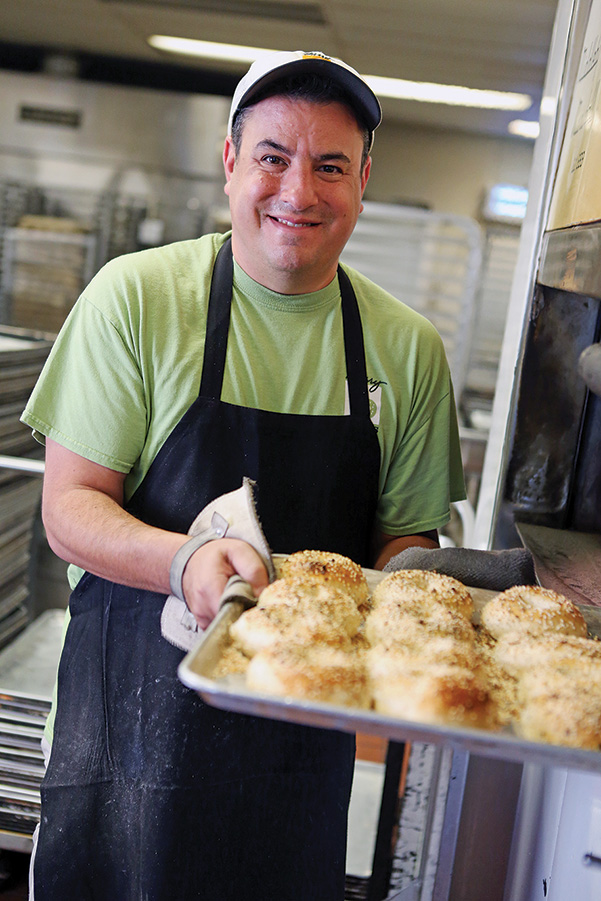 James Nusbaum's very first job at age 15 was at the Barry Bagels on Holland-Sylvania Road in Toledo, Ohio. The year was 1985 and Nusbaum spent his shifts cutting onions, washing pans, and sweeping the store's floors.
Flash forward 30 years and Nusbaum is now in charge of franchising for the iconic Toledo area deli and bagel shop as CEO of Barry Bagels Franchise Holdings (BBFH). As of July 2016 there are nine stores in operation in Northwest Ohio, Southeast Michigan, and the Columbus and Cleveland areas, and 13 new stores under development.
When asked how often he uses skills learned in law school and practice, Nusbaum doesn't hesitate, "Every day, every hour," he says. "Being a lawyer is such a part of who I am, I don't even think about it."
To be sure, his job is steeped in contracts – franchise and vendor agreements, leases – and BBFH works with outside counsel often, but Nusbaum cites the critical thinking skills introduced at Toledo Law and honed in practice as the skills he turns to most often.
"The critical thinking skills I learned in law school are vital to the ability to determine the risk and rewards involved in everyday issues that arise in my business," Nusbaum says.
I meet Nusbaum at the Holland-Sylvania store, which was the first Barry Bagels location opened by owner and founder Barry Greenblatt in 1972. Nusbaum introduces me to employees and gives me a tour of the freezer and kitchen. I see row after row of frozen bagels ready to be boiled in the kitchen's huge vat of water and then baked in its massive oven. Everything smells delicious.
"I love, love, love this," Nusbaum says of his current role. And it's clear that he's telling the truth. He chats about employees who have been with the company for decades and those who are just learning the shop's many bagel and cream cheese flavors. It is evident that Nusbaum is proud of the company's people and their philanthropic efforts – he tells me that they have just provided more than 12,000 pink bagels to this year's Komen Race for the Cure, topping their own pink bagel donation record from the year before.
After graduating from Toledo Law, Nusbaum practiced with the Toledo law firm of Wittenberg, Phillips, Levy and Nusbaum for more than a decade – "doing lots of litigation." He ran for the Sylvania Schools Board of Education in 2003 and has served on the board since then. In 2008, he joined Corner Dental as general counsel, where, among other things, he helped standardize the dental practice management company's contracts and internal policies, and reviewed deeds and leases – all tasks that share some similarities with franchising work.
As a friend of the Greenblatts, Nusbaum, founder Barry Greenblatt, and his son, Mark Greenblatt, started discussing turning Barry Bagels into a franchising operation. Since the first Barry Bagels store opened its doors in 1972, all locations had been company-owned. It was decided that Nusbaum would join Barry Bagels in 2012 as CEO and co-owner of BBFH, which also operates one restaurant location in Lambertville, Michigan, and a bagel dough manufacturing plant in Southeast Michigan that provides dough to Barry Bagels and other stores. The first Barry Bagels franchise opened near Columbus, Ohio, in 2014. Several more in Columbus and Cleveland quickly followed.
"I am proud to be associated with a wonderful company," Nusbaum says. "Barry and Mark and their employees have built a great brand and I am very fortunate to be a part of it."
Nusbaum's undergraduate degree is from Indiana University, but he always knew he would return home to attend law school and follow in the footsteps of his father, Mel Nusbaum, a Toledo attorney with a 50-year career.
"Law school served me well," he says. "Thinking like a lawyer is a really good approach to the business world." Nusbaum is grateful for his Toledo Law experience and for his time as a practicing attorney, where he had great mentors in Jerome Phillips, Sheldon Wittenberg, Bobby Kaplan, and his father, Mel, but he finds his current role challenging and exciting.
Nusbaum doesn't spend many days at a desk. He can often be found behind the counter at Barry Bagels during the lunch hour. He works at a store three or four days a week, usually at the new Lambertville location. Learning the food operation allows him to better assist the company's franchisees.
"Plus," he says, smiling. "I can make a really great sandwich."