From Sports Writer to U.S. Attorney
2017 Transcript Alumni Magazine
By Rachel Phipps '07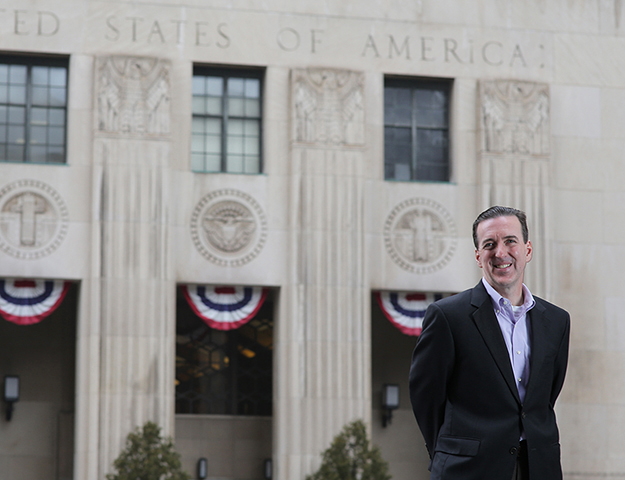 Update: On June 21, 2018, Carty won his first Sixth Circuit appeal in Kedric Mitchell v. United States Postal Service, when a three-judge panel upheld the district court's decision in a case involving a potential threat of workplace violence.
Successful second careers are the stuff of dreams for some. Not so for Jim Carty '10, who headed to law school after a 15- year career as a sports journalist, where he covered everything from high school athletics to the NFL, NCAA basketball, and the Super Bowl. He also worked a three-year stint as a freelance sports correspondent for The New York Times.
Carty is now an assistant U.S. attorney in the U.S. Attorney's Office for the Eastern District of Michigan. As part of the U.S. Department of Justice (DOJ), his office prosecutes criminal cases, brings civil actions, and defends the federal government in federal court.
Is he happy with his career change? "I love being an attorney," Carty said. "I feel very fortunate to do this work, and like I'm in an exclusive club."
According to Carty, litigation is a lot like journalism. For one thing, he writes – a lot. There is digging and investigating. Interviews are important. But there is nothing, nothing that compares to being in court, says Carty.
"When I was a sports reporter, I was fortunate to appear live on ESPN several times, but I was never nervous. Even with millions of people watching, it was essentially fun. We were talking sports. There was nothing at stake," he said.
"Court is different. Every time you appear before a judge, there is something at stake. Your client's interests are at stake and your professional standing is at stake. Appearing in federal court for an uncontested matter in an essentially empty courtroom still leaves me with a lot more nerves than going back on ESPN would," he said. "Judges have tremendous power. You're asking them to use that power for your client's interests, while someone else is asking them to use it against your client's interest. It's a very singular thing, with a lot of responsibility."
After graduating from Syracuse University in 1995, Carty began a career in sports writing "because it was fun." He liked the travel and the people. And he was good at it. He was one of two lead writers on an investigative team entered for the 2009 Pulitzer Prize in local reporting for an in-depth examination of academics and athletics at the University of Michigan.
Carty had always played with the idea of attending law school. He started and stopped studying for the LSAT several times before finally enrolling at Toledo Law in 2008. That year, he says, "the newspaper economy was struggling worse than the actual economy – and there were no easy fixes to the newspaper problem. The web was essentially undercutting newspapers' entire revenue model."
Carty graduated from Toledo Law in twoand-a-half years and joined the litigation practice group at Bodman, LLP, a Detroitbased law firm of approximately 150 attorneys. He describes his former practice as the "best of both worlds at a large firm."
He was on a team of attorneys defending claims against the firm's largest commercial litigation client and traveled all over the country – California, Utah, New Orleans – for that client. But Carty also worked closely with smaller businesses, which meant more courtroom experience for the new attorney.
Now Carty is one of more than 100 attorneys in the DOJ office for the Eastern District of Michigan. He is in the office's civil defensive litigation group, which means he defends suits against the federal government, typically overseeing between 15 and 25 cases. These matters range from simple automotive negligence claims to Bivens actions against federal agents to lawsuits by government employees.
"It is a privilege to work for DOJ. As cliché as it sounds, I feel like a part of an organization working for justice," he said, noting that U.S. Attorney General Loretta Lynch had visited the office just the day before as a part of her listening tour on best practices for community policing.
"This is everything I went to law school for," Carty said.
Whatever is next in his career, storytelling will remain in Carty's bag of tricks. It was critical in his first career, and remains important in his second.
"Judges and their clerks are balancing hundreds of cases. You need to be able to make your case stand out, preferably with a single sentence," he said. "'The one with the alligator,' always stands out, but unfortunately we don't usually have an alligator (although I did in one case in private practice…). Without the alligator, you need to reduce the case to simple terms that the court will remember. This is essentially storytelling.
"It's easy to forget the story, to get caught up in legalese and try to cram in every fact," he continued. "When you forget the storytelling, though, you usually end up with something that reads like a mix of a police report, a college English essay written by a statistics major, and a treatise. The lawyer with the better story always has an advantage. It might not win the case for you, but it makes it easier to win."
Where Carty followed the action in his first career, he's happy to be a part of it in his second. We'll continue to follow career No. 2 closely, and file regular reports.