Skow '06 Finds Calling in Trial and Appellate Work, Service
2017 Transcript Alumni Magazine
By Rachel Phipps '07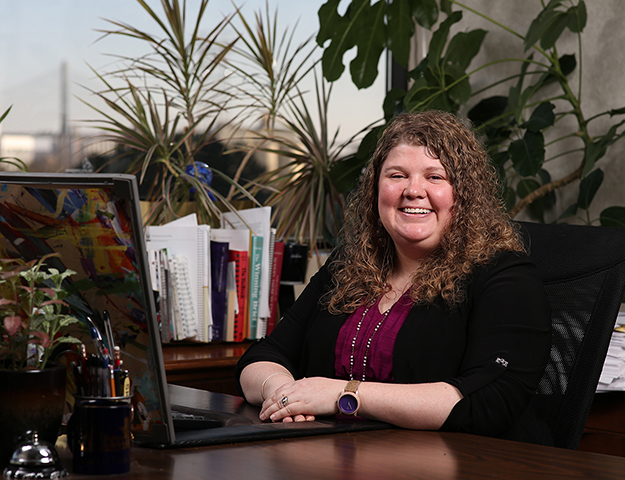 The career of Sarah K. Skow '06 proves that hard work plus service is a powerful formula for success for a new attorney – a formula that also can bring great personal satisfaction.
A partner at Spengler Nathanson PLL in Toledo, Ohio, Skow knows the statistics about the dwindling number of jury trials in the U.S., but after identifying a passion for the courtroom during law school, she set out to develop a practice that includes plenty of courtroom time. During her first decade as an attorney, she participated in five trials, presented oral argument in state and federal appellate courts, including the U.S. Court of Appeals for the 6th Circuit, and helped write certiorari petitions to the U.S. Supreme Court. She practices in the areas of complex business litigation, professional malpractice defense, tort litigation, landlord/tenant law, civil rights law, and criminal defense.
Skow, who has appeared on the Ohio Super Lawyers list of "Rising Stars" annually since 2012, is eager to talk about the art and importance of trial practice and what she calls "the mental exercise and finesse" involved in preparing for and executing at trial and oral argument.
"It's not just what you say and how you say it, but it's how you listen to your client and the opposing party's positions to develop your best position under the law," she said. From the outset of an engagement or matter, Skow believes in the principle of ultimate preparedness – knowing her client's business and goals, and knowing the factual and legal issues at hand.
 "Whether in written briefs or arguments at a hearing, you need to take the opportunity to succinctly and persuasively tell your client's story and how it resonates under the law," Skow said. "To humanize the law as applied to the facts and parties in the case is a tremendous privilege and honor."
While at Toledo Law, Skow participated in two bench trials during her two semesters in the Legal Clinic (now the Civil Advocacy Clinic) with Professor Rob Salem '90. It was then that she discovered she enjoyed the courtroom. Since law school, a series of mentors has provided Skow with critical instruction on trial practice and, more importantly, "a lot of freedom to fly or fail," Skow said.
One of two attorneys on a jury trial team early in her career, Skow interviewed, prepared, and questioned fact witnesses on the stand, participated in voir dire, and drafted and argued motions and jury instructions. The jury returned a verdict in her client's favor, one of the larger civil verdicts in the jurisdiction at that time. The experience furthered Skow's interest and passion for a career based in trial advocacy.
Skow takes the profession's call to service seriously, serving in numerous ways. She assists the Pro Bono Legal Services Program of the Toledo Bar Association (TBA) in representing victims of domestic violence at civil protection hearings. She is past president of the Toledo Junior Bar Association and the Toledo Women's Bar Association. She was appointed by the Supreme Court of Ohio to serve on its Professionalism Commission, has served on several Ohio State Bar Association (OSBA) advisory boards and committees, and was a member of the inaugural class of the OSBA Leadership Academy. She also serves on the TBA's board of trustees and pro bono advisory board.
"As attorneys, we have an obligation to serve our community," Skow said. She credits her parents for instilling in her the value of service early in life.
Skow's leadership and service go beyond the legal realm. She has a great love for the arts, and she is president of the Arts Commission of Greater Toledo. She also is president of the Children's Theater Workshop and a past member of the Toledo Botanical Gardens Arts and Culture Committee.
"I work to make Toledo known as a great place for creatives," Skow said. "The arts reflect a community's values, inner vision, and dreams."
Skow has been recognized for her professional endeavors and community service many times. She received the 2015 Toledo 20 Under 40 Award, 2015 Ohio State Bar Foundation Statewide Community Service Award for Attorneys 40 and Under, 2013 TBA Trustees' Award, 2013 Crosby Award from Toledo Botanical Gardens, "Queen Sancha" for the 2013 Old West End Festival, and 2012 TBA Pro Bono Commendation. She also was the College of Law's Outstanding New Exemplar in 2009.
"Through my community service, I hope I am challenging and changing what people think of when they hear the terms 'advocate' and 'philanthropist,'" Skow said. "Through my professional and service endeavors, I hope that I am helping people experience and perceive Toledo in a progressive way."
Skow became a partner at her firm in January 2016. With 10 years as an attorney under her belt, she has earned some perspective on the practice of law and how it is evolving. During the first decade of her career, the legal environment, practice, and market have already changed so much, she notes, pointing to social media evidence, electronic courtrooms, and cloud computing as examples. But Skow embraces these changes as opportunities to enhance and innovate the legal system, and increase access to justice.
"The importance of an attorney as an advisor, where you are consulted for your judgment – I take that relationship seriously," she said. "Even with the numerous changes in the profession, there is a fundamental need for that trusted relationship."