Victor Aberdeen Jr. '18
Finding Inspiration in Trial Practice
May 3, 2021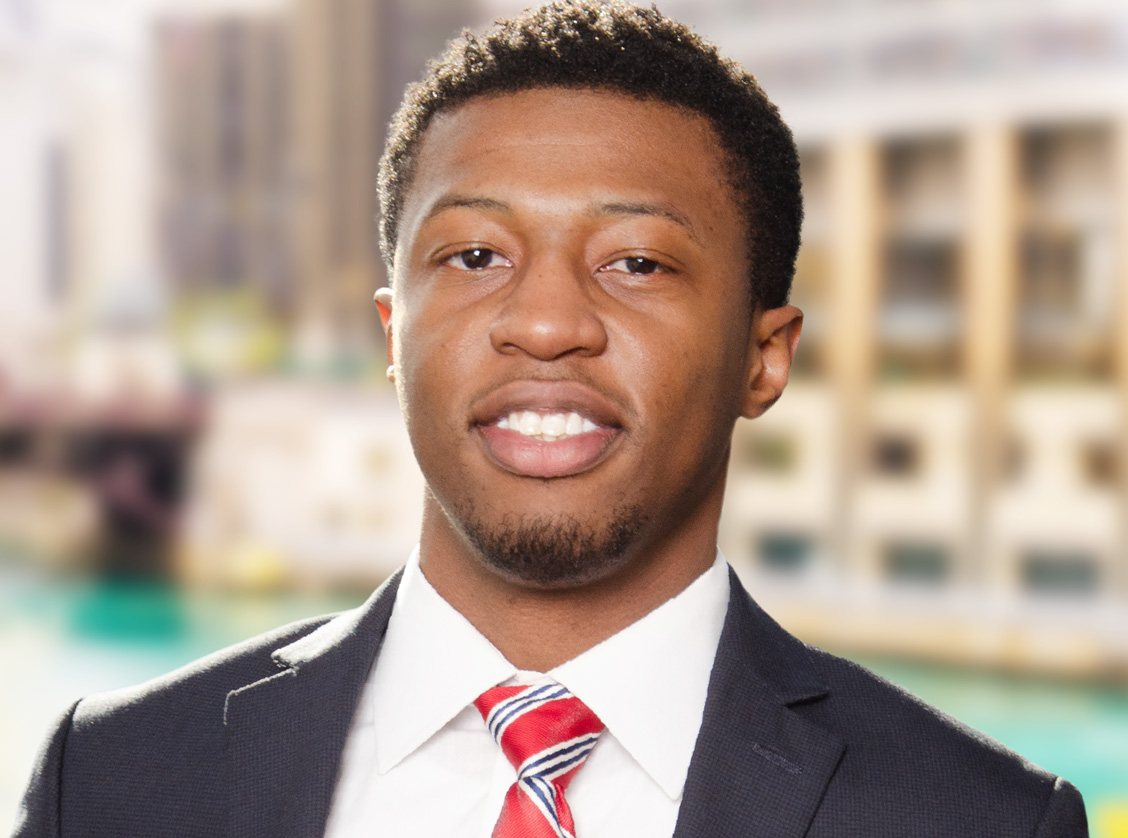 Victor Aberdeen '18 is an associate attorney at the Chicago law firm of Patton & Ryan, LLC, where he focuses on civil litigation and insurance defense. As a law student, Victor proudly served as the president of the Black Law Students Association. He was also heavily involved in the law school's Moot Court team serving as vice chair. Victor represented the law school in several national and international moot court competitions and was awarded the Order of the Barrister honor for his exemplary oral advocacy. Victor credits taking the Trial Practice course with Judge Myron Duhart '96 as the turning point in his legal education at Toledo Law. The course opened his eyes to thinking like a trial attorney.
Victor noted that having to adjust to the new way of working this past year was challenging. Every aspect of legal practice had been affected, from the way he had to submit and argue motions to everyday communication with clients. There was a point in time when it seemed that everyone, from the experienced attorneys to the younger attorneys, had questions about how things would proceed. While still new to the legal profession, Victor says, "being able to negotiate and settle cases for my clients has been very satisfying. All parties seem to leave the table with a sense of relief once a case settles before going to trial."
To new attorneys, Victor adds, "The practice of law is a practice. You never stop learning."
Victor is originally from Columbus, Ohio. He received his B.A. in English and communication from The University of Toledo and his J.D. from The University of Toledo College of Law.
---
Q&A with Victor Aberdeen
How did you find your way to Toledo Law for your education?
Toledo Law was right in my backyard. As an undergraduate student at The University of Toledo, I was always aware of the law school and even visited a few times. It was an automatic option for law school once I graduated.
What was your experience like at Toledo Law?
My experience at Toledo Law was great. I had amazing professors like Professor Benjamin Davis, Professor Jelani Exum, Professor Eric Chaffee, and Professor Bryan Lammon, who were excellent instructors. I also enjoyed participating in several moot court competitions while at Toledo Law, including one that took place in Beijing, China.
What were the turning points in your education (law school or otherwise) and career that led you to where you are now?
Taking the Trial Practice course with Judge Myron Duhart was a turning point in my legal education at Toledo Law. Judge Duhart was a remarkable instructor who really opened my eyes to how to think like a trial attorney. There are many lessons from that course that I apply to work every day.
Why did you choose to go to Chicago?
During my 2L summer, I was able to intern at the City of Chicago Law Department. I learned a lot working in one of the country's largest legal departments and envisioned myself working in the city afterward. On top of that, Chicago is a great city. There is a rich culture and history here that also made the choice to work here very easy.
What have you learned while working with this firm?
One of the most important things I have learned while working at this firm is how to properly prepare a case for trial. From expert witnesses, jury instructions, and motions in limine – there are plenty of things to account for when preparing a case for trial, and I have been involved in the entire process while at this firm.
What suggestions do you have for current law students and new lawyers who might be interested in the type of work you do and the practice area you are currently working in?
For law students, my suggestion would be to get as much exposure to trial practice in law school as you can. Whether it be from internships, coursework, or mock trial team, having a good foundation in trial practice will serve you well.
Life can't be only about work. What other things did you enjoy doing, and how did you find time?
When I have free time, I usually am exercising or spending time with family or friends. Once things begin to clear up, traveling, concerts, and attending live sports will also take up my free time.
Do you have a favorite memory from attending Toledo Law?
It would have to be the annual Black History Month Luncheon that the Black Law Students Association (BLSA) held in February. As the BLSA president at the time, it was great to highlight some of the past great Black legal practitioners who sacrificed and paved the way for attorneys like myself. And of course, we provided the guests with a spectacular lunch!
What are you passionate about?
I am truly passionate about learning about other people. I love sitting and talking to people and learning about who they are. Everyone has a unique story to tell, and I enjoy learning about other people's life experiences.
How do you work with others?
Communication is key. I have learned that picking up the phone and calling someone is oftentimes better than sending an email. When working with my colleagues, I try to establish a clear line of communication so that we can easily and comfortably exchange information and build a relationship.
Are you involved in any unique initiatives you want to share? (related to work, other organizations, etc.)
I am a member of the Black Men Lawyers' Association here in Chicago. It is a great organization, and I have been able to do fun projects like teaching high school students about traffic stops.
Share something you want Toledo Law alumni to know about you.
I am always open and willing to connect with Toledo Law alumni. Do not hesitate to reach out to me!